Tired of hauling that beat-up black suitcase to chi-chi spots like Monaco and the Maldives?
Now you don't have to.
Instead, take a Lacoste duffel on that Grecian getaway or a Kate Spade polyvinyl wheelie aboard your next flight to Saint Barts. You'll soon find them and other chic bags popping up on baggage carousels from Madrid to Mexico.
"As wealthy consumers travel more, and more millionaires are minted, luggage is a differentiator. People increasingly want to show up with the best luggage," says Milton F. Pedraza, CEO of the Luxury Institute, a ratings and research firm that focuses on the top 10 percent of America's wealthiest. He says that since all travelers need luggage, companies such as Chanel, Louis Vuitton and Prada are taking advantage of selling expensive pieces to consumers.
But it's not just the world's top fashion houses targeting consumers who want to travel in style. Traditionally staid suitcase companies are also going after this demographic.
Pretty pieces
Samsonite, the luggage company with a reputation for functional and practical pieces, unveiled its Fashionaire line in March. Actress Christina Ricci appears in its advertising campaigns. The collection is a series of bold, hip, black-and-white floral patterned pieces that are pricier than standard Samsonite fare. The Wheeled Upright from Samsonsite's Black Label Fashionaire line, for instance, is $475; a similar bag from the company goes for $200.
"We want consumers to think of the travel bags we make as fashion accessories, not just a functional item you purchase when you need it," says Stephanie Goldman, marketing manager.
But who wants to spend big bucks on pricey pieces certain to be subjected to scuffs and scratches? Americans, apparently.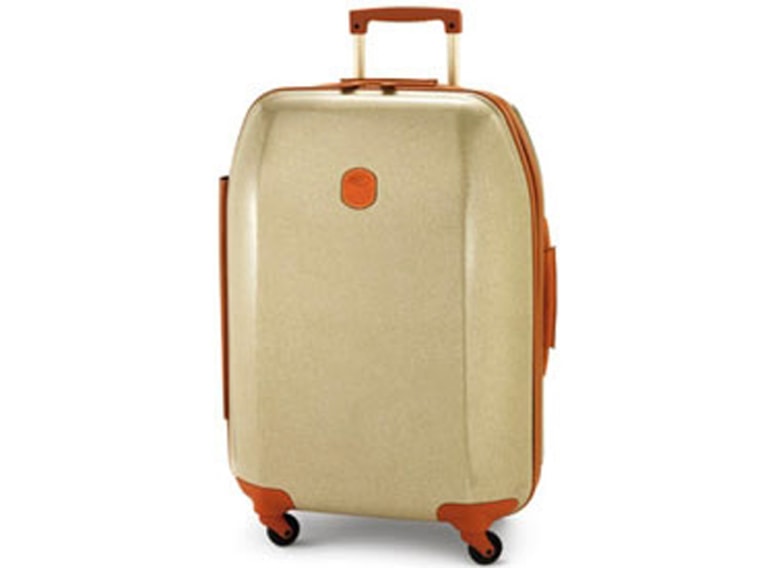 The average price of a piece of luggage sold last year jumped 22.1 percent over 2005, according to data from the Princeton-based Travel Goods Association, the national organization for the travel goods industry.
Of course, gear perfect for a jaunt to the country club might not be so good for a break in Brazil.
Best bags
Spending a week in Europe hopping between boutique hotels? Then consider investing $625 in Tumi's . This bag is part of the company's racing-inspired travel collection, Tumi+Ducati. Its bright orange fabric and silver edging means it will fit in among the sea of chic carryalls, but its abrasion- and stain-resistant fabric adds to its durability.
If you're going to stay at a sophisticated hotel like the Four Seasons or One & Only, only a timeless bag will do. Louis Vuitton's will be available next month for an estimated price of $2,130. Stylish can be classic; this luxury leather piece fits the bill.
Men, take note: Non-boring luggage is within your reach, too. The $525 proves that the piece you take on your next can be stylish and masculine.
Indeed, trendsetting luggage isn't only for women.
Karen Giberson, president of the Accessories Council, the trade group for the accessories industry, says companies are striving to reach out to the fashion-conscious male traveler.
"Men are more aware of the luggage they carry, and it's a status symbol for them," she says. "Fashionable luggage is absolutely not limited to women."
And certainly not limited to a certain price point. But then again, this isn't your average luggage. Won't it be worth it to be free from blah beige and black travel pieces and turn heads with the bags you carry?