/ Source: The Associated Press
Just down the road from this isolated fishing hamlet in the bayou country of southwestern Louisiana, a massive complex is rising to handle the nation's growing demand for natural gas.
Cranes tower over arena-sized containers that stand 170 feet tall and 250 feet in diameter as hundreds of construction workers bustle about. Sempra Energy Inc. expects the $750 million terminal to begin operating in 2008 as the arrival point for tankers carrying liquefied natural gas.
While the energy industry regards LNG as a vital step in keeping up with the demand for natural gas in the United States, proposals to build terminals are raising environmental and safety concerns.
Largely little used until natural gas prices jumped in recent years, gas cooled to minus 260 degrees and turned into liquid is the only practical way to import supplies from overseas.
Energy companies have proposed 35 new U.S. terminals in 10 states and five offshore areas near the coast. Eighteen terminals have been approved by the Federal Energy Regulatory Commission.
The majority of the projects are proposed for the Northeast, which has seen huge price increases for heating oil and public distrust of nuclear power; California, where natural gas is in high demand for power generation; and the Gulf Coast, where LNG processors can easily plug the finished gas product into interstate pipelines.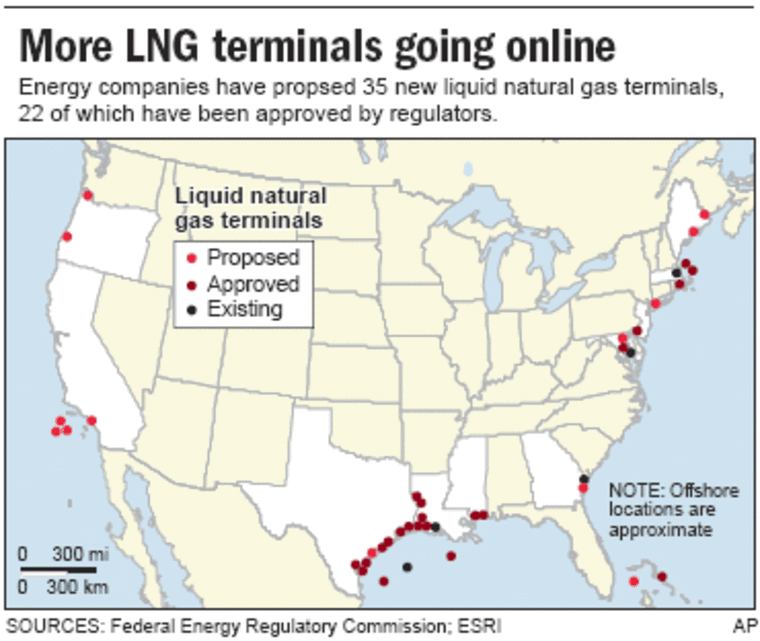 Some are near urban areas, where, despite demand for natural gas, LNG developers are running into opposition.
Among the projects are a $700 million terminal near Freeport, Texas, being built by Freeport LNG Development LLC; McMoRan Exploration Co.'s Main Pass offshore terminal off southern Louisiana with a $1 billion price tag; and Hess LNG LLC's $350 million to $500 million terminal proposed near Fall River, Mass.
In the Cameron Parish village of Hackberry, charter boat operator Freddie Beard — still trying to recover after 2005's Hurricane Rita — is little concerned about the LNG terminal. Beard said he believes the terminal would be safer and potentially less polluting than the rows of refineries and chemical plants in the Lake Charles area to the north.
"They've brought in a lot of business since the storm," Beard said of Sempra and its 500 construction workers.
Beard's cousin, Lonnie Beard, a commercial fisherman, said he might apply for one of the terminal's 90 permanent jobs because of tough times in his lifelong business.
As the nation's thirst for energy continues to grow, market prices have sparked new interest in natural gas, which once was regarded as a nuisance in the oil fields.
In 1999, gas traded on the New York Mercantile Exchange at an average price of $2.35 per million British thermal units. Last year, the price averaged $9.20. In between, there were price spikes as high as $20.
The United States consumes about 60 billion cubic feet of gas per day — about a quarter of its energy consumption. Gas heats more than 60 million U.S. homes and is the fuel of choice for generating power in many areas.
At the same time, gas supplies are getting tighter.
In the Gulf of Mexico, production has declined by more than 4 billion cubic feet per day since 2001, while production in the North Sea is dropping by 15 percent a year as easy-to-reach deposits play out. Alternatives such as deepwater drilling in the Gulf, drilling deep into the bottom of shallower Gulf waters and going after gas in the Rocky Mountains are more expensive.
Importing natural gas in its liquid state often is a cheaper alternative, said Darcel Hulse, Sempra chief executive officer.
In its liquid form, 600 times the volume of the natural gas product can be stored in the same space, making Sempra's storage the equivalent of 10 billion cubic feet of natural gas when heated and moved on to pipelines.
The plant will be able to reheat about 1.5 billion cubic feet daily.
Natural gas is important for more than home heating and production of electricity. The chemical industry uses gas as a raw ingredient in products and to generate steam and power. The industry says an ample supply of gas with stable prices is needed to keep the domestic chemical business competitive with foreign companies who often have access to much-cheaper fuel.
"Even though some of these terminals have long lead times associated with their construction, those that do exist and those that will come on line hopefully will bring the supply-demand curve for natural gas back into proper proportion," said Dan Borne, president of the Louisiana Chemical Association, a trade group representing 100 plants in the state.
But along with LNG plant construction comes fears of accidents or terrorist attack. Although not flammable in its liquid state, opponents worry about leaks at terminals and on tankers that would allow the liquid to heat up quickly and return to its flammable gas form.
Environmental concerns also have flared. On March 28, Shell Oil Co. dropped plans to build a terminal in the Gulf of Mexico 36 miles south of Cameron Parish after opposition from fishermen. The dispute arose over Shell's plans to use millions of gallons of seawater in the process. Opponents feared that would kill fish larvae. Chevron also dropped plans in March to build a $650 million terminal off of Mexico's West Coast — near the U.S. border but out of U.S. regulations' reach — after a four-year battle with environmentalists.
But the biggest concern centers on safety.
In 2004, an explosion at an LNG plant in Algeria killed 30 people. The worst accident on record happened in 1944, at a Cleveland LNG plant that burned and killed 128 people after a tank leaked LNG into the sewer system where it became a flammable vapor and exploded.
A congressional study released in March said fire from a terrorist attack on an LNG tanker could cause the gas to ignite so fiercely that it would burn people a mile away. The General Accountability Office said most experts believe intense heat — not explosions — would likely be the biggest threat to the public. GAO urged the Energy Department to perform new research on the risks for such ships.
Tim Riley, a lawyer and consumer advocate based in Oxnard Shores, Calif., said not enough is known about the potential hazards of an LNG spill for the government to be able to continue licensing terminals safely.
"The sheer volume is what makes it eminently dangerous," said Riley, co-producer of a film called "The Risks and Danger of LNG."
Industry advocates say the safety fears are exaggerated.
Sempra said its storage tanks are designed to withstand winds of 150 miles and hour and elevated nine feet off the ground for flood protection at its Hackberry project.
In addition, LNG tankers have booked 100 million sailing miles without a death or major accident and modern storage tanks are built with aluminum alloys and reinforced with concrete to withstand LNG's frigid temperatures, said Bill Cooper, executive director of the Center for Liquefied Natural Gas.
LNG tankers have double hulls, with six to 10 feet of space between the two hulls. There is an insulation layer around the storage tanks, he said.
"We're talking about a very robust, sturdy ship design," Cooper said.