/ Source: The Associated Press
Cooler weather aided firefighters Saturday as they battled to surround a 4,200-acre wildfire in the rugged, unpopulated interior of Santa Catalina Island while the resort's main town returned to life as the blaze's threat eased.
The fire was a little less than halfway contained and was expected to be encircled by Tuesday evening, Los Angeles County Fire Capt. Andrew Olvera said. One home and six businesses burned Thursday but no one had been seriously injured.
Nearly 4,000 evacuated residents had started returning to the island.
"We have a sense of duty to the town to bring it back to normal," delicatessen owner Rick Miller said as he unloaded supplies from his van. "People get hungry and it doesn't hurt to see businesses open and calm restored."
'Conditions are definitely in our favor'
Fog and highs only in the 60s diminished the threat of the fire spreading. It was isolated in the back country of the 76-square-mile island, more than 20 miles off the Southern California coast.
"Conditions are definitely in our favor. The humidity is up, the wind and temperature are down," Olvera said.
Fire started by accident
In the island's interior, firefighters used chain saws and picks to clear fire breaks. In canyons northwest of Avalon, crews of prison inmates struggled up a steep slope to cut smoldering trees.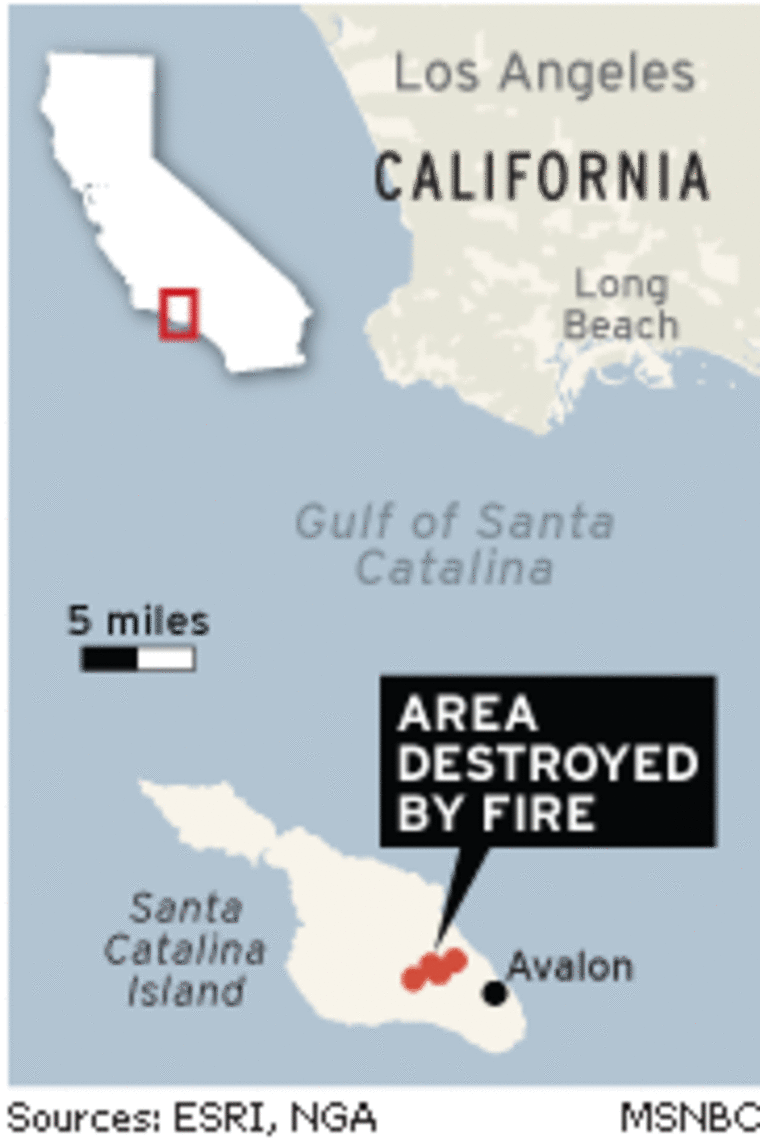 The fire appeared to have been ignited by contractors working on antennas at a radio station in the island's interior, Avalon Fire Chief Steven Hoefs said.
Bill Agresta, chief engineer at station KBRT-AM, said three contractors had been cutting steel antenna cable with a gas-powered circular saw Thursday when the fire ignited.
Agresta said he saw a small blaze and ran inside the station to call 911. By the time he returned, it had moved several hundred feet downhill and engulfed the contractors' tool truck.
The men unsuccessfully fought the fire with two hand-held extinguishers, he said.