/ Source: msnbc.com news services
An al-Qaida group claimed Sunday it was holding three missing Americans as thousands of U.S. soldiers searched for the GIs, who disappeared after their patrol came under attack in an explosion that killed four other American soldiers and an Iraqi army translator.
The Islamic State in Iraq, an al-Qaida front group, said it had captured several soldiers in the attack, but offered no proof to back up its claim, posted on an Islamic Web site.
Meanwhile, a suicide truck bomber crashed into the offices of a Kurdish political party, killing at least 30 people and wounding dozens, including the mayor, officials said. It was the second suicide attack in Kurdish areas of the north in four days.
In Baghdad, a parked car exploded near the popular Sadriyah market, killing at least 11 people and wounding about 40, police said. The area has been hit by several blasts usually blamed on suspected Sunni insurgents, including a car bombing on April 18 that killed 127 people.
The U.S. said Saturday that five people were dead and three were missing after the pre-dawn attack near Mahmoudiya. U.S. spokesman Maj. Gen. William Caldwell confirmed Sunday that the Iraqi interpreter was among the dead — and that all the missing were Americans. He said about 4,000 U.S. troops were involved in the search.
"Everybody is fully engaged, the commanders are intimately focused on this, every asset we have from national assets to tactical assets ... are being used ... to locate these three missing soldiers," Caldwell said.
Caldwell said the bodies of the three slain soldiers and the Iraqi interpreter had been identified, but the military was still working to identify the fifth.
Mahmoudiya is about 20 miles south of Baghdad in an al-Qaida-dominated area known as the "triangle of death." Two U.S. soldiers were massacred there last year after they disappeared at a checkpoint.
The attack in Makhmur, 30 miles south of Irbil, badly damaged the office of the Kurdistan Democratic Party of Massoud Barzani, leader of the autonomous Kurdish region in northern Iraq. Makhmur is not part of the Kurdish-controlled areas but has a substantial Kurdish population.
Ziryan Othman, the health minister of the Kurdish regional government, said at least 30 people were killed and 115 were wounded, including the mayor, Abdul Rahman Delaf, who also is a prominent Kurdish writer, and the director of the KDP office.
The attack occurred four days after a truck bombing in Irbil, the capital of the Kurdish self-governing region, killed at least 15 people and wounding more than 100.
Also Sunday, Iraqi gunmen drove into the Diyala capital of Baqouba, pulled two handcuffed men out of the trunk and fatally shot them — one in view of a bustling market and the other near a movie theater, police and witnesses said.
"This is the destiny of traitors," the gunmen yelled as they shot their victims.
Many Iraqis who work as policemen or soldiers, or as translators for American forces, keep their jobs secret and wear face masks to avoid being recognized and later killed by Sunni insurgent groups or Shiite militias that oppose the U.S. coalition as occupiers of Iraq.
Three other civilians also were killed execution-style in a market in the city center, police said.
Elsewhere, gunmen attacked a police station south of Baqouba, killing one officer and wounding four other people, including a 15-year-old girl, police said.
U.S.-led troops combed orchards and searched farms after seven American soldiers and an Iraqi army interpreter were ambushed on Saturday in an al-Qaida bastion south of Baghdad, leaving five dead and three missing.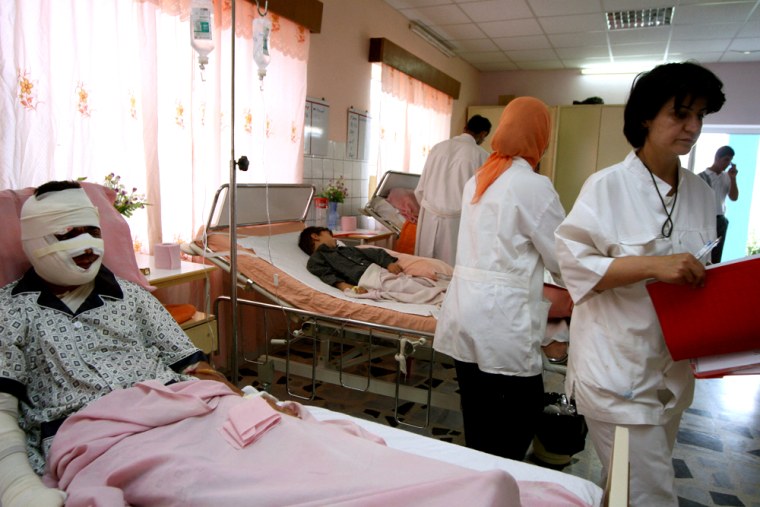 The military said the patrol was attacked before dawn west of the town of Mahmudiya in the Sunni "triangle of death," the same area where two U.S. soldiers were abducted by al Qaeda insurgents last year before their mutilated bodies were found.
Residents said on Sunday the patrol was ambushed by insurgents after it struck a roadside bomb on a rural road in an area of palm groves called Shibaiya, near the town of Yusufiya.
'We saw smoke'
"We saw smoke rise from the area. Three vehicles were on fire and a fourth one had fallen into a canal," said a farmer, who asked that his name not be used for fear of retaliation.
"U.S. forces cordoned off the area and made arrests," the farmer said as U.S. helicopters hovered overhead.
The area where the attack took place has long been a stronghold of al-Qaida militants and other Sunni Arab insurgents, residents said.
One resident in Yusufiya said U.S. helicopters had dropped leaflets offering a reward for anybody with information leading to the missing soldiers.
U.S. and Iraqi troops taking part in a massive hunt involving helicopters, drones and jets searched homes, combed river canals and lush palm groves, and sealed off the area to prevent the attackers from escaping, residents said.
Last June, al-Qaida militants kidnapped two U.S. soldiers in Yusufiya in an attack on a U.S. checkpoint in which a third U.S. soldier was killed. The mutilated and booby-trapped bodies of the two were found days later after a manhunt involving 8,000 U.S. troops.
The U.S. military said that after the attack a drone observed two burning vehicles, and when U.S. forces arrived an hour later they saw five soldiers dead. A unit that heard blasts had tried unsuccessfully to establish communications with the patrol.
Halt slide into civil war
The attack came as 30,000 additional U.S. troops are being deployed in Baghdad in what is regarded as a final push to halt Iraq's slide into all-out civil war between majority Shiites and once-dominant Sunni Arabs.
The plan, which has reduced sectarian murders in Baghdad, is also aimed at securing the violent outlying areas outside Baghdad from where Sunni Arab militants are staging attacks against Shiite targets in the capital and elsewhere.
Bush is under pressure from Democrats to set timetables for withdrawing American troops in a four-year war that has killed more than 3,300 U.S. soldiers and tens of thousands of Iraqis since the invasion in 2003.