Lunchtime at an upmarket Kenyan safari lodge in what should be the slow off-season, and the dining room is packed with tourists from all over the world.
Chattering excitedly in many languages as they watch antelope, buffalo and a giraffe grazing just a short distance away across a stone terrace, they are driving an unprecedented boom in a key sector of east Africa's biggest economy.
Kenya made $800 million from tourism in 2006, making the industry its best hard currency earner ahead of horticulture and tea. This year, the tourist board expects revenues to top $1 billion for the first time.
"This is the busiest we have seen it," says Patrick, a barman at the lodge. Behind him, Lake Nakuru reflects the sky like a mirror, lined with an electric pink fringe of about 1 million flamingos.
Kenyan tourism was hit by U.S. travel warnings after bombings in 1998 and 2002 that were blamed on al Qaeda.
But it has rebounded strongly in the past three years, and earlier this month the Kenya Tourist Board (KTB) said March 2007 had been the most profitable month on record.
Perhaps the best news was that -- defying the warnings -- U.S. arrivals were up by 20.7 percent in the first quarter to 22,802.
Pre-election boost
The figures reflect a broader financial boom in the country and a success for President Mwai Kibaki, who inherited stagnant economic growth of just 0.6 percent from his long-serving predecessor Daniel arap Moi in late 2002.
His administration is staking its reputation on economic recovery ahead of elections due in December, and was boosted by a recent central bank forecast of 8 percent growth by 2008, up from at least 6 percent this year.
Tourism will play a leading role. While growth is constrained by potholed roads, environmental degradation, and fear of crime -- particularly in Nairobi -- the government still hopes to more than double visitor numbers to 5 million by 2012.
From Beijing to Baltimore, television, print and radio campaigns are selling the attractions of parks like Nakuru: nestled in the Great Rift Valley, ringed by acacia and euphorbia forests and roamed by wildlife including lions and rhinos.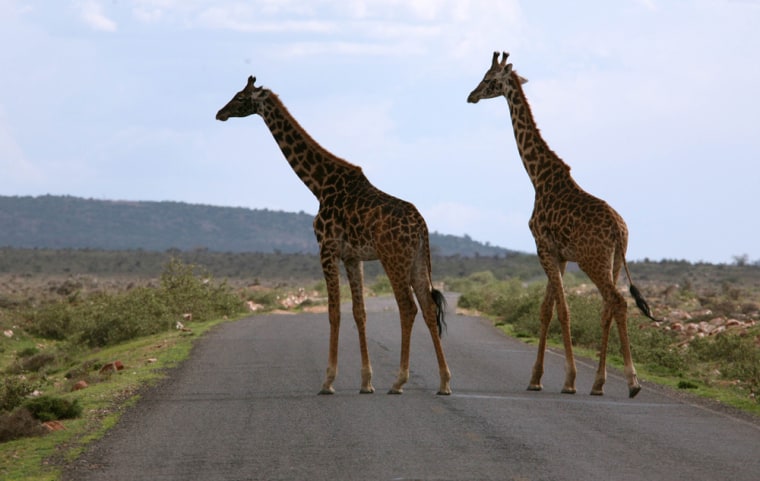 Much of the future growth will be fed by emerging markets in Russia and China, officials say, as well as more tourists from traditional markets like Europe and Japan.
Underlining the booming interest, Virgin Atlantic is launching daily London-Nairobi flights next month, hoping to carry some 100,000 extra passengers to Kenya in the first year.
"If it is successful we hope to go up to two planes a day," Virgin Chairman Richard Branson said during a visit in March.
Re-branding drive
Rising before dawn with strong coffee, donuts and fresh fruit in Nakuru, one group of Americans prepared for an early game drive, hoping to spot the park's more reclusive big game.
Numerous forays into Africa by U.S. celebrities in recent months have raised the continent's profile there.
But this year's biggest growth came from Eastern Europe, and particularly Russia, where KTB said economic growth meant aggressive Kenyan adverts were reaching more potential visitors.
To support its bullish vision, the government is reforming operations at home as well as spreading the word overseas.
The Kenya Wildlife Service (KWS), the body that runs more than 60 parks, reserves and sanctuaries, held its first conference on the science of wildlife preservation last month, drawing hundreds of delegates to the golden ballroom of a Nairobi hotel.
It stressed the importance of the organization becoming more "science-led", and of a re-branding drive to market each area as a unique destination, from climbing Mount Kenya to lion-trekking in the savannah to lounging on the coast's sandy white beaches.
It is trying to improve facilities and services at its resorts, hotels and lodges, and the infrastructure linking them.
Yellow bulldozers are repairing the notoriously potholed road to the Maasai Mara reserve, famed for its huge wildebeest migration which begins in July.
When tourists reach the park, new technology has been introduced and they will sign in and out using smart cards to instantly build a database that was once compiled by hand.
"Only in Kenya"
There are, of course, long and short term challenges.
Competition from African safari rivals, notably South Africa and neighboring Tanzania, has become increasingly fierce in recent years. Weakness in the rand has made South Africa even more attractive for Western tourists in recent months, KTB says.
And in the longer term, Kenya faces a threat from the projected impacts of global warming, which is seen dramatically affecting weather patterns and cutting existing animal ranges.
Even the government's upbeat growth predictions will not be enough to pull the majority of its 35 million population out of penury. Donors say Kenya's economy needs to grow by at least 10 percent a year to halve the number in poverty by 2015.
But Kenyan tourism players are optimistic, and even the Rift's stunning pink flamingos -- once threatened with extinction by erosion and pollution -- are making a comeback as locals are encouraged to play a bigger role in conservation.