By now you are used to hauling Ziploc bags full of Transportation Security Administration (TSA)-approved three-ounce liquids onboard your flights.
What haven't you fully accepted? Drying, drugstore-brand soaplettes, messy, mini mouthwash bottles and hard-to-find portable shaving cream containers.
"You can go to the drugstore and stock up on travel-size products, but they are plain generic items and they are very limited in choice," says David M. Rowell, founder of www.thetravelinsider.info/, a travel planning Web site. "It's been problematic for travelers to find toiletries that meet with TSA regulations."
That's about to change. Several cosmetics and skin care companies have recently rolled out high-quality toiletries in the right carry-on sizes, many created specifically to comply with TSA rules.
Chicago-based Travelon will release an instant tooth gel, mouthwash and shaving gel in late May under its Travel Fresh line. All three tablets take liquid form when mixed with water. Each will cost between $5 and $7.
NewBeauty magazine has targeted female travelers tired of squeezing moisturizers and facial cleanser into tiny bottles with BeautyBox. It's a sampling of six, three-ounce department store goodies including Clarins Hydrating Brightening Lotion SPF 20, Mario Badescu Glycolic Foaming Cleanser and an eye makeup remover by Lancôme. It's available at Nordstrom department stores for $29.50 and will expand to other retail outlets later this year.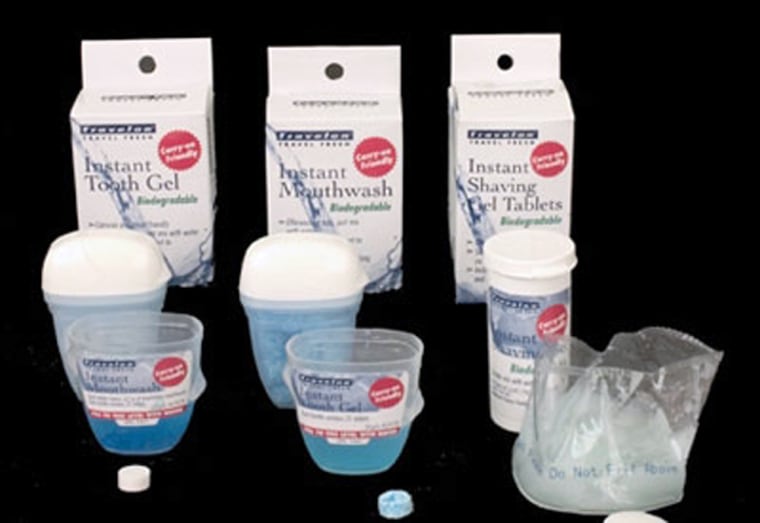 With products like these, you don't have to waste time checking in your bags. And, more importantly, you're no longer relegated to raiding your hotel bathroom for toiletries in the right size.