/ Source: The Associated Press
Copenhagen's famed Little Mermaid statue was found doused with red paint Tuesday, the second time the bronze landmark has been defaced since March.
The damage was discovered after hundreds of black-clad youths clashed with police, barricading streets and setting fire to cars to protest the demolition of a building in the city's free-wheeling Christiania district.
Police said it was unclear if the damage was connected to the clashes.
Police fired tear gas to disperse the Christiana protesters and arrested 59 people, all Danes. Three people were hurt, all police officers.
"At times it was pretty violent," police spokesman Flemming Steen Munch said.
The clashes started Monday when workers tore down a condemned building in Christiania, a partially self-governing section of Copenhagen that is home to an alternative lifestyle community.
The youths threw bottles, cobblestones and firecrackers at police and set fire to cars and street barricades.
Although the building was largely abandoned, many protesters saw the demolition as part of a government plan to assert control over the enclave.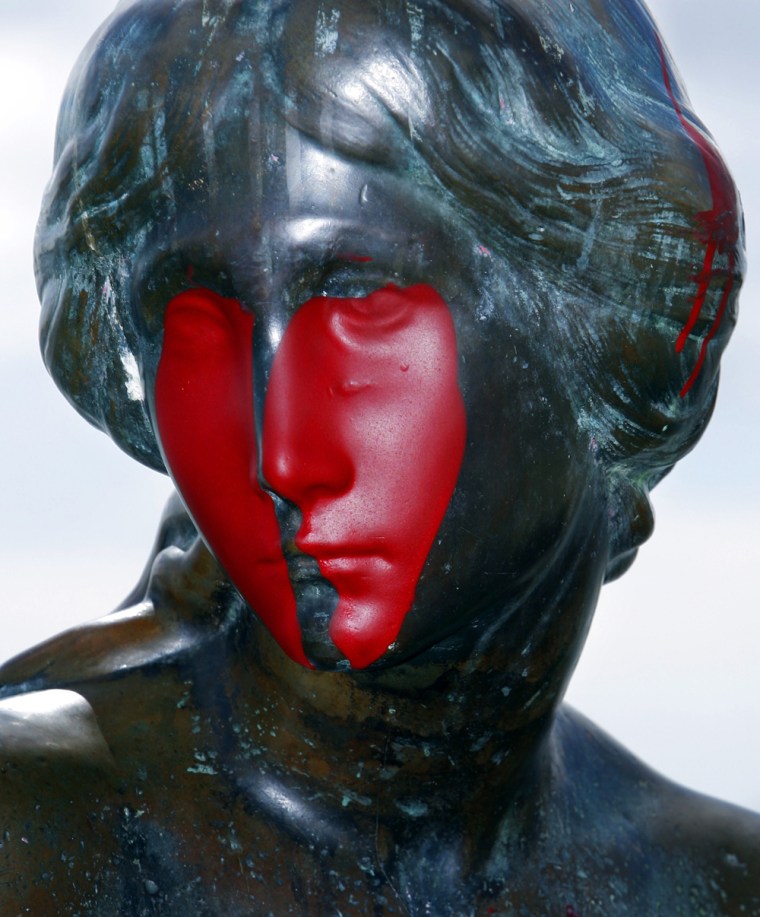 Two months ago, angry youths went on a rampage in downtown Copenhagen to protest the eviction of squatters from a youth center in another part of the city. Hundreds were arrested and 25 people hurt in the riots, the worst clashes in Copenhagen in more than a decade.
The Little Mermaid was created by Danish sculptor Edvard Eriksen in tribute to the Danish storyteller Hans Christian Andersen. Sitting on a rock at the entrance of the Copenhagen harbor since 1913, she draws an estimated 1 million visitors a year.
She's also been a popular target for vandals, who have blown her off her perch, beheaded her, and painted her. On March 3, she was covered with pink paint, which was quickly removed.