April is supposed to be one of the best months for the housing industry, when builders, lenders and real estate agents gear up for the busy spring selling season. But this year, it's turning out to be one of the worst on record.
There was a bit of good news in the latest statistics. According to monthly government data released Wednesday, construction of new homes — mostly multifamily housing — bumped up a bit in April compared to March. But overall, housing construction activity is still languishing nearly 26 percent below this time last year.
The outlook for the rest of the season remains fairly bleak. Applications for new building permits fell nearly 9 percent in April from the March rate — the sharpest drop since the last housing recession in 1990.
The report added further evidence that the housing industry faces further declines before things turn around. Home builders apparently share the gloomy outlook; a survey released Tuesday by the National Association of Home Builders found that an index of builder sentiment fell to from 33 to 30, matching the low point in the current downturn set last September.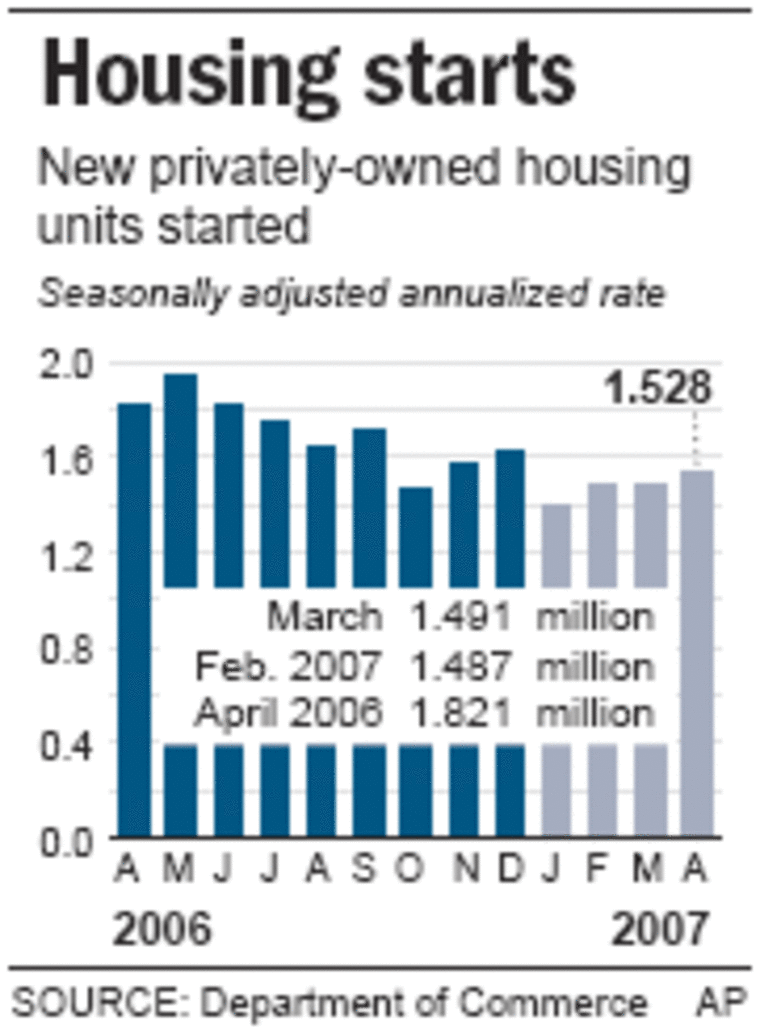 "We're now projecting that home sales and housing production will not begin improving until late this year," said David Seiders, chief economist for home builders group. "And we're expecting the early stages of the subsequent recovery to be quite sluggish."
The outlook for continued weakness has also dampened home buying demand, which is putting further downward pressure on prices, according to Robert Moulton, president of Americana Mortgage Group.
"I think prices have a way to go down," he said. "People are looking at houses, but they have their money in the stock market, which is up 7 percent year-to-date, so they're looking at 18 to 20 percent return on their money now. What's the rush? Prices are coming down and people are making money on their money."
The housing market is also still struggling to overcome the fallout from the collapse of the subprime lending market, which saw huge growth in the middle of the decade as lenders extended credit to people with spotty financial histories. Widespread defaults on those loans have touched off a wave of foreclosures, adding to the supply of homes on the market.
Many borrowers are now finding that they cannot refinance or get new loans because lenders have tightened up their standards. That is another factor hurting housing demand.
"Financing is really key here," said John Silvia, chief economist at Wachovia Corp. "We're going through a process where the regulators are re-evaluating standards and mortgage benchmarks they're going to use going forward. That is a wild card in terms of the length of the housing correction."
At economics research firm Global Insight, U.S. economist Patrick Newport says the firm's forecast calls for housing starts to drop by more than 10 percent from current levels before the market turns around.
Like everything in real estate, though, a lot depends on "location, location, location." There's a fairly wide range of strength and weakness in various housing markets — even among different cities in the same region.
Despite lackluster national averages, home building picked up by 31.3 percent in the Northeast and 7.8 percent in the West last month. But housing starts fell 14.2 percent in the Midwest and 0.1 percent in the South.
"Prices vary all over the place," said Silvia. "A lot of it depends upon in migration, demographics and job growth — region to region — even metropolitan area to metropolitan area within a given state."
And even when a national housing recovery comes, it's not likely to match the record, five-year boom that abruptly ended in 2006. The pullback was big enough to take a bite out of the overall growth of the U.S. economy, which posted a meager 1.3 percent gain in the first quarter of this year.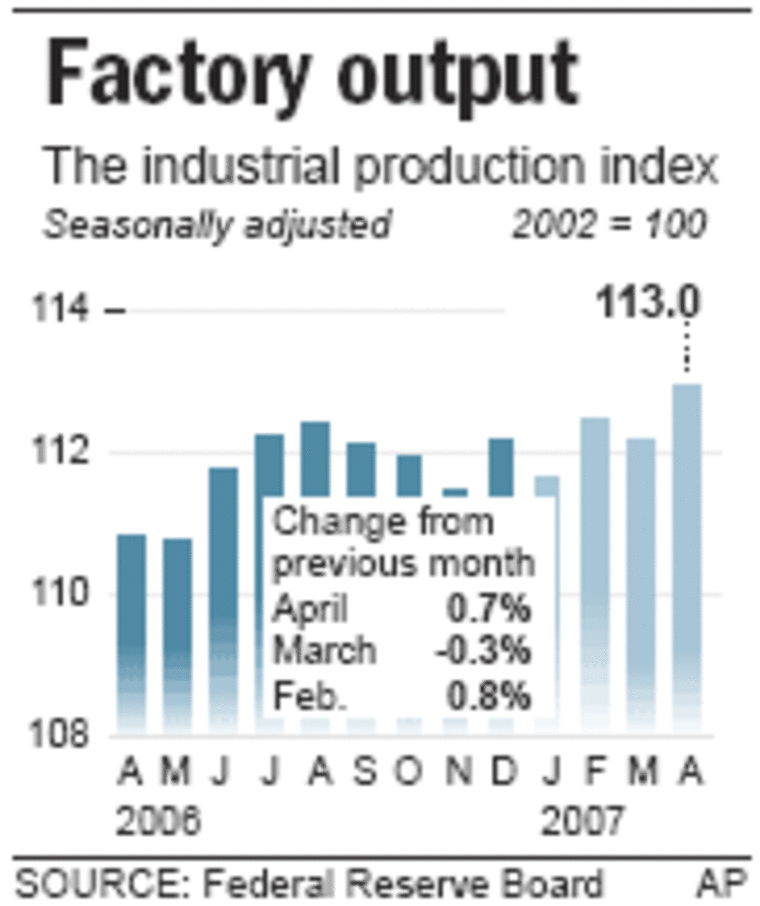 So far, the economy seems to be dodging a housing-led recession better than it did in the 1990 slump. One Tuesday, the Federal Reserve reported that industrial output rose by 0.7 percent in April — more than double the gain that economists had been expecting.
Much of that gain was the result of a colder-than-normal April, which boosted demand for energy to heat homes, stoking growth by power generators by 3.5 percent.
But other sectors also showed signs of strength. Even the manufacturing sector, which has been steadily losing jobs, showed signs of life in April. Factory output was up 0.5 percent in April following a 0.6 percent rise in March, led by higher production of autos, computers and electronic equipment.