/ Source: The Associated Press
Dwight Smith and his mother made several trips to Ireland over the years, reveling in the beauty of the Killarney lakes in the southwest corner of the country.
When Smith's mother died in August, there was no question she would be cremated — a request she had made often — or that her remains would be scattered near the lakes.
But Smith, of New London, Conn., said he didn't have the time or resources to make the trip now and wanted to fulfill his mother's wishes soon.
"What she doesn't want to be is in Long Island Sound," he said.
Checking with a mortician friend, he hooked up with the International Scattering Society in the Kansas City suburb of Lee's Summit, a sort of travel agency for the cremated dead that offered to handle for a fee all the paperwork and logistics required in taking his mother's remains overseas. Sometime this month, one of the society's members will scatter the ashes in Killarney, providing Smith with video or photos of the event.
"I feel that it will be done in a better way than I could have done," he said. "My mother would be happy that someone who likes doing this is doing this."
The dead are not content to just sit on the mantel anymore.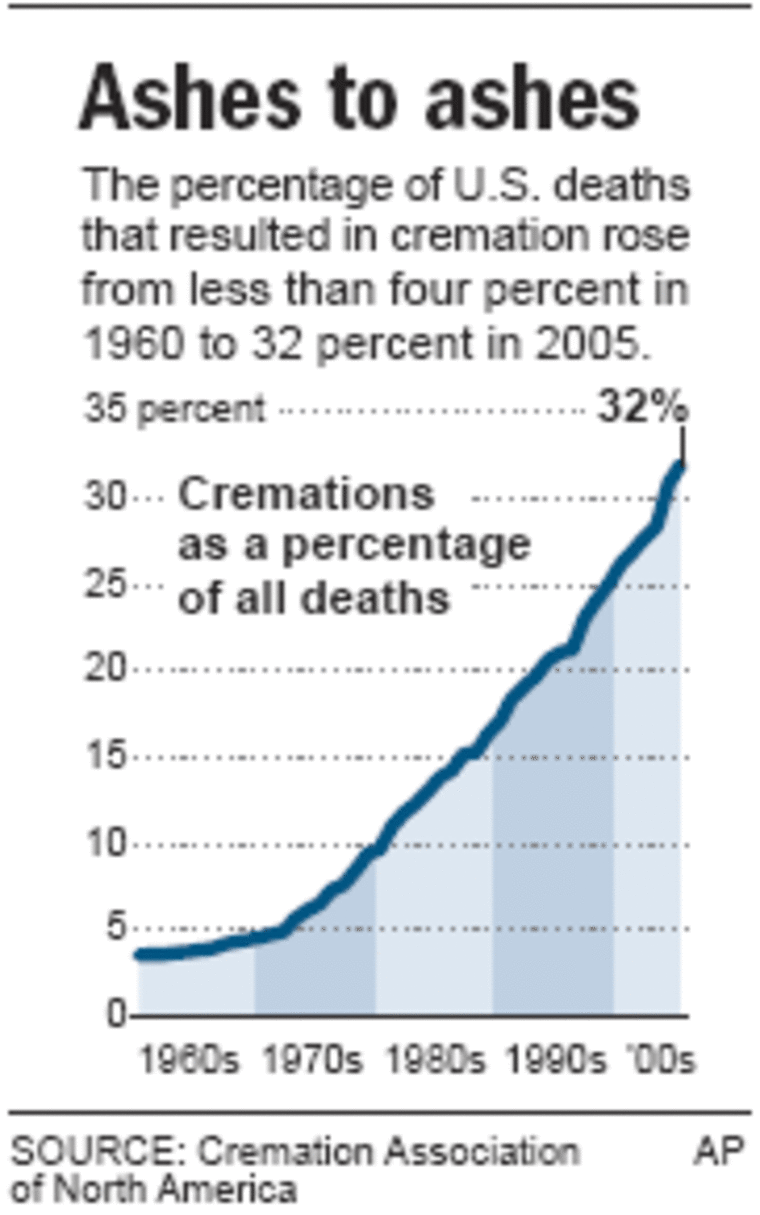 As the number of cremations grow — 32 percent of U.S. deaths led to cremation in 2005, compared with 21 percent in 1996, according to the National Funeral Directors Association — the demand has risen among friends and family seeking out companies and organizations that can help them deal with the remains, either fulfilling their loved one's wishes or finding a final resting place more exotic than a family urn.
Bill Metzger, for example, said he's seen a 50 percent increase in customers over the past year for his business, Final Flights, which uses his Piper Cherokee to scatter ashes above southern California sites, such as La Jolla, Big Bear or the Catalina Islands. He said he does six to 10 scatterings a month at a cost of $300 to $500, depending on distance and fuel prices.
"When I get a call and I explain what we do, people are stunned; they didn't know something like this existed," Metzger said. "It just seemed an uplifting — no pun intended — happy way of doing things, as opposed to a somber scattering at sea or placing in a columbarium (crypt)."
Mark Smith, president of the Chicago-based Cremation Association of North America, said the majority of cremated remains still go home with loved ones for burial or safekeeping. But his association did a study last year that found that 21.7 percent of remains are destined to be scattered, up from 17.8 percent in 1997.
Smith said much of that growth is coming as funeral home directors increasingly offer scattering services in their funeral packages or at least broach the subject of alternative disposition of the ashes, something traditional-minded families may have never considered.
He added that some relatives choose scattering because they worry about possibly losing the remains or subsequent generations letting the ashes lay forgotten in a closet or attic.
"They realize they don't want to become custodians and caretakers for these remains for a long period of time," he said.
Arvin Starrett, a spokesman for the National Funeral Directors Association, recommended customers do their homework on a proposed scattering company or rely on a funeral home's suggestions for reputable companies.
"I think the disasters of the last few years with regard to cremation, as abhorrent as they are to funeral home directors, it comes back to the trust of one's funeral director," he said, referring to the 2002 incident in which police found scores of bodies stacked up at a crematorium in Noble, Ga.
The most popular scattering option is water, according to the Cremation Association's study, although land-based scattering has grown from 27 percent to 40 percent since 1997.
Wes Heinmiller, owner of Newport Beach, Calif.-based Atlantis Society, said his company does about 400 scattering ceremonies a year off the coasts of California and Washington State. His service costs $1,000 to $1,200 per ceremony, including the cost of chartering his 67-foot yacht.
Joanie West of Crystal River, Fla., has taken a different angle on air scattering with her 10-year-old company, The Eternal Ascent Society. With the help of the family or by herself, she launches the cremated remains inside a large helium-filled balloon. Once it reaches a height of five miles, it pops, distributing the ashes to the winds.
"It's something that's beautiful when they see it," said West, who is setting up franchises in Las Vegas, Seattle and New Jersey and charges between $995 and $1,500 per service, depending on how far the coordinator has to travel. "I tell them that when it scatters, it's going all over the universe."
For the person envisioning a more localized scattering, there are numerous services willing to take the ashes to any spot on the globe.
Jonathan Rose in Mountain View, Calif., charges $225 to take a person's ashes to land he owns south of Yosemite National Park in the Sierra Mountains where he'll scatter the remains or bury them in one spot, which he said appeals to Catholics.
"Mostly they want to be in the mountains; the idea of being scattered from a mile up doesn't appeal to them," said Rose, whose High Sierra Gardens does about 12 scatterings a year but acknowledges he could do a lot more if he worked on his marketing. "It really is building up a trust issue with the funeral homes, that's really difficult."
The International Scattering Society, which is helping Dwight Smith with his mother's remains, is a fledgling in the business, having completed three scattering ceremonies in its two-year life, with another three set for this month. It charges $495 to scatter ashes in the U.S., $695 for Europe and Africa and $895 for Asia and Australia.
Kelly Murtaugh, the society's president, said she got the idea after working in hospice care and seeing the struggles people had in making end-of-life decisions. She now has 22 members available, mostly in the U.S., who will receive the ashes through certified mail and scatter them wherever the customer wants.
"I think it's a way of cherishing the memory of that person," she said. "Maybe they feel that have a connection with that particular area."
Besides scattering, the society can also help customers navigate the myriad regulations covering the disposal of cremated remains, which varies widely from country to country and even city to city.
Disposal typically requires a permit from the local health department and, in the case of overseas scatterings, tangling with customs officials.
"If it gives them some closure, that's all we need," she said.