Every Monday morning Ushma Pandya packs a suitcase and flies to San Antonio for a portion of the workweek. All that flying helps her rack up lots of frequent flier miles. But it also takes a toll on Mother Nature.
That's why she and many of her fellow business consultants at Katzenbach Partners try to be eco-friendly when they travel for work. These days, it's not that hard to do. With a growing number of companies urging their employees to travel more sustainably, there are plenty of vendors marketing their "green-ness."
Hotels have been quick to advertise their environmental efforts, from laundry to light bulbs. Car rental agencies tout the availability of hybrid cars, and organizations that sell carbon-offsetting options are increasingly educating companies about how to do their part. Even travel Web site Orbitz.com is joining the effort with its recently launched eco.orbitz.com, where one of the main features is a listing of "eco-friendly" hotels.
"This is about changing the economics of energy without taxes, regulations or laws," says Eric Carlson, executive director of Carbonfund.org, a group that educates about the economic effects of climate change. "This is a market-driven way of changing business. My hope is, in five to 10 years we'll look back and realize these companies made it happen."
The direct effect humans have on the environment--everything from how much carbon dioxide is released into the atmosphere during travel to the waste they produce while using bottles, paper and plastic--is referred to as an ecological footprint.
Carlson says airline travel leaves one of the most significant footprints, since it releases carbon dioxide, a heat-trapping gas that stays in the atmosphere for about 50 years. That gas creates a blanket above the Earth that locks in heat, which many have argued is responsible for global warming and can adversely affect glaciers, the North and South Poles and Antarctica, as well as bring about changes in weather patterns and sea levels.
Business travel has a significant impact on all of that. U.S. business travelers rack up about 240 billion passenger miles each year, according to Scot Case, a vice president at Terrachoice, an environmental marketing agency. Planting a tree will help absorb about 50 pounds of carbon dioxide; to offset the total numbers of business flights each year, about 3.2 million trees need to be planted, he says. That's called carbon offsetting, and an increasing number of companies are considering whether to pay for it as a matter of policy.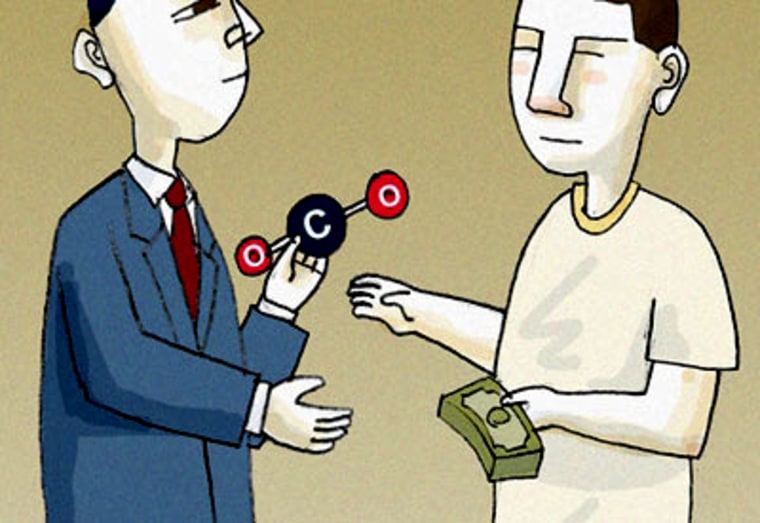 It's something Arnold & Porter, a Washington, D.C., law firm, started doing last year. "The firm travels in the millions of miles per year in total," says Jonathan Martel, a partner in Arnold & Porter's environmental practice. "It's not easy to reduce the amount of travel lawyers do for clients, but it is something we could offset."
The firm calculates the amount of miles its employees fly, and it purchases carbon offsets from Carbonfund.org, which uses that money to plant trees and build windmills.
Katzenbach's leadership team is meeting this month to determine whether the company will pay for carbon offsetting. Currently, employees can purchase their own. That's what Pandya does: She calculates the amount of miles she travels for each project and purchases them accordingly.
And that's not the extent of her eco-friendly travel. It starts when she leaves her apartment each week by bringing a travel coffee mug to Texas so she doesn't have to use Styrofoam or paper. She also stores bottles of toiletries, such as shampoo and conditioner, at the hotel so she doesn't need to use the mini plastic bottles the hotel provides. Next, she always takes advantage of the card asking her to hang her towels on the rack if she wants to reuse them instead of having fresh ones delivered. That saves on water and detergent.
"Last week I was at a hotel, and they weren't doing what they said they would do--they kept bringing fresh towels," says Pandya. "I had a conversation with the head of housekeeping and explained that one of the reasons I stay here is because they recycle towels."
Pandya also rents hybrid cars when on business and urges her fellow teammates to travel with her instead of renting their own cars. When on the West Coast she rents from EV Rentals, an agency that provides only hybrid vehicles. She also turns off the air conditioning when she isn't in her hotel room and leaves a note to housekeeping so the staff also won't turn it on.
"Everyone needs to figure out what's important to them and decide what they can do to travel more eco-friendly," says Pandya, a project manager for Katzenbach who sends out periodic e-mails to the staff about ways to be more environmentally friendly. "Some people feel comfortable doing more, and for some it's small steps. Behavior change won't happen overnight."