/ Source: The Associated Press
People flooded out of a besieged Palestinian refugee camp Tuesday night, waving white flags and telling of bodies lying in the streets and inside wrecked houses after three days of fighting between Lebanese troops and Islamic militants.
Earlier in the day, a relief convoy came under fire when a cease-fire abruptly shattered as U.N. workers tried to deliver food and water to residents. A U.N. official said some who approached the convoy seeking supplies were wounded or killed, but he did not have exact figures.
The nighttime lull that allowed the escape did not appear to be part of an organized truce — and there was no sign the battle was over. The government of Prime Minister Fuad Saniora said it was determined to uproot Fatah Islam, which took up residence in the camp late last year.
There was no immediate indication of whether the flight of civilians would give the government a freer hand in bombarding militants holed up in the camp. The army has said its troops were trying to target only militant positions.
Twenty-nine soldiers and at least 20 militants had been killed since the battle began Sunday in the heaviest internal fighting in Lebanon since the 1975-90 civil war. But the number of civilian casualties remained unknown because relief workers were not able to get inside the camp.
When fighting quieted after sunset, thousands of people took the chance to escape. They streamed out of Nahr el-Bared's western gate on foot and in cars, pickups and minivans jammed with men, women and children. Many waved white towels or white plastic bags from the windows as they passed Lebanese soldiers encircling the camp.
"The smell of corpses was everywhere. There was no food, water or electricity and they were shooting at us," Dania Mahmoud Kassem, a 21-year-old university student, said of the past three days in the camp, which is on the outskirts of the northern port city of Tripoli.
Another refugee, Ibrahim Issa Dawoud, said he, his wife and six children — ages 3 to 13 — had taken refuge in a mosque for three days, living off potato chips while Lebanese army tanks and artillery fired at militants armed with mortars and automatic weapons.
"Even the cemetery was bombarded and the skeletons were uprooted," the 42-year-old said as the left with his family. "We thought this was our last chance because they will bulldoze the camp."
The camp is home to some 31,000 Palestinians who live crowded along narrow streets. AP Television News video taken in the camp showed streets littered with damaged vehicles, shards of glass and rubble from wrecked buildings, some in flames from shelling.
Arab support for crackdown
Despite broadcast images of Arab troops battering a Palestinian community, Lebanon's government has received widespread support at home and from Arab countries, some of which have even provided weapons to help the siege.
The backing underlined Arab leaders' desire to break what they see as a nascent terror group. Fatah Islam's leader, Palestinian Shaker al-Absi, has been linked to the former head of al-Qaida in Iraq and is believed to have recruited about 100 fighters, including militants from Saudi Arabia, Yemen and other Arab countries.
Angry Palestinians elsewhere in Lebanon burned tires to protest the military assault, raising the threat of wider unrest in the country's volatile refugee camps. Some 215,000 people live in the 11 camps, which are rife with armed groups and Islamic extremists.
Reports from fleeing residents raised fears of a high civilian toll.
"There's been a massacre. I witnessed it. In one room alone there are 10 dead. Six shells fell on us, the bodies were cut to pieces," one man shouted angrily as he and a few others managed to get out of the camp during a brief afternoon truce. He continued his flight before identifying himself or giving further details.
During that truce, the U.N. relief agency for Palestinian refugees, UNRWA, tried to get a convoy of water and other supplies into the camp. But as workers distributed supplies, shooting broke out. It wasn't clear who was firing.
"We were hit, initially by light arms fire, then by heavier fire," Richard Cook, the UNWRA chief in Lebanon, told APTN. "We've not had any staff hurt, but there were injuries and possibly deaths among those coming to collect the food."
Cook did not have exact numbers. Another UNWRA official said 15 civilians were killed or wounded but did not give a breakdown. The official, who witnessed the incident, spoke on condition of anonymity because he was not authorized to talk to journalists.
During the day's fighting, Lebanese troops tried to capture militant positions just outside the camp, which they are not allowed to enter under a 1969 agreement with Palestinian groups.
Fatah Islam spokesman Abu Salim Taha told The Associated Press the group fought off the soldiers. But APTN video showed at least one captured militant position, where a dead fighter lay in the debris.
Lebanese troops also tried to flush out Fatah Islam fighters in nearby Tripoli.
Soldiers raided an apartment building on Mitein Street, blasting a flat with grenades, gunfire and tear gas. They found no one inside, but a few hours later they pursued a militant in the building who blew himself up rather than surrender. No soldiers were injured by the blast.
The military's attack at the camp also has raised fears the fighting could destabilize Lebanon's uneasy balance among its many religious sects and factions. Saniora's Western-backed government already faces a domestic political crisis, with the Iranian- and Syrian-backed Hezbollah militant group campaigning for its removal.
But so far, Saniora's rivals have supported the assault. The Shiite Muslims of Hezbollah deeply opposes Sunni militant groups like Fatah Islam, and the movement issued a statement stressing the military's duty to safeguard the country.
Saniora's top rival, pro-Syrian President Emile Lahoud, also said Tuesday that Fatah Islam must be neutralized. He called on other Palestinian factions to hand over Fatah Islam militants.
U.S. backing
The Bush administration repeated its support for Saniora, a close U.S. ally. It also hinted that it suspected a Syrian role in the turmoil.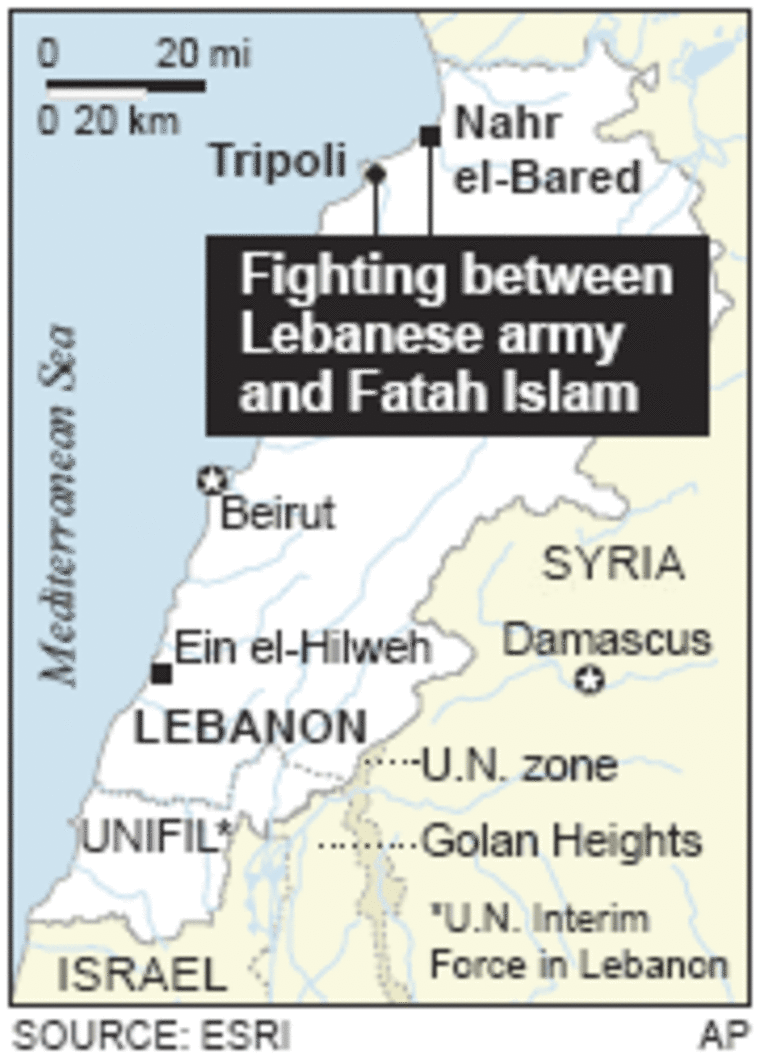 White House press secretary Tony Snow said the militants wanted to distract international attention from an effort at the United Nations to establish a special tribunal to try suspects in the 2005 assassination of former Lebanese Prime Minister Rafik Hariri.
He said the U.S. "will not tolerate attempts by Syria, terrorist groups or any others to delay or derail Lebanon's efforts to solidify its sovereignty or seek justice in the Hariri case."
Lebanese security officials accuse Syria of using Fatah Islam to destabilize Lebanon, a charge Damascus denies. Syria controlled Lebanon for decades until growing street demonstrations by Lebanese and international pressure forced it to withdraw its troops after Hariri's assassination.
The refugees fleeing Nahr el-Bared moved into the nearby Beddawi refugee camp. UNWRA officials registered them and distributed mattresses, food and water. Hundreds bunked at a school, while others moved in with relatives at the camp, already home to 15,000 people.
Kassem, the university student, was furious over the assault, saying Fatah Islam was just an excuse for the Lebanese army to strike. "We were not afraid of death. But to die by the weapons of Arabs, this is what makes us angry," she said.