/ Source: Forbes Traveler.com
Blame it on NASCAR.
"Twenty years ago, driving schools — and racing schools in particular — were few and far between," says Robert Prevost, founder of "But interest in motor sports has increased dramatically in tandem with the popularity of NASCAR."
John Lindsey concurs. The chief divisional director of the National Auto Sport Association, which organizes and promotes high-performance driving and racing events, estimates an annual growth rate of 30 percent since 2001.
"We're really in a renaissance right now," he says. "The fact that you can go out and buy a 'race' car for less than $35,000 — a or a Mitsubishi Lancer Evolution — means that even weekend warriors with money to burn can get a piece of the action."
For the most part, top driving schools can be divided into two camps: those that exist to give deep pocketed guests the chance to zip around in the latest luxury car, and the outfits that are decidedly less glamorous but focus exclusively on racing — heel/toe downshifting, flat-out acceleration, cornering, emergency braking — and getting licensed to race in sanctioned events.
, located in Andalucia, Spain, belongs firmly in the former category. This palatial retreat for well-heeled car enthusiasts and their families was founded by Klaas Zwart, a successful Dutch engineer and race-car driver who recently won the 2006 EuroBoss Championship. The resort features a 3.4-mile racetrack (inspired by some of Zwart's favorite courses like the Daytona Parabol) on which drivers learn to commandeer , , Radical SR3, Formula Reynard, Ascari KZ1 and Benetton F1s. There are also balloon rides for the kids.
Many high-end automakers (BMW, Porsche, etc.) now tout driving "experiences" for their clients. Take the in Italy; the course centers on two days of full circuit lapping, slalom and skid pad exercises in a 520-hp Gallardo, which has a sticker price that starts at $190,000. The icing on the cake is getting to lap in the new 631-hp , an experience closer akin to piloting a fighter jet on wheels.
A good example of the nuts-and-bolts school of driving is the in Gainesville, Fla. In the $1,795 two-day Super Class, drivers can practice quarter-mile runs in either a rear engine NHRA-class Super Comp Dragster or the 1,800-lb, 720-hp Supergas Pontiac Firebird.
"We teach students to floor the throttle," says Shields. "Which sounds fun and easy, but it's actually very intimidating once you're all suited up and your neck and arms are strapped into the cockpit." Students who successfully complete the course earn a competition license for NHRA events.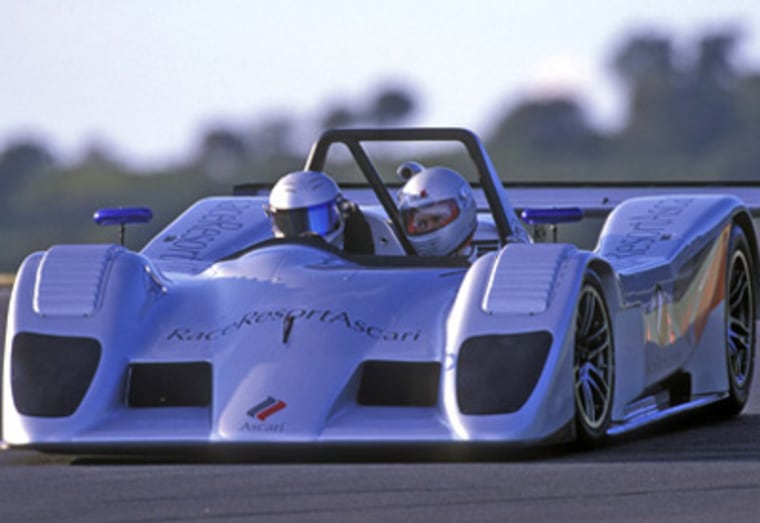 For more advanced drivers, there's the three-day, $6,995 Top Alcohol Dragster course (called so because the vehicle runs on methanol racing fuel) in which students practice in 2,300-hp vehicles (zero to 235 m.p.h. in five seconds!).
A big factor to consider before enrolling in a driving school is whether students are allowed to pass each other on the oval, which is the closest approximation to racing as one can get in a practice environment. Some well-regarded programs we researched don't allow this, instead focusing solely on follow-the-leader type scenarios, in which students follow a pace car lap after lap, which some in the industry feel defeats the purpose of being there.
"It's like training to run in the Olympics yet all you're allowed to do is jog," says Jason Williams, a representative of RacingSchools.com. "Certain schools don't allow it because it raises the accident risk and the track's insurance premiums go up." Good for the schools, but boring for would-be Earnhardts.
in Charlotte, N.C. is a) highly regarded and b) allows passing. NASCAR superstars Jeff Gordon and Ricky Craven are alums, and students get to drive authentic metal (not cheap fiberglass) 3,400-lb, 600-hp Nascar Nextel Cup Ford, Chevy and Dodge race cars that have been in competition. For the $2,400, three-day course, students can expect 35–50 laps per day, a third of which are spent racing up to six other student drivers on the track without an instructor as a passenger.
In compiling our list of expert-recommended driving schools, we attempted to cover a broad range of driving experiences — from racing to luxury supercars to stunt driving to off-roading. We also tried to stick with schools in locales where that particular driving style has its roots (Europe for Formula One, the U.S. for drag racing and stock car, etc.). Lastly, we tried to avoid covering some of the more widely known driving/racing schools in the United States such as Skip Barber, Bondurant, Bertil Roos and Panoz. These schools are all very highly respected and offer well-regarded racing/driving programs, but we wanted to dig a bit deeper and see what else is out there.
Travelers, start your engines.