/ Source: The Associated Press
Fast-spreading, foul-smelling blue-green algae smothered a lake in eastern China, contaminating the drinking water for millions of people and sparking panic-buying of bottled water, state media said Thursday.
The algae bloom in Lake Tai, a famous but long-polluted tourist attraction in Jiangsu province, formed because water levels are at their lowest in 50 years, leading to excess nutrients in the water, Xinhua said.
Officials in Wuxi, a city along the banks of the lake, called an emergency meeting on Wednesday to discuss measures to deal with the situation and allay public fears, said a posting on the local government's Web site.
"The government calls for the residents facing the natural disaster to help each other to deal with the difficulties," the notice said, advising people to boil the water before drinking it.
"The situation has lasted three days already. It's so inconvenient," said Qin Yingxian, 53, a video store owner in Wuxi. "The smell of our tap water is just so awful. If you use the water to shower, the smell will stay on your body."
Algae blooms, which scientists say are actually plantlike bacteria, happen in fresh water the world over. Some types can produce dangerous toxins. Causes include chemical run-off and excess nutrients in the water.
The algae bloom adds to the notorious industrial pollution in Lake Tai, famed for centuries for its beauty. The fast-developing region lies 80 miles west of Shanghai.
$6.50 for 2 gallons of water
Residents swarmed stores in Wuxi, a city of 5 million, to buy bottled water Wednesday and prices skyrocketed from $1 to $6.50 for a two-gallon bottle, Xinhua said.
Wuxi has placed a ban on price hikes and threatened hefty fines to violators, the report said. A Wal-Mart store imposed rations of 24 bottles per person, Xinhua said.
"Now we depend on bottled water for all our daily uses," Qin said. "People form long queues in the supermarkets for bottled water. Nobody expected something like this to happen. We aren't prepared."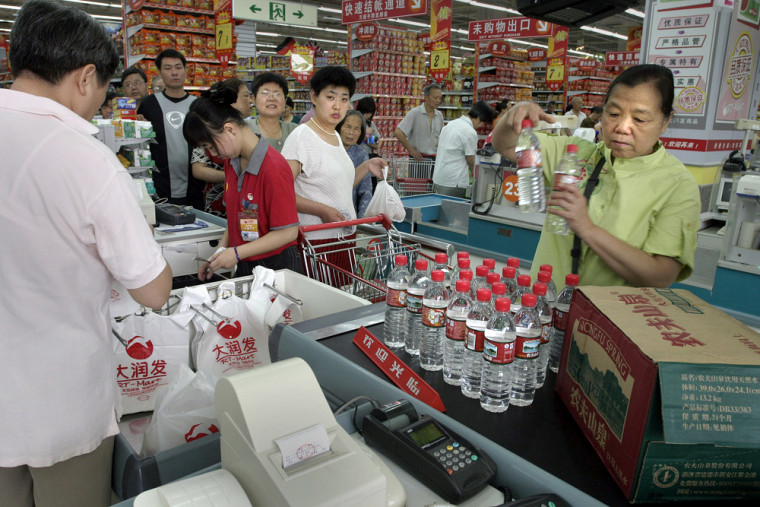 State television showed a yellowish trickle coming from taps and a restaurant worker said customers refused to eat there until they were assured that the water used was safe.
The Wuxi government said Thursday it was not authorized to give out information and referred all questions to provincial officials. A man who answered the telephone at the Jiangsu government office said authorities were "looking into the matter" and could not give any details.
Xinhua said the Wuxi government is planning to artificially induce rain in the next two days to dilute the lake water, and the provincial government has agreed to divert more water from the Yangtze River to the lake.
The local government is also using active carbon to filter the lake water and is importing bottled water from surrounding cities, China Central Television reported.
Health risks
Drinking toxin-tainted water can cause vomiting, diarrhea, headache, muscle pain, paralysis, respiratory failure and, on rare occasions, even death. Pets and livestock are especially vulnerable.
The incident is the latest to hit China's troubled waterways, which are dangerously polluted after decades of rapid economic growth and the widespread flouting of environmental regulations. Millions of people lacking access to clean drinking water.
In 2005, an accident caused a Chinese chemical plant to spew tons of toxic nitrobenzene and other chemicals into the north China's Songhua River, forcing authorities to cut water to millions of residents.