/ Source: The Associated Press
The original pink flamingo lawn ornament, the symbol of kitsch whose obituary was nearly written after its central Massachusetts manufacturer went out of business, is rising phoenix-like from the ashes and taking wing to upstate New York.
A manufacturer that bought the copyright and plastic molds for the original version plans to resume production in Westmoreland, N.Y. HMC International LLC will pick up where Union Products Inc. left off last year when it shuttered its Leominster, Mass., plastics factory after 50 years of flamingo making.
J.C. Waszkiewicz, head of family-owned HMC, said Thursday he expects retailers who buy his firm's flamingoes wholesale will appreciate subtle design differences between knockoff versions and the original by Don Featherstone, who studied art before Union Products hired him in 1956 to expand its lawn ornament lineup.
"Once I began discussions about buying Union Products, I started examining the different products on the market, and I realized Mr. Featherstone created a great-looking flamingo," said Waszkiewicz, whose firm closed on its purchase of Union Products in April for an undisclosed price. "There are other people who have tried to capitalize on his design, but none that I've seen hold a candle to the quality and detail he created."
Waszkiewicz's firm expects to resume Featherstone flamingo production by Labor Day. After Union Products ceased production last June, uncertainty surrounding the fate of the original led aficionados to snap up remaining stock in retail stores and secondhand Featherstone flamingos, in case those models became unavailable for good.
The molds are based on flamingos Featherstone sculpted from clay, working from photos of the graceful birds in National Geographic.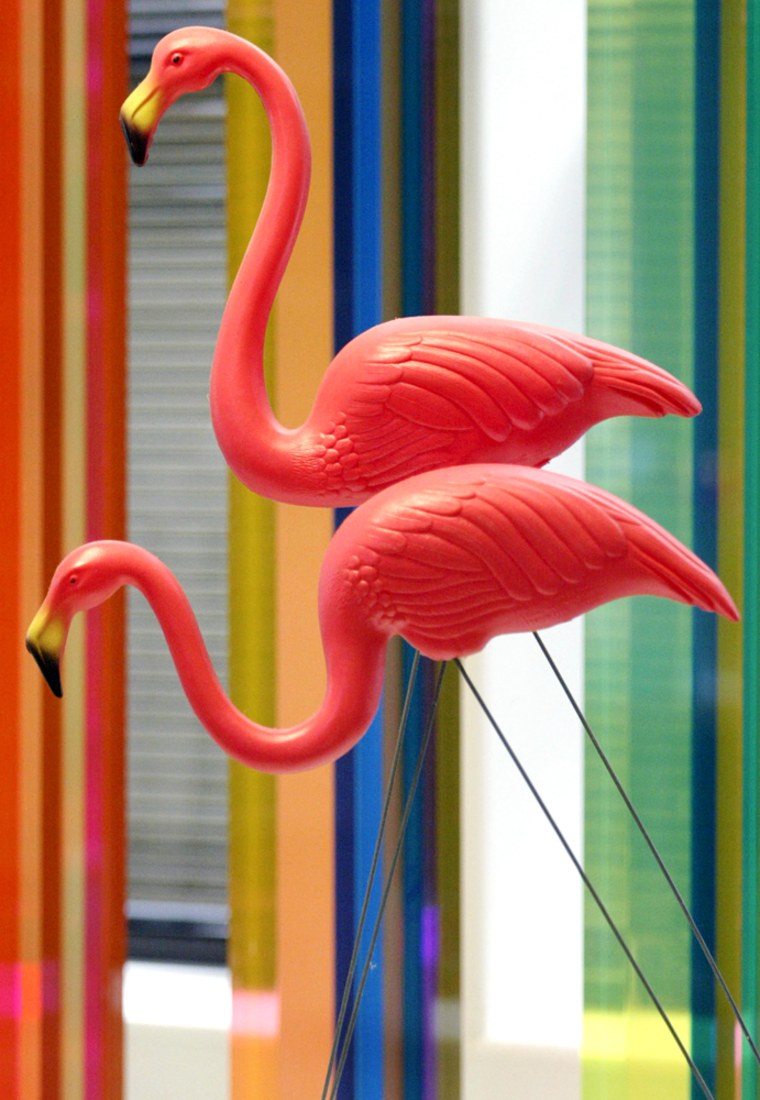 The ornaments hit the market in the late 1950s when the color pink was in vogue, and America's exploding population of suburbanites sought to add flair to their lawns.
But the birds also came to symbolize bad taste, and some residential developments even banned flamingo ornaments from lawns. The bird also became a target of pranksters, some of whom swiped the ornaments from front yards, took them on the road, and then sent photos to their owners showing the kidnapped birds in front of sights like the Grand Canyon.
The flamingos typically sell at $10 to $20 for boxed sets of two — one standing nearly 3 feet high with its head held proudly erect, the other bending over as if munching on grass. Their legs consist of spindly metal rods that can be planted in the ground. The Featherstone originals have their creator's signature etched into the bird's plastic rear end.
The Featherstone design's future was in doubt after Union Products went out of business amid rising expenses for plastic resin and electricity, as well financing problems.
Now that the original design will be made in New York, the city of Leominster is trying to keep its flamingo legacy alive, despite the demise of Union Products.
At a June 23 community celebration that coincides with the 50th anniversary of the Featherstone flamingo, civic activists plan to unveil what they call an "environmentally friendly" flamingo made from recycled plastic and sporting a new, more cuddly look, Mayor Dean Mazzarella said.
To avoid upstaging the unveiling, Mazzarella declined to reveal details of a design by citizens who came together spontaneously to work on the project. But he said there's talk in the city of 46,000 about trying to mass-produce the alternative flamingo, and possibly competing against the original that will now be produced in upstate New York.
"He was born here, and now, at 50, he's facing a mid-life crisis," said Mazzarella, who had tried to find a buyer willing to keep the Union Products' three dozen jobs local. "Everyone goes through changes in their lives, and the flamingo will change, we hope for the better."