In designing the new, bigger 2008 version of its cult-hit Scion xB subcompact cube, Toyota took a leaf out of General Motors Vice Chairman Bob Lutz's book.
In "Guts," which he wrote after his departure from Chrysler in 1998, Lutz outlines his Immutable Laws of Business. Rule No. 1: "The customer is not always right." That may sound heretical in this age of customer satisfaction, but consider this passage:
"Most people buy subcompacts because that is what they can afford, not because they have some warped desire to sit with their knees up around their chest," Lutz wrote. "Thus, when asked what they'd like changed about their cars, it's axiomatic that subcompact owners would like them bigger."
Lutz even prescribed how much bigger. The number he named — four inches longer in wheelbase — is exactly the amount Toyota has stretched its new Scion xB, even at a time when consumers are showing increased interest in smaller cars.
Why? Because just as Lutz said they would nearly a decade ago, although xB owners love their cars, they want then to be just a little bit bigger explains Steve Haag, Scion's corporate manager.
Stretching the xB has moved it up a class — from a subcompact to a compact car by EPA standards — and that doesn't make it a bad car. It's actually a very good car that is likely to have much broader appeal than its iconoclastic predecessor, but it seems less likely than the old car to serve its intended purpose.
Scion is Toyota's effort to attract younger car buyers. The Toyota brand is so entrenched with retirement-age baby boomers that the company's average customer age is looking more like Buick's. Scion has successfully attracted younger customers, and Haag says Toyota genuinely prefers to sell fewer Scions, as long as they help pull a new generation of customers into Toyota's camp.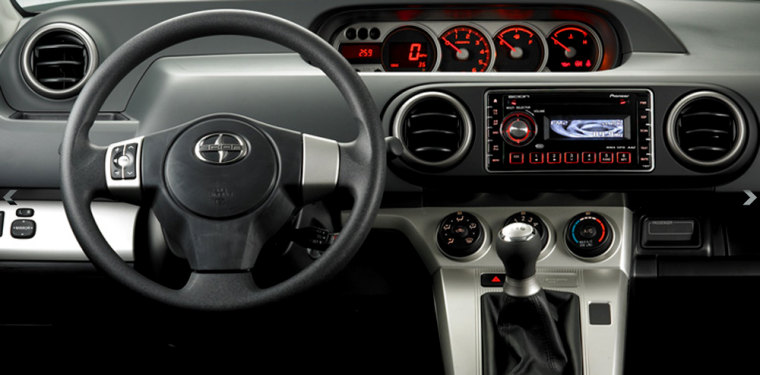 In this regard, Scion's first three models — the xA, the xB and especially the tC coupe with its average customer age of 25 — have succeeded marvelously. By contrast, Honda's similarly developed Element SUV failed in this mission, attracting older customers who appreciated its practicality and who might have thought its unorthodox styling made them look young and hip.
By making the new xB a larger, more comfortable, more expensive and more practical car, Scion runs the risk of seeing the average age of its buyers climb as quickly as their cholesterol numbers. The danger is that the intended twenty-something hipster buyers will soon see Scions piloted by gray-hairs on every corner.
Practical-minded customers flock to the Scion xB because it's a great car at a great price. It employs the versatile small wagon/four-door hatchback body style that packs the most interior space in the least exterior space, and it's large enough for adults with families to look at it as a fuel-efficient family car instead of a small wagon or SUV.
And while the xB's increased length means it's less appealing to drivers faced with the challenges of urban parking, it will be more appealing to older suburbanites wanting to pack in their families.
The xB maintains its cubist exterior design, but the new version sports beveled corners where the old car featured the sheer facets of a cut diamond. These softened edges and integrated bumpers give the new car a fresher, sleeker appearance. Gone is the old car's petulant lower lip of a front bumper, but the hugely stretched length and extended front and rear overhangs imbalance the car's proportions, giving it a bit of a dachshund look.
Inside, the xB's low price mandates hard, cheap surfaces everywhere, but at least those cheap surfaces are textured and have a matte finish. The dashboard feigns continuity with the old car's useless center-mounted instrument panel, which inconveniently positioned the gauges where they could be read by back-seat drivers, but no one else. The central instrument pod remains, but the large digital speedometer and analog tachometer are offset to the left, bringing them closer to the driver's normal line of sight.
The larger xB has abundant leg room in both the front seats and the rear, where even with the front seats drawn back there's still plenty of space. An extra 2.8 inches of width means that unlike the older model the new xB has a back seat that is wide enough for the car to be a true five-seater. The rear cargo hold has also grown, with ample space available behind the back seat. There is plenty of room for a couple child seats and space in back for a stroller.
On the road, the xB's electric power steering exhibits some of the characteristic numbness and lack of feedback for which such systems are derided, but the expectations in this area aren't high for an economy car.
The car's handling is sure and the ride is a clear improvement over that of the old xB, which at times felt busy. The five-speed manual transmission slips slickly from one gear to the next, and the shifter's location (sticking out from the dashboard — a bit like the Honda Element) puts it in easy reach. The clutch pedal is so light, though, that it's hard to feel the friction point as the clutch begins to engage.
A bigger, stronger and thirstier 2.4-liter engine moves the xB with far more authority than the old car's puny, 1.5-liter powerplant, but of course it demands more fuel to do so. It's hard to compare the mileage of the two cars because the EPA's tougher test for 2008 models yields lower numbers. In the xB's case, the score with the new test is 22 MPG in the city and 28 MPG on the highway. That's good, but not the sort of amazing numbers small car buyers expect.
The xB's added size and weight have improved its safety. Toyota's internal tests predict that the Insurance Institute for Highway Safety will rate the xB a "good" in front and side impacts, but Toyota made the same prediction for the new Tundra truck and fell short, so we'll have to wait and see. The xB also features electronic stability control as standard equipment. It's proven to dramatically reduce the incidence of crashes, so Scion deserves plaudits for including it.
In keeping with Scion's aim to involve owners with their cars, there's a full line of parts to help drivers soup up their xB, and even with lower-riding springs and bigger wheels installed, the xB's ride and handling are still excellent. This isn't typically the case for lowered cars. Similarly, an optional cold air intake system and a low-restriction exhaust each boost horsepower, but they don't spoil the experience by making the car too noisy.
Young drivers who do buy an xB will find these optional extras strongly compelling, as long as they have the extra dough to pay for them. And by giving drivers what they asked for in a larger, more practical car, Toyota has delivered a Scion that's fit for grown-ups too.