/ Source: The Associated Press
A man videotaped leaving a store shortly before a teenager was abducted in the parking lot was charged with murder Thursday, authorities said.
Edwin R. Hall, 26, was accused of premeditated first-degree murder and aggravated kidnapping in the death of 18-year-old Kelsey Smith, the Johnson County Court Web site said. Bond was set at $5 million.
Hall, looking tired and downcast, appeared Thursday in Johnson County Court via video feed from a jail in nearby Gardner. He waived reading of the charges until he can hire his own attorney. His next appearance was scheduled for June 14.
The charges came a day after Smith's body was found in the woods. She had been missing since Saturday night, when she went to the Target store in this Kansas City suburb to buy a gift for her boyfriend.
Surveillance video showed her being forced into her car around 7:10 p.m., and the car driving off. It was found in a nearby mall parking lot about two hours later.
Police Chief John Douglass said Hall appeared to be the same person shown in the video leaving the Target soon after Smith. He was wearing a white T-shirt, sneakers, shorts and a goatee.
"This community has lost a vibrant and promising life, and a family has suffered unimaginable tragedy," said Phill Kline, prosecutor for Johnson County.
Police said Hall's vehicle matched the description of a dark mid-1970s Chevrolet pickup that was seen entering the Target parking lot shortly after Smith's car.
"I want to again express my condolences to the Smith family," Douglass said. "I realize that this is not the preferred conclusion. While we cannot give them their daughter back, we can at least give them justice."
Detectives said a tip led them to Hall, of nearby Olathe.
If convicted, he would face a minimum sentence of 25 years to life in prison for the murder charge and more than 12 years for aggravated kidnapping, said Brian Burgess, spokesman for the Johnson County district attorney's office.
No evidence suspect knew victim
Douglass said police had received more than 500 tips in the case and had questioned numerous people, including Hall, who was arrested at the end of his interview Wednesday.
Douglass said there was no evidence that Hall and Smith knew each other. He declined to offer a motive for the attack or to specify whether investigators had determined that Smith was killed in Kansas, where the murder charge was filed.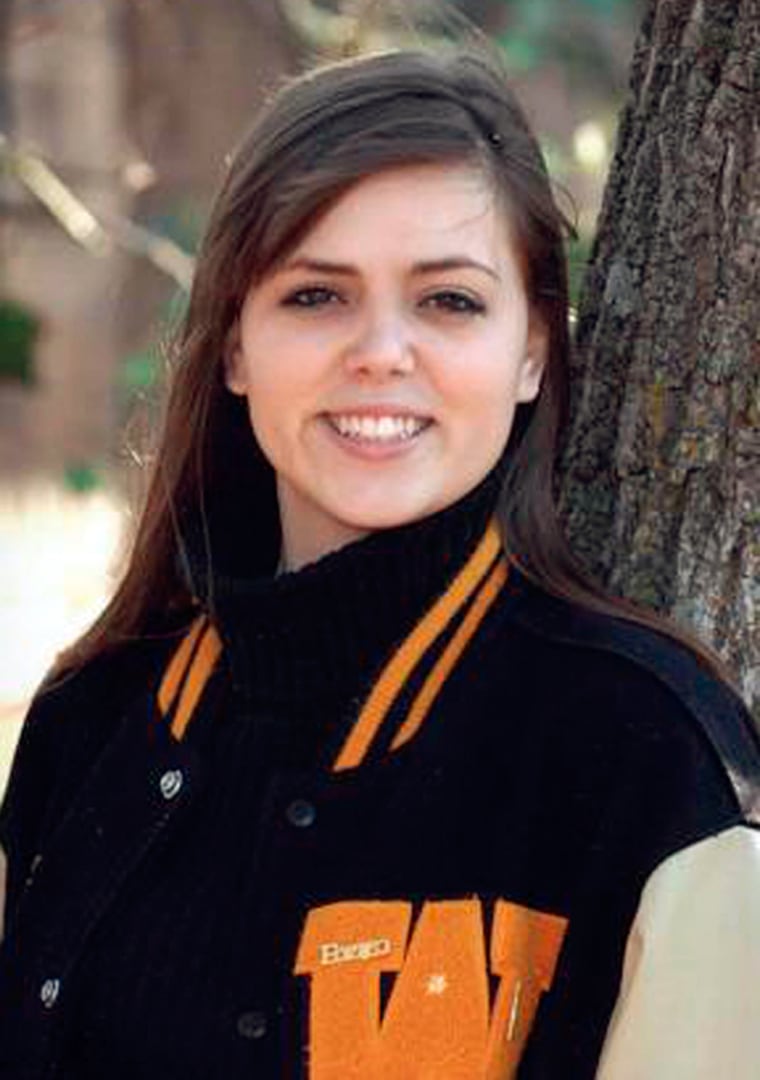 Police found Smith's body in a wooded area near Grandview, Mo., about 20 miles east of the Target store. Authorities have not say how she died.
Officers had been searching the lake area since Tuesday after tracing signals from Smith's cell phone. Investigators isolated two signals from an area in south Kansas City, Mo.
Hall and his wife, Aletha, and a 4-year-old son lived in south Kansas City, Mo., earlier this year.
"Just a nice young family," former neighbor Sarale Russ told The Kansas City Star. "Nothing unusual."
Before a memorial service Wednesday evening, Smith's father, Greg Smith, thanked the hundreds of volunteers and everyone else involved in the search for his daughter.
"She could walk into a room full of strangers and walk out with a room full of friends," Smith told the gathering, fighting tears.
"Her excitement and passion for life was unmatched," he said. "She lived more in 18 years than many people do with a great deal more time."