/ Source: The Associated Press
Former Dallas County Sheriff Jim Clark, whose violent confrontations with voting rights marchers in Selma gave momentum to the civil rights movement in the 1960s, has died at 84.
Clark, who wore a "Never" button on his sheriff's uniform to show his opposition to black voter registration, died at an Elba nursing home late Monday after years of declining health due to a stroke and heart surgery, funeral home officials said Wednesday.
"He was a very, very mean man. His meanness really served simply to express the subtle evil of the system of segregation," said Andrew Young, the former Atlanta mayor and United Nations ambassador who organized voter registration efforts in Selma in 1965.
Back then, Selma was majority black but only 350 black people were registered to vote. As sheriff, Clark manhandled voting rights leaders as blacks lined up day after day to try to register to vote. Each day they were thwarted as the short-fused Clark locked up blacks, including older women and school children.
"Sheriff Clark allowed himself to become the villain in the real-life drama over voting rights in Selma in 1965. His temper was his own worst enemy," said Frank Sikora, author of the book "Selma, Lord, Selma" about two black children who participated in those protests.
When the Rev. Martin Luther King Jr. arrived in February, Clark was waiting with his "Never" button proudly displayed and his billy club defiantly in his hand.
Sparked Selma-to-Montgomery march
His deputies joined state troopers in attacking voting rights marchers on the Edmund Pettus Bridge in March, an event that became known as "Bloody Sunday." It prompted King to lead a voting rights march from Selma to Montgomery and got Congress to pass the Voting Rights Act that opened Southern polling places to blacks and dramatically changed the political landscape of the South, including Selma.
"He was the perfect opposition for the movement in Selma because Dr. King and the other leaders knew he would overreact," said Sam Walker, consultant for the National Voting Rights Museum in Selma.
Efforts to register black voters in west Alabama had not been getting much media attention in early 1965 until Jimmie Lee Jackson was slain during a march in Marion and Clark began roughing up voting activists in Selma.
"The movement needed Jim Clark to act crazy so the media would become interested in the movement," said Walker, who now displays Clark's "Never" button at the voting rights museum.
Taylor Branch, the Pulitzer Prize-winning author of "Parting the Waters" and other books about the civil rights movement, said every time Clark lost his temper, the country reacted negatively to the segregationist lawman.
He said Clark's actions shocked the nation much like former Birmingham Police Commissioner Eugene "Bull" Connor did when he used police dogs and fire hoses against young and old civil rights demonstrators in the early 1960s,
"He was the Bull Connor of the voting rights movement. What Bull Connor was for the civil rights movement, using violence against children in Birmingham, Jim Clark was for the voting rights movement," Branch said Wednesday.
Appointed sheriff in 1955
Clark was raising cattle in Dallas County when then-Gov. James E. "Big Jim" Folsom appointed him sheriff in 1955 following the death of the incumbent. After the Voting Rights Act led to 9,000 blacks registering to vote in Selma, Clark lost his re-election bid in 1966.
After the loss, he worked in and around Selma selling mobile homes and stayed out of the spotlight until 1978, when he went to federal prison for conspiring to import marijuana. He served about nine months.
Clark returned to his hometown of Elba, where he had been in declining health for the last two years and was using a motorized wheelchair. His views, however, had not changed.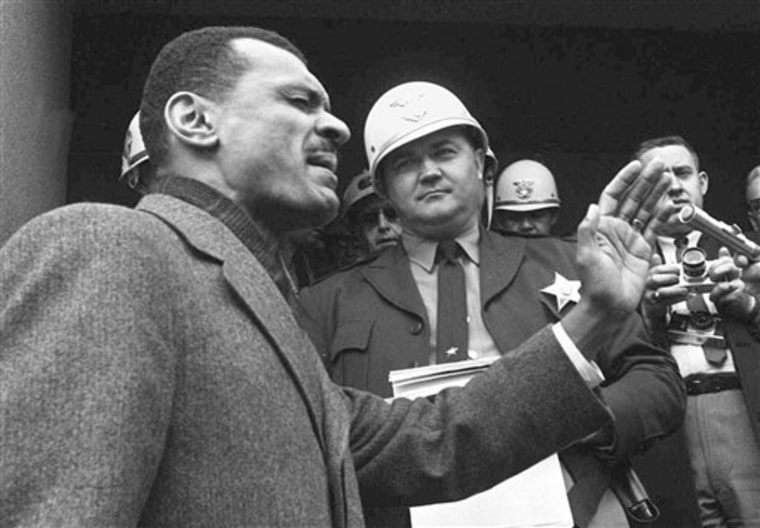 In a 2006 interview with the Montgomery Advertiser, Clark said, "Basically, I'd do the same thing today if I had to do it all over again. I did what I thought was right to uphold the law."
He also claimed that marchers weren't beaten on Bloody Sunday. "They fell down all at once in one big swoop," he said.
His death was first reported by The Selma Times-Journal and Montgomery Advertiser.
'I hope God will show mercy to him ... '
Young said Wednesday he had met with many old adversaries from the civil rights movement over the years and they were "able to laugh and joke about those times." But that never happened with Clark.
"I hope God will show mercy to him even though he showed no mercy to us," Young said.
Kathryn Tucker Windham, the famed Southern storyteller and author of several ghost books, covered Clark in the 1960s while a reporter for The Selma Times-Journal. She said there were two sides to Clark: one the public saw and one they didn't.
She recalled a prominent woman in Selma putting on "her hat and white gloves" to visit Clark because she was concerned about his actions during the arrests. Clark ended up charming the woman before she left.
"He himself had courtly manners when he wanted to," Windham recalled.
Clark's funeral will be at held Friday.