/ Source: Forbes Traveler.com
The sun may no longer rise on the British Empire, but Britannia has bequeathed the world one bright legacy that has not yet lost its shine: the English gentleman. Whether a foppish buffoon like Bertie Wooster or a suave panther like , every Old Etonian knows how to dress and where to find the marrow of the metropolis. For those who would savor a turn in such civilized footsteps — far from the madding beefeaters and tour buses — behold this prescription for a gentleman's day out in Town.
Arise from your cozy lair amidst goose-down pillows and Frette linens at the Dorset Square Hotel in Marylebone Village. This bastion of Englishness, which has garnered plenty of critical praise, sits on the hallowed patch of land where Sir Thomas Lord laid down the world's first cricket pitch in 1787. While the home of cricket has since moved a mile north to Lord's Cricket Ground, Dorset Square remains an enchanting sight with its bodyguard of genteel Regency townhouses minding the central arbor. Although every room is individually decorated with antiques, original art, and of course cricket memorabilia, be sure to ask for fourth-floor lodgings to enjoy a perfect view of the square from full-length French windows.
After attiring yourself in pinstriped splendor, stride forth with your tightly rolled brolly pointing towards Marylebone High Street, a pleasing corridor of Parisian perfumers and vintners through the heart of Marylebone, the borough that lies just north of the West End's central boulevard, Oxford Street. As we learned in "Gosford Park," an Englishman is never served breakfast; rather, he helps himself. The ideal venue for your morning repast, then, is the counter of Paul, the French house of pain founded 117 years ago in Croix in northern France.
Paul's baskets overflow with mille-feuilles, pains au chocolat and other pastries, providing boundless opportunities to lard oneself with plus gras butter. But perhaps, for decorum's sake, just a simple croissant and café au lait will be all one needs to fuel a morning's peregrinations.
'Most beautiful bookshop'
For serious travel, every worldly empire-builder should be familiar with , which the Daily Telegraph has called "the most beautiful bookshop in London — designed for travelers who like reading." Just a brief stroll from Paul down Marylebone High Street, Daunt is an original Edwardian bookshop almost 100 years old. The centerpiece of the store is an enormous skylight, reminiscent of the Crystal Palace, which allows natural light to cascade down past oak galleries to the open floors below. Books are arranged country by country, which makes the task of acquiring intelligence for international intrigue all the easier.
With your appetite whetted for travel, hail a hackney and demand conveyance to the National Portrait Gallery in Trafalgar Square. Although its larger sibling, the National Gallery, may draw more punters and press, the portrait gallery is a true magnum opus. Not only are its walls papered with masterpieces from the past five centuries, but its rooftop restaurant offers one of London's greatest visual experiences. When you have had your fill of Holbein, Reynolds and their celebrity subjects, mount the stairs to the top floor and behold an impossibly dramatic view of the city.
There, looking south through the Portrait Restaurant's picture windows, you will spy a family portrait of London's greatest sights: Nelson himself, atop his column and at eye-level; the Houses of Parliament; Whitehall; Westminster Abbey; St. Martin's-in-the-Fields; the London Eye; the Thames and more. This view is the one Julia Roberts and Clive Owen admired in the film "Closer," but until you see it for yourself, scarcely will you believe one vista can encompass so much splendid architecture and history.
Time for tea
After feasting aesthetically and gustatorily at the gallery, consider restocking your own pantry with some of the finest comestibles from every corner of the empire. Fortnum & Mason's in Piccadilly celebrates its 300th anniversary this year, with the two famous merchants having partnered in 1707, the same year England united with Scotland to form the United Kingdom. In those three centuries, the celebrated grocers have gathered the finest teas from Darjeeling, Ceylon and Kenya, the richest jams and marmalades from English country gardens, and the most delicate cookies and biscuits from French hearths. With a nod to the liveried doormen, stride into the main floor and wander the world, past tables of beautifully packaged wares.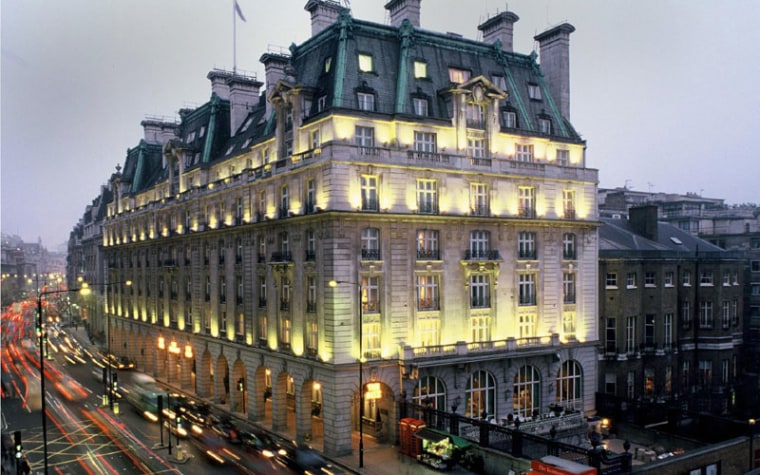 Having purchased a tin of Tippy Golden Flowery Orange Pekoe or the house's own Royal Blend, you will naturally find yourself in the mood for a soothing cup of your own. Take a pot in the finest fashion with afternoon tea at the Ritz, just a few doors down in Piccadilly. Tea at the Ritz is served in the Palm Court, the hotel's central atrium, which is the interior-decorating equivalent of Rome's Trevi Fountain: soaring ceilings, mirrored walls, and gilded, rococo excess in every direction. Upon showing you to a banquette, your waistcoated attendant will offer a fresh urn from a menu of brews almost as extensive as Fortnum's.
Within moments, a triple-tiered tray of elegant victuals materializes in front of you. The lowest level offers savory sandwiches of egg salad and cress, cucumber and cream cheese, and cheddar and pickle; one rung up sit the scones, with and without currants, to be slathered with Devon clotted cream and strawberry jam; finally, in the penthouse, reside opera cakes, raspberry tarts and other delicate desserts. Though he may be only one of a handful of fellows in the strikingly female room, an English gentleman will nibble and sip with aplomb.
Cocktail hour
Of course, he will also enjoy slightly stronger refreshment as the cocktail hour approaches. From the Ritz, take an afternoon constitutional along the Strand to Holborn, the center of London's legal community and home to the Royal Courts of Justice and the four Inns of Court. There, off Chancery Lane in Carey Street, lies the Seven Stars, a public house that was one of the very rare buildings to survive London's Great Fire of 1666.
Opened in 1604 — just one year after the death of Elizabeth I and three years before the founding of Jamestown — this pub is more a ship cabin than a tavern, with its bare timbers and creaking low roof. At the bar, landlady Roxy Beaujolais will pull you a pint of authentic English bitters, but be kind to the cat of the house, the one in the clerical collar. Not only is he fiercely protected by Madame Beaujolais, but he bears the name of one of America's most celebrated revolutionaries: Tom Paine.
Having swigged your sturdy aperitif, navigate the lanes and byways of Covent Garden to Rules Restaurant, London's oldest, for a sterling English dinner. Opened while Napoleon was gallivanting about Egypt, Rules dates from 1797 and appears not to have changed a whit in the intervening centuries. For the complete experience, book a private room on one of the top two floors, where Edward VII sought privacy behind mullioned windows and closed doors for his dalliances with Lillie Langtry.
The menu is stocked primarily with game hunted and caught on the restaurant's estate in the north of England: grouse, venison, partridge, but, mercifully, not four and twenty blackbirds. When your meal concludes with the cheese course, behold the imperial splendor that is capable of producing a custom-made silver barrel for crackers.
Finally, you must find yourself a nightcap before retiring. A number of private American clubs have reciprocal arrangements with the famous gentlemen's (now mostly coed) clubs of Pall Mall. Arrange access if you can to the Reform Club, a magnificent recreation of the Palazzo Farnese executed in 1841 by Sir Charles Barry, the architect of the Houses of Parliament. Although the exterior of the club is demure by comparison, the interior is spectacular, with a soaring central courtyard capped by a ceiling of intricate detail, only slightly muted by 170 years of cigar smoke.
Surrounding the central space on the two main floors are a series of magnificent rooms, specially designated for reading, writing, gaming and dining. The smoking room on the piano nobile runs the length of the building and features floor-to-20-foot-ceiling bookshelves; in it, find yourself an original club chair, with buttery green leather and a sensible antimacassar. From a hidden doorway, an attendant will take your order for a snifter of brandy. Quaff deeply the imperial tradition and win an empathetic nod from the local gentry by toasting "Confusion to Bonaparte!"