/ Source: The Associated Press
A reading score that rates a fourth-grader "proficient" in Mississippi would be a failing score in Massachusetts, according to a report Thursday by the Education Department.
The wide variations found in how states assess student progress are certain to fuel debate about whether the federal No Child Left Behind law should be overhauled to make standards more uniform from state to state.
The study compared what it takes to be rated "proficient" on elementary- and middle-school state reading and math tests to what it means to hit that mark on national tests. It found that most of the scores that would label a student proficient on state tests don't yield that grade on the national tests.
There also are huge differences in where states set their benchmarks.
Massachusetts sets the proficiency score on its fourth-grade reading test just below the proficiency mark on the national test. But a fourth-grader in Mississippi can be rated proficient with a state test score that is more than 70 points lower. Proficiency is defined as working at the level expected for that grade.
Schools judged under No Child Left Behind
The tests given by the states are used to judge schools under No Child Left Behind, the five-year-old education law that is up for renewal this year.
States pick their own tests and set their own achievement scores. When too few students in a school meet proficiency standards, that school typically faces consequences such as having to swap out principals or teachers. States that set high standards generally have fewer students labeled as proficient than states with low standards.
The national test, called the National Assessment of Educational Progress, is a rigorous exam given in a variety of subjects to students nationwide. It doesn't have consequences attached to it like those linked to the state tests. But it does offer a way to compare states to one another.
The study did not find a clear relationship between high standards in a state and high performance on the national test by students in that state.
For example, North Carolina and South Carolina students score about the same on the national tests, but South Carolina has higher state performance standards than its neighbor.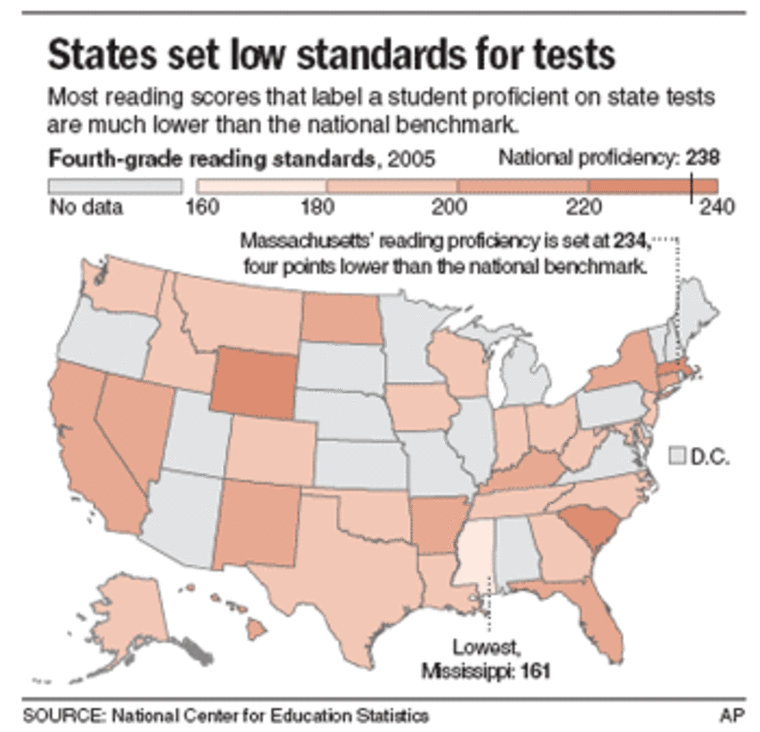 Susan Fuhrman, president of Columbia University's Teachers College, says educators have long known that solid standards aren't a silver bullet. "It's not enough to set standards and test achievement on them. There's a lot of other stuff that has to happen instructionally," she said.
The discrepancy in state standards has been identified by previous private studies, but the new report is much more detailed and is considered important because it is being released by the Education Department's independent research arm rather than by advocacy groups.
Call for national education standards
Several groups have called for national standards to be written into the education law in light of the discrepancies in state standards, but Congress is unlikely to go that far because states see education as a fundamentally local prerogative.
"I think that in principle it is a good idea. It is hard to argue why you have different math in Mississippi and Montana," said Fuhrman, but she added that states should band together to set common standards and not rely on Washington to do it. There is some evidence that's starting to happen; a group of states recently agreed to share an algebra test.
The Education Trust, a nonprofit group in Washington that advocates for poor and minority students, has recommended that if states significantly raise their standards, the government should reward them by loosening rules requiring all kids to be working on grade level by 2014.
That is among the proposals being considered on Capitol Hill. Massachusetts Democrat Edward M. Kennedy, who chairs the Senate education committee, also is interested in giving states that raise their standards more money to help with the effort.
Education Secretary Margaret Spellings opposes moving away from requiring all students to be at grade level by 2014. She has said states should be required to publish report cards showing how students did on the states' tests and on the national assessment.
"I do think it's important to kind of amplify that wide variance among states," Spellings said in a conference call with reporters a day before the report's public release. "Transparency, in my mind, is always the first place to go."
The report also found:
Eighth-graders in North Carolina had to demonstrate the least knowledge to be considered proficient readers, while students in Wyoming had to show the most knowledge.
Tennessee set the lowest bar on the fourth-grade math test, while Massachusetts set the highest one.
In eighth-grade math, Missouri set the highest proficiency standard — 12 points above the national one. Tennessee's was the lowest, 69 points below the national bar.
The Education Department's report was based on tests given in the 2004-05 school year. Scores weren't available for some states, because some did not have annual reading and math tests in fourth-and eighth-grade then. All states have them now.
The report comes two days after the Center on Education Policy, a national nonprofit policy group, found that scores on the state tests have gone up in recent years. Spellings said that is an important finding that should not be undercut by the latest study showing a lack of uniformity in state standards.
"Something positive and meaningful and good is going on out in states," she said.