Lucy was at a Game Developer Conference in San Jose, Calif., several years back, on her way to a business lunch. When she walked into the restaurant, she realized that she was awash in what she describes as a "sea of guys."
"I was really taken aback," she says. "Except for the wait staff, I was the only woman in the room."
Lucy Bradshaw is vice-president and head of production and development at Maxis, the studio responsible for a few games you may have heard of, like "The Sims" franchise. Bradshaw has many successes to her credit, including "The Sims 2," the fastest-selling PC game of all time. She's currently leading a team that's working on the studio's highly anticipated "Spore" title.
But even though Bradshaw is a big shot in the game industry, she's still a minority in a sea of guys. While exact numbers are difficult to chase down, the International Game Developers Association estimated that just under 12 percent of the game workforce is made up of women.
If you think those stats mirror the percentage of gamers that are female, think again. Women gamers comprise 38 percent of all players, says the Entertainment Software Association. And women make up 42 percent of all online gamers, according to a recent study from the NPD Group.
'Games are redefining themselves'
"Women are playing games now, in part because computers are much more part of our lives," says Bradshaw. "Games are redefining themselves."
So what difference does it make if the people who make those games are overwhelmingly white, male and young?
"Because everyone out there experiences games differently," says Tracy Rosenthal-Newsom, senior producer at Harmonix Music Systems, the company that created the "Guitar Hero" franchise. "If you have a diverse team, you can create a game that satisfies a much wider audience than if you have a homogeneous team."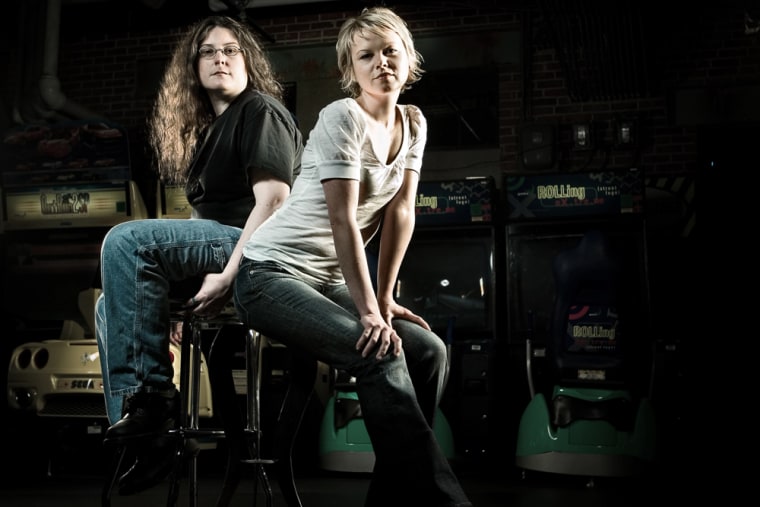 Ten years ago, reaching a wide audience wouldn't have even made the radar at most game companies. Back then, the industry was content to target the same crowd it always had — males  aged 18 to 35. With few exceptions, developers churned out titles that were heavy on gunplay, blood sport and hyper-sexualized female characters. Even Lara Croft, star of the hugely successful "Tomb Raider" franchise, was as well-known for her outsize assets as her ability to kick ass.
Do diverse teams translate to broader reach?
But around 2000, the immature industry started to grow up. There were big profits to be made, and as such, small studios with interesting properties were gobbled up by large, market-savvy corporations like Electronic Arts and Activision. These companies wanted to continue market growth — but the industry was growing faster than the market it was targeting, says Sheri Graner Ray, a 20-year game biz veteran and executive chair of Women in Games International.
"[These companies] realized they had to diversify their audience," she says.  "To do that, companies had to diversify their workforce."


Things are changing...slowly
How far have things come in seven years? Most of the women I talked to say that things are changing — although the level of change depends on who you talk to — and what department you work in. More women have joined the ranks in human resources, marketing and public relations — and you're likely to see some female artists, too. But men still hold the majority of programming and design jobs at game companies — which at most companies, are the positions that steer the games.
Jen Carlson, a programmer at Sierra Online, remembers that at her first game job, more than five years ago, she was the lone coder in her department. And the ratio hasn't changed much since. 
"I don't think this disparity is only in games," she says. "It's throughout the tech industry."
Technology has a 'bad brand'
Men outnumber women by a significant margin in most technology jobs — and the numbers at the college level aren't encouraging, either. According to data from the Digest of Education Statistics, only 4 percent of bachelor's degrees granted to women in 2005 were in math, computer science or engineering.
"Enrollment is down in technical programs in the United States and North America for both men and women," says Cindy Nicola, vice president of human resources at Electronic Arts. "Technology has a bad brand for the upcoming generation."
But not all game developers are programmers. Battling that perception is key to attracting diverse candidates — women included — to game companies, says Ron Jenkins of The Guildhall, a degree-granting game development school in Plano, Texas.
"We see about a 10 to 15 percent application rate of females," he says.  "But you don't have to be the stereotypical guy in the basement playing games to get into the games business."
Ellen Beeman, one of the founders of Women in Games International, was a TV writer when she came to games over a dozen years ago.  She recalls the first GDC she attended in 1992, where she and another woman planned to meet up.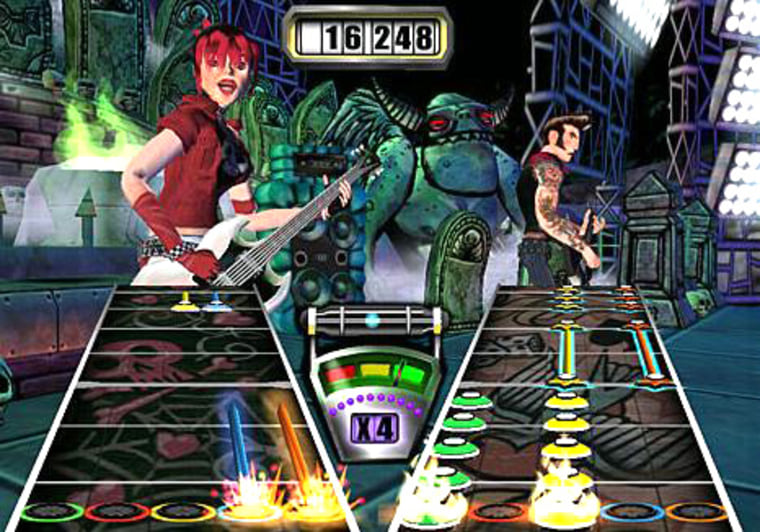 "I asked her, 'How will I find you?'" Beeman says. "She laughed and said, 'Don't worry, we'll be two of 10 women there.'"
Beeman agrees that things have changed since then. "There's no comparison to where industry was when I started and where it is now," she says.  "But we're not, as an industry, getting the word out that this is a good career for women."
The infamous 'crunch'
Some of that "bad branding" could be due to the industry's famously long work hours. As titles get closer to ship dates, teams tend to move into battle positions, pulling round-the-clock hours to hit important retail periods like Christmas, or the release of a new console. That can impact your social life, to be sure, but what if you have kids at home?
"Stereotypically, the burdens of running a household are greater on females," says Jason Della Rocca, executive director of the IGDA. "And the work practices of the industry don't lend themselves well to parenting in general."
But as the game industry grows up — literally — these issues have moved to the forefront for men and women alike. Carlson says that she's seen developers of both genders leave the industry because of work hours — and the lack of good maternity and childcare benefits.
"Companies that see value coming from quality employees will do things to keep them," she says. "As more of those good employees are women, more women-friendly policies will come around."
Wanted: Kinder and gentler
Beeman says that companies are beginning to get the message. "I have been hired specifically on teams because game development is hard," she says. "They want someone who is a bit gentler and kinder — and they expect that from a woman."
Andrea Wicklund believes her company — a well-regarded but press-shy game studio — hired her specifically to shake things up. Wicklund, a traditional illustrator, doesn't play games at home and she hardly knows anything about computers.
"I don't know the 'formula' that video games should follow," she says. "[But] I do know what looks good aesthetically."
Wicklund says the male-dominated aspect of her new field didn't faze her at all — quite the contrary.
"The enjoyment I find in video games lurks somewhere in my subconscious mind," she says. "And seriously, how many office jobs give you the chance to annihilate your co-workers with a flame-thrower on a daily basis?"