/ Source: msnbc.com news services
Rescuers found 20 more bodies buried under mud in the Bangladesh port city of Chittagong on Tuesday, officials and witnesses said, taking the total number of storm-related deaths to nearly 130.
"So far, at least 102 bodies have been recovered from dozens of homes buried under tons of mud following the landslides on Monday," a rescuer told Reuters by telephone. "The deeper we dig down, there are more corpses."
Large chunks of earth slid off the soaked hillsides, burying dozens of crudely built shacks. A shantytown was the hardest hit area, and more than 50 more people there were reported missing.
Disaster management officials said they feared the death toll would climb as a search by troops, firefighters, police and volunteers intensified after the rains eased on Tuesday morning and the water started receding.
But heavy rain struck again in the afternoon. "We cannot say when this rescue will end," a rescuer said. "At the moment it looks unlikely that nature will smile on us soon."
Nearly 10,000 people have so far been evacuated to some 200 shelters in Chittagong.
"God is always unkind to us," said a man at a camp. "We had shifted to the hills in Chittagong from far away places after rivers had swallowed our homes and land," said Mashiur Rahman, a father of five. "But we are on the run again."
Another two women were buried alive in a landslide in Bandarban hill district, southeast of Chittagong, on Tuesday.
A further 10 people were killed by lightning across the country on Tuesday, officials said.
Authorities in Chittagong said the flooding was so extensive that survivors were having difficulty finding dry ground to bury the dead.
"(It) looks like a sea of mud as I move around places with strings of homes buried under heaps of clay and debris," said an army officer helping the rescue operation.
Land clearing cited as factor
Officials and rescuers blamed the landslides partly on residents clearing trees and other vegetation to build homes despite warnings by environmental experts.
Fakhruddin Ahmed, head of the army-backed interim government, visited the disaster-hit areas and vowed to take action against those responsible for clearing the hills.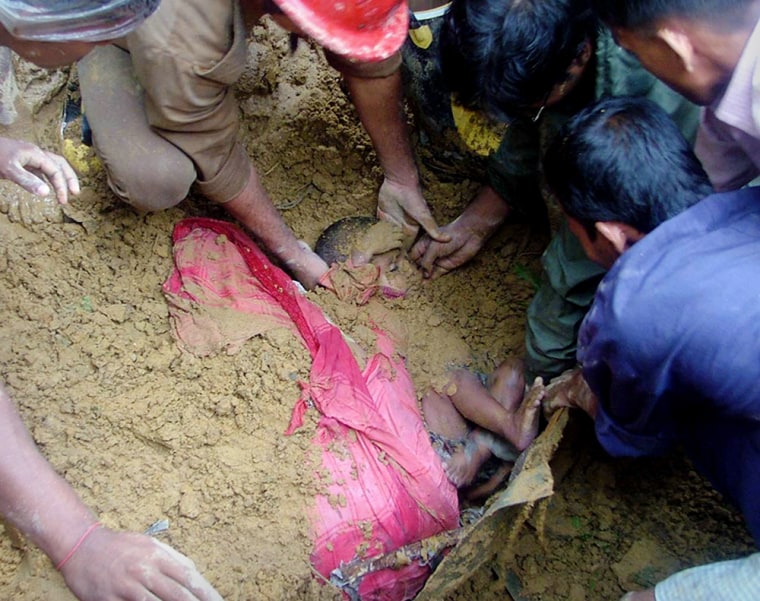 The annual monsoon has spread across Bangladesh in the past few days, and the heavy rains — the highest recorded levels in seven years — have also inundated parts of the capital, Dhaka, and other regions of the country.
Rivers burst their banks in other parts of the country. "Nearly 1 million people living on river islands and in low-lying areas have already been marooned in northern and eastern regions of the country," an official of the disaster management ministry said.
Meteorologists said the rains could last for a few more days.
Bangladesh, a low-lying delta nation of 150 million people, is buffeted by cyclones and floods that kill hundreds of people every year. A powerful cyclone in 1991 killed 139,000 people along the coast.
Densely populated and grindingly poor, the country is filled with slums that are particularly vulnerable. The one hit in Chittagong was home to 700 people, most of them migrant workers and their families, who lived in clusters of straw-and-bamboo or mud-and-tin shanties built on the slope of hill, survivors said.
'Rush of mud and water'
One survivor, Dulu Mia Munshi, a rickshaw puller, lost five family members, including his wife and two small sons.
"There was a sudden rush of mud and water, and our home was swept away," Munshi told The Associated Press in a telephone interview from his hospital bed. Five other neighboring shanties on a slope were also washed away.
Munshi and his mother-in-law, who had left their hut minutes before, were the only survivors. Munshi was carried several feet away, and suffered a fractured pelvis and sprained ankles.
"My sons, aged 8 and 10, slept next to each other," he said, recalling the last time he saw his children.
Munshi had moved to Chittagong from the southern coastal district of Bhola in search of work almost 18 years ago.
Another victim, an 11-year-old-boy who gave his name only as Belal, lost his mother and two sisters.
"My mother asked me get some bricks to stop the rushing water from getting inside our house," Belal said at a military hospital where he was being treated for head and limb injuries. "As soon as I stepped outside, I was carried away by the swirling water — and a huge chunk of earth buried our house."
The country's interim leader, Fakhruddin Ahmed, on Tuesday visited the worst-hit areas, the United News of Bangladesh news agency said. He went to a military hospital where 47 seriously injured victims were being treated and distributed emergency rations to survivors at an army-run relief shelter nearby.
"Our first task is to rescue, treat and help rehabilitate the affected people," Ahmed told reporters.
Power outages, roads blocked
Many of the dead were buried by city officials in rows of graves on the hillside.
Many areas remained without power or water because of flooding in the city of 4 million, 135 miles southeast of Dhaka. Several city roads remained covered in slippery sludge, and the ground floors of many houses were water-logged, residents said.
Authorities moved hundreds of people in vulnerable areas to shelters in concrete school buildings, rescue officials said.
Government and charity agencies distributed food and water to about 1,000 people left homeless by the calamity, said Mukhlesur Rahman, the area's government administrator. Emergency workers had managed to rescue more than 50 injured people from the rubble.
Several factories in an industrial belt around the city were also flooded, stopping production and causing extensive damage to machinery. The city's telephone, television and radio networks were also interrupted as transmission stations were flooded.