When Chicago-area massage therapist Marilyn Kier opened her own business about 11 years ago, it mostly consisted of on-site corporate chair massages. In recent few years, however, she's shifted to using massage to treat repetitive strain injuries and various types of chronic pain.
Today, Kier sees many people via referrals from orthopedists, cardiologists and other physicians, who view massage as a way to help their patients heal.
"More and more people hear from others that their pain was helped," says Kier, who says she has a six-week appointment waiting list. "You can't argue with results."
Relaxation, of course, is still a major motivation for getting a rubdown.
Health benefits
But almost 30 percent of those who had a massage in the past five years said they did so for medical or health reasons other than stress relief, according to a 2006 survey by the American Massage Therapy Association. Their reasons included recovery from an injury, pain reduction, headache control and overall health and wellness.
Massage is also popping up more frequently in patients' discussions with doctors. About 9 million more people talked about massage therapy with a health care provider in 2006 than they did five years ago. And the number of people who indicated their massage was paid for by insurance or a copay doubled from 5 percent in 2005 to 10 percent in 2006, according to the survey.
Kier expects more insurance companies to step up as medical research continues confirming the health benefits of massage. A study published in the Dec. 11 "Archives of Internal Medicine," performed by the Yale Prevention Research Center and the University of Medicine and Dentistry of New Jersey, showed Swedish massage may be a safe and effective way to reduce pain and improve the functional ability of adults with osteoarthritis of the knee. Benefits persisted eight weeks after the four-month study.
"Given the knowledge of massage we have right now, I think we'll be reading much more about its variety of applications over the coming years," says Dr. David Katz, director of Yale's Prevention Research Center and the study's senior investigator.
Hospitals are getting in on the game, too. A biannual 2006 survey of hospitals across the U.S. conducted by Health Forum, a subsidiary of the American Hospital Association, showed the number of hospitals offering massage therapy has increased by more than one-third in two years.
Memorial Hermann Sugar Land Hospital in Texas, which opened its doors in December 2006, offers body, foot and hand massages for patients, as well as infant massage to soothe crying babies. Employees in need of a pick-me-up also can have chair massages. The program came about when officials began the design process for the replacement facility three years ago, says Chief Patient Care Officer Susan White.
"We determined we had an opportunity to change our model of care, recognizing that health care had been delivered the same way for over 50 years," White says.
Healing touch
Offering free 15-minute massages to hospital patients, who are typically under stress, makes a lot of sense since research has shown it can reduce anxiety, heart rates, blood pressure and even the amount of pain people feel, White says.
Well ahead of the trend, Stanford Hospital & Clinics has been offering Swedish massage to patients since 1993. The facility has eight massage therapists, who talk to nursing staff to make sure patients are ready for a massage once they've requested one. Therapists also discuss with patients the areas they'd like to have addressed.
Options include a pregnancy and postpartum massage to help relieve a woman's lower back pain and increase blood circulation, and a stretching massage that pulls or extends muscles. Stretching is popular among active patients who want to keep limber despite being on bed rest, says Teresa Reyna, director of programs and operations for Stanford Hospital & Clinics.
While Stanford charges $30 for a 30-minute treatment, it hasn't hurt interest.
"We have so many requests for massage," Reyna says, "that we can't meet all the demand."
New health regimen
Beyond the hospital, massages have long been offered at luxury spas, usually costing $100 and up per treatment.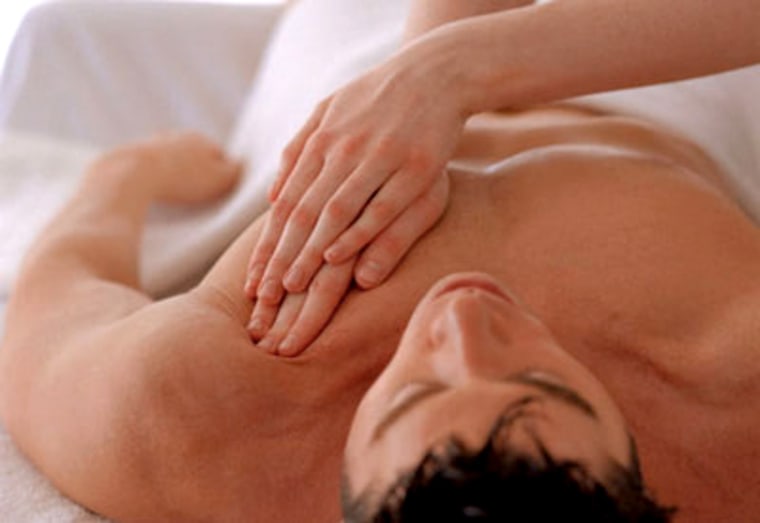 But Denise Vitiello, spa director at the Mandarin Oriental in New York, says more people are starting to view the hands-on therapy as an important part of their regular health regimen, not just something to do while on a relaxing vacation. She estimates that 60 percent of the Mandarin spas' clientele are locals who come in on a weekly basis.
"It's proactive versus reactive," she says. "People are definitely more educated and more open to what they can do to prevent illness. They're watching their parents and grandparents take pills and medicines and saying, 'I don't want to do that.' I want to make my health optimal now."
At Mandarin, massages offered include Thai Yoga and Life Dance. Set in the spa's new Thai Yoga Suite, decorated with teak wood and gold leafing, the Thai Yoga massage is a treatment in which therapists guide the body into stretches and yoga poses. Palm and thumb pressure relieve muscle and joint tension, encourage deep breathing and put you in a meditative state. Since the body is so relaxed, people end up stretching more than if they were doing yoga on their own, says senior therapist Tim Ekstrom.
Much like a sports massage, the Life Dance massage involves stretching and gently rocking the body back and forth to increase energy and flexibility.
Arizona-based luxury spa Miraval's signature treatment is the thermal stone massage, in which therapists use heated, smooth Basalt stones to bring blood to an area and deeply penetrate muscles, relieving tension. Cold marble, on the other hand, has an anti-inflammatory effect, says Miraval's lead massage therapist Jeff Eagle.
Eagle, who has been a massage therapist for 23 years, says people are starting to realize that regular massages can do a lot more than relieve stress, and the positive health effects are cumulative.
"It's like working out," he says. "When you work out more regularly, you see more benefits."