/ Source: The Associated Press
A Hamas military victory in Gaza could cement a political divide in the Palestinian territories — with the Islamic extremists in control of the narrow coastal territory and Western-backed Fatah ruling the larger West Bank.
It could also set the stage for a bloody confrontation with Israel, and strengthen radical states in the Middle East.
"It's a lose-lose situation for the Palestinians and Israel," said Uzi Dayan, former head of Israel's National Security Council.
The battle for Gaza isn't over. But Hamas militiamen have gained the upper hand, systematically seizing positions of Fatah-allied forces, taking control of the streets and bragging they'll keep going.
Fatah's fighters outnumber the Hamas militia, but have less firepower and lack motivation and leadership. Gaza's Fatah strongman Mohammed Dahlan is getting medical treatment abroad, and the head of Fatah, Palestinian President Mahmoud Abbas, is increasingly perceived as timid and indecisive.
Perhaps that's because Abbas has no enticing choices.
Abbas too weak to rule?
Even if he were to order a Fatah offensive in Gaza — and there is no sign he's planning to do so — his demoralized forces may no longer be able to turn the tide. Fatah's threat to pull out of its coalition government with Hamas, formed three months ago, is largely meaningless because Abbas appears too weak to call early elections.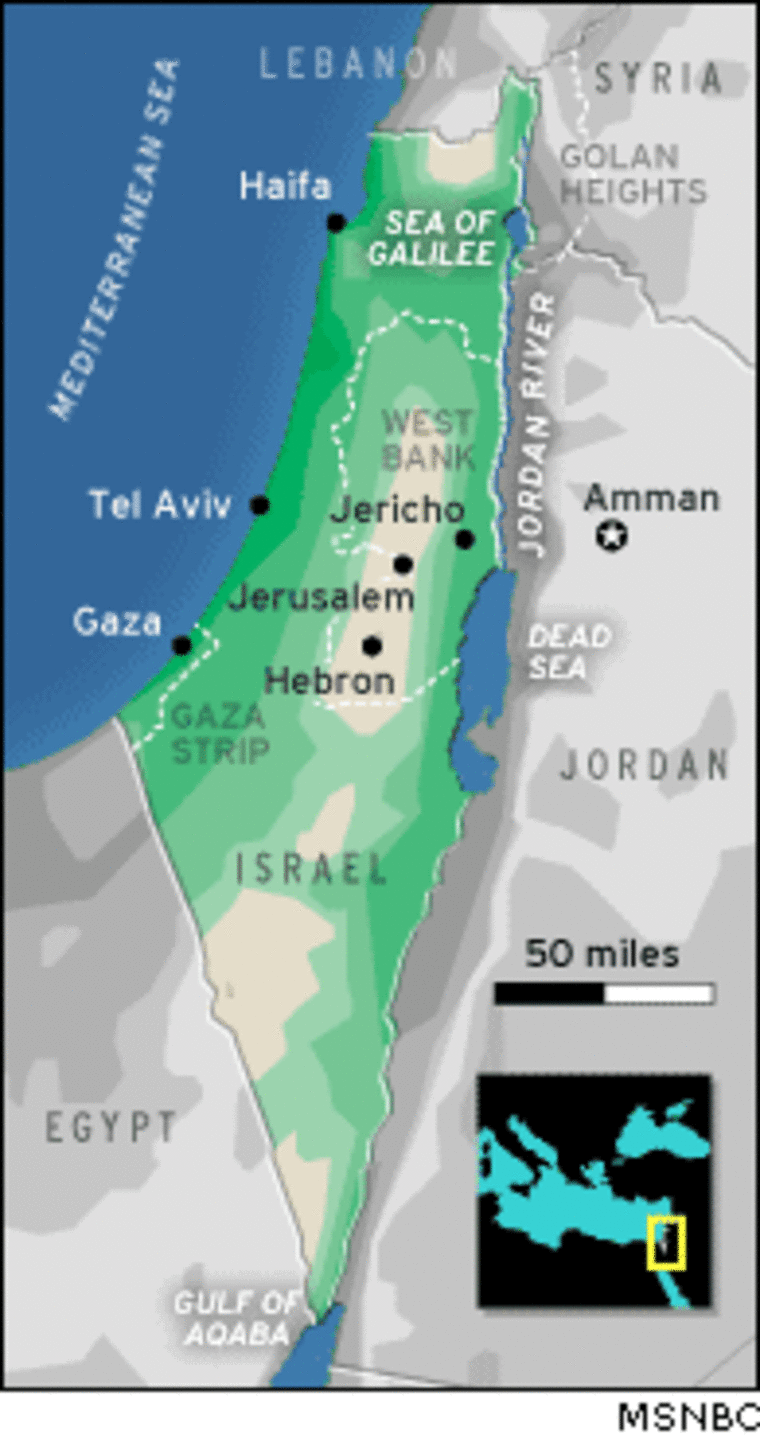 The most likely scenario is politically divided territories, with Hamas running Gaza and Fatah the West Bank, where Hamas is relatively weak because of continued Israeli control.
The two territories, which lie on either side of Israel, are cut off from each other by strict Israeli travel bans imposed at the start of the second Palestinian uprising in 2000. Rival governments in the West Bank and Gaza would finalize that split, and push prospects of a Palestinian state even further away.
Efforts to revive Israeli-Palestinian peace talks, including a recent push by moderate Arab states, would be dealt a big blow because Abbas could no longer claim to represent all Palestinians and would lose his credibility as negotiating partner.
Instead, a Hamas-run Gaza would likely seal the coastal strip's pariah status and Israel could well block the borders, leading to a deeper humanitarian crisis. Already, two-thirds of Gazans live in poverty amid a punishing international aid boycott imposed after Hamas won parliamentary elections last year.
The Iran factor
Israel's options also are grim.
A Hamas victory in Gaza would put an Iranian-backed militia not just on Israel's northern border, but also its southern one. In last summer's indecisive war against Iranian-armed Hezbollah guerrillas in Lebanon, Israel was pounded by thousands of rockets that forced hundreds of thousands of civilians to flee.
Iran also has been arming Hamas, via smuggling tunnels under the Egypt-Gaza border, and a Hamas-controlled Gaza would likely give rocket squads freer rein. Already, Hamas militants have fired hundreds of rockets at Israeli border towns.
Israel would be forced to retaliate harshly to protect its civilians, despite the fact that previous military incursions into the densely populated territory have failed to halt the rocket fire. More dramatic steps, such as cutting off water and electricity to Gaza, would likely create an uproar in the international community.
"They (Hamas militants) can create serious instability for us, and we are limited in our ability to retaliate," said Hirsh Goodman, an analyst at the Israeli Institute for National Security Studies. "The situation puts us between a rock and a hard place."
Israeli defense officials said Wednesday that Israel would not intervene in Gaza for now. Only if Hamas took over and started attacking Israel, would Israel strike back, the officials said.
In a sign of Israel exploring ways out of the dilemma, Prime Minister Ehud Olmert on Tuesday floated the idea of an international force on the Gaza-Egypt border, a show of no confidence in Egypt's abilities to stop the flow of arms.
A miscalculation by Hamas?
The offensive in Gaza is driven by Hamas hard-liners, led by former Foreign Minister Mahmoud Zahar and Hamas' military wing, Izzedine al-Qassam. It's not clear, however, how much direction they are getting from Iran, Syria or from Hamas' exiled supreme leader, Khaled Mashaal. The movement's pragmatists, including Prime Minister Ismail Haniyeh, have been largely silent in recent days.
Hamas has not said how far it's planning to take the fight, and may not have thought it through.
Even a takeover of all security positions would not translate into complete control of Gaza — Fatah remains a strong political movement and its gunmen could try to regroup and wage guerrilla war against the new rulers.
"Hamas must recognize that its victory is going to be its defeat," said Mouin Rabbani, an analyst with the International Crisis Group, an independent think tank. "It can't control all the Palestinian Authority institutions in all the territories."
Karin Laub is AP's chief Ramallah correspondent and has covered Israel and the Palestinian territories since 1987.