/ Source: The Associated Press
As children watched in the hot sunshine, a dozen rabbis scoured a Ukrainian village meadow for bones — the fragmented remains of Jews systematically murdered here in the Holocaust.
People who live in Gvozdavka-1 know that thousands of Jews were killed in the area during the Nazi occupation of Ukraine, but the evidence didn't surface until April, when workers laying gas pipes happened on the burial ground.
On Monday, the rabbis — including three Holocaust scholars from Israel and the United States — spent several hours hunting for bones, which they immediately shoveled back into the ground.
For 70 years, Gvozdavka-1's villagers planted vegetables and grazed cows on the meadow, and told their children horrific stories about thousands of Jews executed in the village, 110 miles northwest of Odessa.
"My grandmother frightened me with this story. What happened here is horrible," said Vika Bengul, 14, who often played in the meadow.
Inmates lived in the open
In November 1941, Romanian troops allied with the Nazis set up a concentration camp in Gvozdavka-1, where about 5,000 Jews perished, according to regional Jewish leaders. Jews were brought here from several regions of Ukraine, as well as from what is now Moldova, they said.
Each day several cartloads of Jews arrived, villagers say. Some Jews were executed, while others died of starvation or disease.
"They extended their hands through the camp fence begging for food," said 78-year old Olha Tomachenko. "We threw potatoes and bread to them."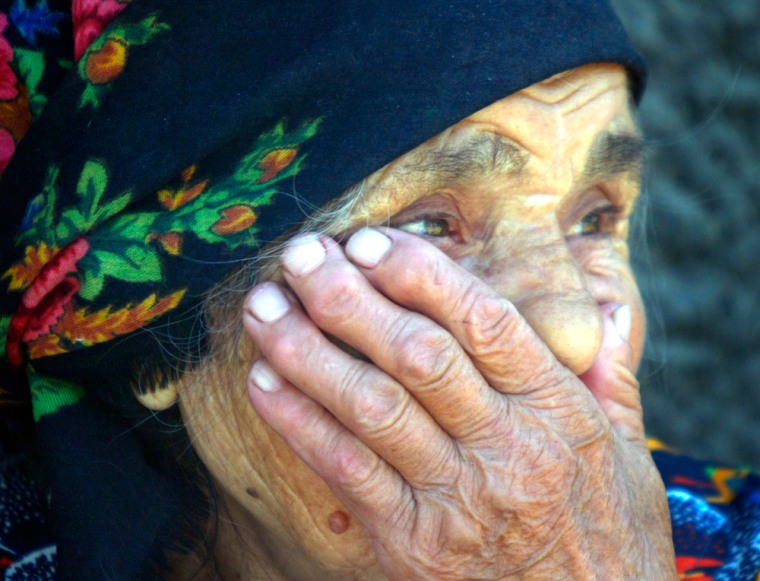 Tomachenko recalled how the inmates lived in the open, drenched by rain, freezing in the winter. "They gave birth to their kids and died at the camp," she said.
Yakov Ruza, rabbinical representative at the Israeli government's L. Greenberg Institute of Forensic Medicine, said there are plans to fence off the site and put up a monument, but not to exhume the dead and try to identify them.
"We want to cover the place," he said. "These holy Jews will stay where they are."
The names of 93 of the Jews killed at the Gvozdavka-1 site have already been established, according to Ukraine's Jewish community, while the identities of the others are probably documented at archives in Moscow and Israel.
Villagers say the mass grave is only one of at least four in Gvozdavka-1.
"They buried them everywhere. It was impossible to remember the places," said 80-year-old Olha Korsya.
Bodies were piled on carts
Parfeniy Bohopolsky, 85, remembered how Jews were tortured and killed, and their bodies then piled on carts for burial at sites scattered through the village. Bohopolsky said when he was 18, he drove one of the carts.
"Then I told my boss: 'You can kill me but I will never do it again,'" he said, his eyes filling with tears.
Tomachenko said a Jewish girl who escaped from the camp spent one night at her family's home. But in the morning, Tomachenko's grandmother told her to leave.
"Go anywhere God sends you, or the Romanians will kill you and me," the grandmother said, according to Tomachenko.
She doesn't know what became of her, but still keeps a small white towel the girl gave her.
Vera Kryzhanivska said the village council she heads would be helpful and soon discuss a request to hand control of the meadow to Jewish groups.
Villagers criticized
Some Jewish community leaders said villagers could have shown more respect for the dead.
"How could people just walk past the grave and do nothing?" said Ilia Levitas, the head of Ukraine's Jewish Council. "Where is their Christian mercy?"
Bones were discovered during earlier excavation work in 1974, according to some of the rabbis, but Ukraine was then part of the Soviet Union, which kept silent about it.
The destruction of Ukrainian Jewry is symbolized by Babi Yar, a ravine outside the capital, Kiev, where the Nazis killed about 34,000 Jews during just two days in September 1941.
Levitas said Ukraine has 726 Nazi-era mass graves. About 1.7 million Ukrainian Jews were killed, he said. But Yahad-In Unum, a Paris-based group documenting Jewish mass graves in Ukraine, has covered one fifth of the country and has already documented 600 mass graves.