/ Source: The Associated Press
Palestinian President Mahmoud Abbas swore in an emergency Cabinet on Sunday and outlawed the militia forces of the Islamic Hamas movement, deepening the violent rupture in Palestinian society.
Hamas seized control of Gaza last week after a series of bloody battles with Abbas' Fatah movement. The violence left Gaza increasingly isolated, a situation worsened Sunday when an Israeli fuel company cut off deliveries to gas stations in the impoverished coastal strip.
Also on Sunday, a Hamas official in Tehran said that BBC reporter Alan Johnston, who was kidnapped in the Gaza Strip almost three months ago,  
The hurried swearing-in ceremony of the new Cabinet left the Palestinians effectively with two governments — the Hamas leadership headed by deposed Prime Minister Ismail Haniyeh in Gaza and the new Cabinet led by respected economist Salam Fayyad.
Abbas issued a decree early Sunday annulling a law requiring the new government to be approved by parliament, which is dominated by Hamas.
'No basis in law'
In Gaza, Haniyeh called the new government illegal and insisted he remains in power. "The council of ministers considers the steps adopted by President Mahmoud Abbas to ... have no basis in law," he said. "The national unity government asserts here that we are fulfilling our duty according to our law."
In an apparent response to Abbas' decree, Haniyeh fired Rashid Abu Shbak, head of internal security, and Kamal Sheikh, director general of the Palestinian police, Hamas-allied Al Aqsa TV said. The decisions were symbolic because both men moved to the West Bank
Fayyad, an independent, will retain his post as finance minister and also serve as foreign minister in the emergency government, which Abbas appointed to replace the Hamas-led Cabinet he fired after Hamas seized control of Gaza.
The small emergency Cabinet is dominated by independents, including human rights activists and business people. Only one, Interior Minister Abdel Razak Yehiyeh, is a member of Abbas' Fatah movement.
In taking office, Fayyad said the new government would work to end the chaos and provide security for the Palestinians. "We are going to work with clean hands, systematically," he said.
Addressing the Palestinians in Gaza, he said: "You are in our hearts, and the top of our agenda. The dark images, the shameful things that are alien to our traditions ... are not going to stop us."
It is "time to work together for Palestine," he said.
Outlaws Hamas militias
Abbas also issued a decree Sunday outlawing Hamas' militias, "due to their military coup against the Palestinian legitimacy and its institutions."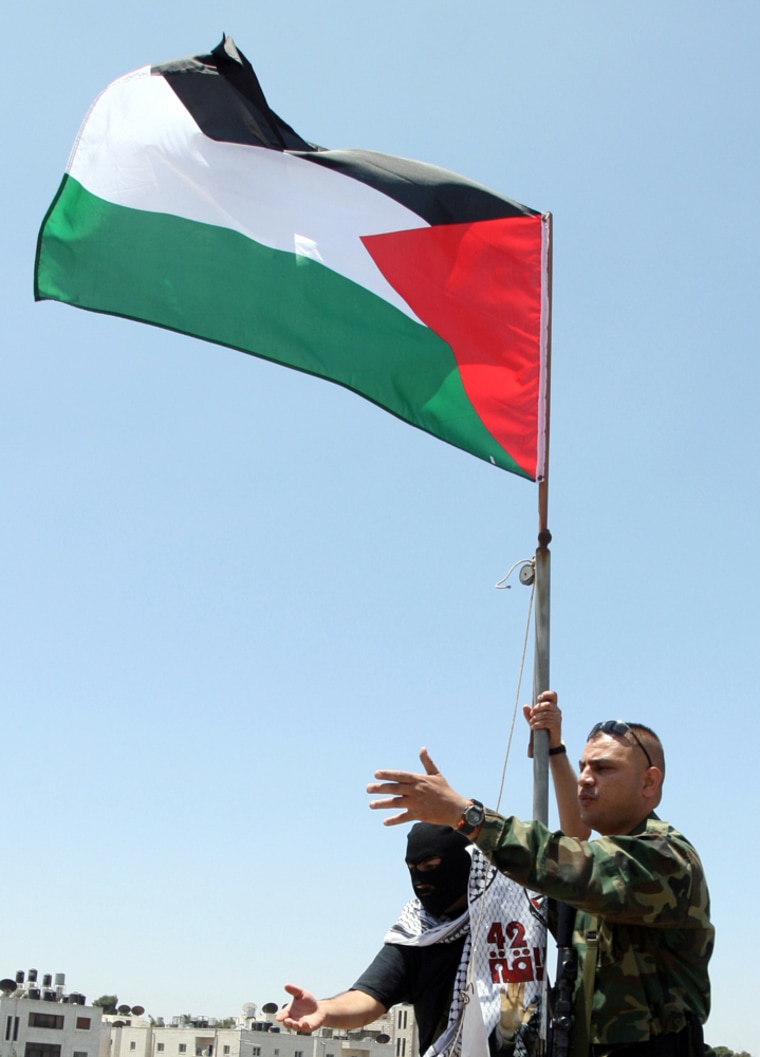 "Anyone who is involved in any of these two groups is going to be punished, according to the law and the orders of the state of emergency," the decree said.
Israeli Prime Minister Ehud Olmert said the new Palestinian government would create a "new opportunity" for the peace process. Olmert has long welcomed Abbas as a negotiating partner, but said Abbas' now defunct alliance with Hamas had made peacemaking virtually impossible. Israel considers Hamas, which has killed hundreds of Israelis in suicide bombings, a terrorist group.
"We have a new opportunity ... that we haven't had in a long time," Olmert told reporters on board his plane shortly before taking off for a meeting at the White House.
"The situation has changed, which enables diplomatic progress ... We intend to act to take advantage of this situation," he said. "A government that is not Hamas is a partner."
In Gaza, panicked residents stocked up, fearing growing shortages of food, fuel and other staples as the crossings of the fenced-in strip with Israel and Egypt remained closed.
Fuel supplies cut
The Israeli fuel company Dor Alon said Sunday it was cutting of fuel supplies immediately to Gaza's gas stations. The company is the sole provider of gasoline to Gaza.
Dor Alon will continue to ship fuel to Gaza's electricity power plant, the company said, but about 30 percent of Gazans have been cut off from the electric grid because of infrastructure damage caused by the fighting and they rely upon generators for power.
Palestinian Health Ministry officials said they hoped that hospitals currently running on generators would be reconnected to the grid before their fuel reserves run out, but even if they do, a gasoline shortage would immobilize ambulances and prevent deliveries of blood, medicine and food to medical facilities.
Palestinian official Saeb Erekat said he had appealed to Israel and the international community not to cut off supplies to Gaza. "Residents must not be punished for the bloody coup staged by Hamas," he said.
Hoping to escape Hamas
Meanwhile, hundreds of Gazans spent the night sleeping at the Erez border crossing with Israel hoping to escape Hamas rule. The concrete-lined tunnel leading to the border became a scene of chaos.
Jamal Abu Zayda, a pro-Fatah security official and one of the few who as allowed to cross Sunday morning, said Israeli solders fired rubber bullets, tear gas and concussion grenades into the crammed corridor to try subdue the unruly crowd.
A Palestinian man fired a pistol inside the crossing, although it was not clear whom he was targeting, according to an AP Television News journalist there. In response, Israeli soldiers fired in the air. Nobody was injured. On Saturday evening, around 10 gunmen raced into the corridor, threatening to kill a Palestinian they were feuding with before he could leave Gaza.
Nervous pro-Fatah security officials at the border ordered cameramen not to film their faces, as children slept on their mother's laps and on the floor.
Israel said it was only letting the staff of international organizations, people with special permission and humanitarian cases cross Erez.
"At the moment there are about 150 people at Erez who have been waiting there since yesterday," said Shlomo Dror, an Israeli military spokesman. "It's a problem letting people through under these circumstances, there's nobody on the other side, and it's a potential security risk."
In the West Bank, gunmen from Abbas' Fatah movement attacked Hamas-run institutions, taking control of the parliament and several government ministries.
Backing Abbas
In the city of Nablus, Hamas accused Fatah of kidnapping four Hamas activists overnight and storming the house of a Hamas lawmaker. In Gaza, Hamas stormed and sacked the Palestinian journalist union, stealing the furniture and computers.
In the showdown, much of the international community, including the U.S., the European Union and moderate Arab states, is backing Abbas. Declarations of support were likely to be followed soon by a resumption of foreign aid to the Palestinian Authority.
The U.S. consul general in Jerusalem, Jacob Walles, met with Abbas at his headquarters in Ramallah on Saturday, and said the embargo is expected to be lifted once the new government was sworn in.
Hamas has not explained how it would run Gaza without foreign support or contact with the outside world. Israel controls Gaza's borders, wielding tremendous influence over the movement of people and goods in and out of the area.
Israel will eventually allow basic supplies into Gaza to prevent a humanitarian disaster, said Public Security Minister Avi Dichter. However, he said Israel would consider Gaza a "terrorist entity" and try to cut off its weapons supply. He said this might require an Israeli deployment along Gaza's border with Egypt, to halt smuggling.