/ Source: The Associated Press
Yahoo Inc. Chairman Terry Semel stepped down as chief executive in a surprise move Monday, ending his increasingly ineffectual pursuit of online search leader Google Inc. — a losing battle that had demoralized Yahoo's shareholders and employees.
The Sunnyvale-based company appointed co-founder Jerry Yang as its new CEO and named Susan Decker as its president. Decker, who had been touted as Semel's heir apparent, was recently promoted from Yahoo's chief financial officer to oversee the company's advertising operations.
Semel, 64, will remain chairman in a non-executive role after spending the past six years running the company.
Monday's shake-up unfolded less than a week after Semel faced off with shareholders disillusioned with a nearly 30 percent drop in Yahoo's stock price during the past 18 months as the company's financial growth fell further behind Google's torrid pace.
"The company is in good hands," Semel said in an interview Monday. "I felt like it was time for me to move more into a coach's role than a player's role."
Wall Street was clearly ready for a change. Yahoo shares gained 81 cents finish at $28.12 Monday, then surged $1.24, or 4.4 percent, in extended trading.
Signaling Semel's decision was voluntary, Yahoo said he will not receive a severance package. The former movie studio executive already has made a fortune since joining Yahoo in May 2001, having realized nearly $450 million in gains by exercising some of the stock options he received during his tenure.
Despite Yahoo's recent struggles, Semel received another big bundle of stock options last year that boosted the value of his 2006 compensation package to $71.7 million. That was more than any other CEO among 386 publicly held companies covered in an Associated Press analysis of executive compensation using new rules dictated by the Securities and Exchange Commission.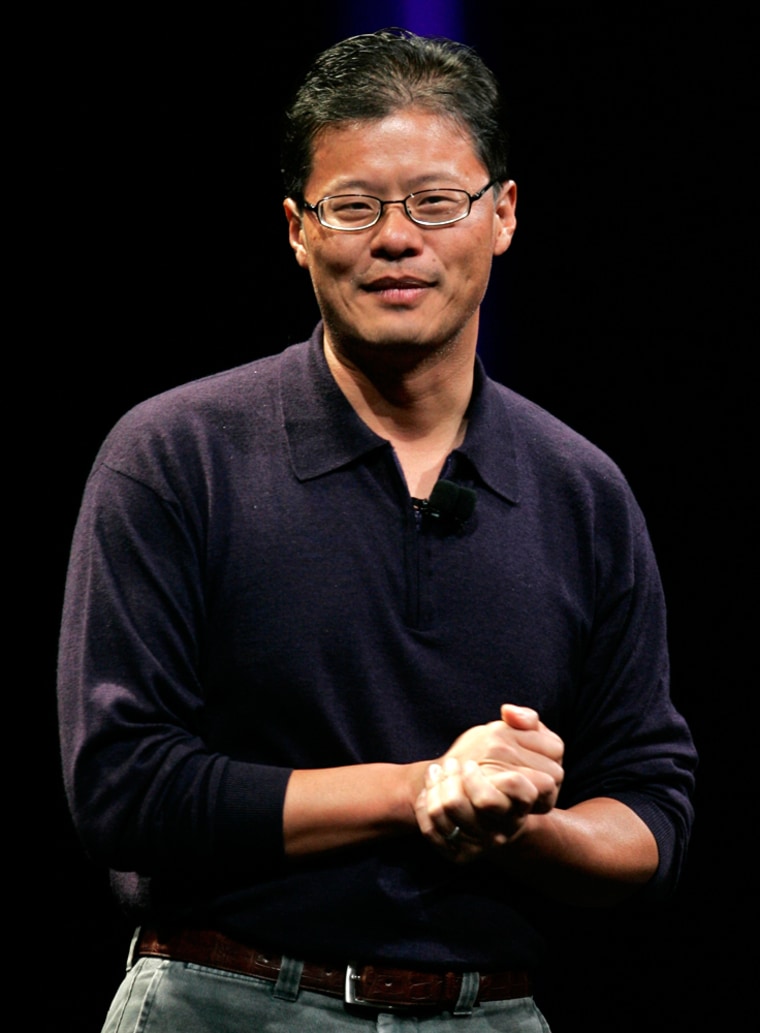 The options granted Semel last year were part of a contract that was supposed to ensure he remained Yahoo's CEO through 2008.
In Monday's conference call, an emotional Yang hailed Semel as "a role model and mentor" and then sought to defuse recent speculation that Yahoo might be sold to Microsoft Corp. or another suitor hoping to exploit the recent turmoil at the company.
(MSNBC.com is a joint venture of Microsoft and NBC Universal News.)
"I am totally excited and energized about assuming the leadership of this great company," Yang said. "We have a long and prosperous future if we execute correctly."
In an interview later Monday, Yang reiterated his belief that Yahoo will remain independent. "We are well aware of the challenges facing Yahoo," he said. "We need to execute better and to get better talent. I feel Yahoo needed someone to be here for the long haul."
Yang, 38, still owns a 4 percent stake in the company currently worth about $1.5 billion. Fellow co-founder David Filo, who is helping to run Yahoo's technology group after the sudden retirement of the department's leader earlier this month, owns a 6 percent stake worth about $2.3 billion.
This will mark the first time that Yang — previously known as "chief Yahoo" — has been in charge of the company in more than a decade.
Since Semel's arrival in May 2001, Yahoo's stock has nearly tripled as the company benefited from the influx of advertising flowing to the Internet from newspapers, magazines and other more established media.
But Yahoo's inability to capitalize on the shift as adroitly as Google tarnished Semel's legacy.
Mountain View-based Google now makes more money in a single quarter than Yahoo does in an entire year. The contrast represents a harsh comedown for Yahoo, which was the larger of the two companies when Google went public in August 2004.
Since then, Google has steadily expanded upon the Internet's largest advertising network to create nearly $140 billion in shareholder wealth as its stock price increased by more than sixfold. Yahoo's stock, meanwhile, is worth a little bit less than when Google went public.
Google's meteoric rise is an especially hard pill for Semel to swallow because he once flirted with the idea of buying Google. In mid-2002, Semel reportedly terminated negotiations when Google set its sales price at $5 billion.
Google's success since then has decimated the employee morale at Yahoo, leading to a recent wave of executive departures that raised concerns about whether the company would be able to retain the talent it needs to regain its stride.
Just last week, Semel assured shareholders attending Yahoo's annual meeting that he had the fortitude to lead a comeback. He has been counting on recent improvements to Yahoo's online advertising system and a series of key partnerships to boost profits after the company suffered an 11 percent drop in its first-quarter earnings.
In Monday's conference call, Decker said the advertising upgrade, known as Panama, is delivering results that so far have exceeded management's expectations.
The last 18 months represented Yahoo's toughest stretch since the dot-com bust.
With Yahoo's losses mounting as ad revenue evaporated, Yang recruited Semel to take the reins. The choice befuddled much of Silicon Valley because Semel was already old enough to qualify for senior citizen discounts and by his own admission barely knew how to use e-mail.
After initial backlash, Semel won over many investors by streamlining Yahoo's operations and then engineering a series of deals that gave the company the tools it needed to build its own search engine rather than rely on technology licensed from Google, which was then regarded as a kooky startup.
Yahoo bounced back from a $93 million loss in 2001 to post steadily higher earnings through 2005 when its profit peaked $1.9 billion. The 2005 results included a $961 million windfall that Yahoo realized by liquidating the stock that it once owned in Google.