With sales and prices of new and existing homes continuing a downward slide, it's too soon to say how much longer the worst housing recession since 1989-91 will last, according to economists and housing analysts.
Back-to-back reports this week showed ongoing slides in both sales and prices of new and existing homes. The Commerce Department reported Tuesday that sales of new single-family homes dropped by 1.6 percent last month after a brief surge in April sales. But new home sales have fallen in every other month this year.
Prices of new homes are also sliding; the median price of a new home sold in April was $236,100, down 0.9 percent a year ago.
The report on new home sales mirrored a report Monday on existing home sales, which showed a 0.3 percent drop in in May nationwide. The median price of an existing home in May dropped 2.1 percent from a year ago to $223,700 — the 10th consecutive month of year-over-year declines, according to the National Association of Realtors. Inventories of unsold homes are at their highest level in 15 years.

Monday's report also came with a gloomier outlook: The real estate trade group now expects existing home sales to fall 4.6 percent this year, worse than its previous forecast of a 2.9 percent drop. And the median price for a home is expected to fall by 1.3 percent this year — the first annual decline on record.

On top of rising inventories of unsold homes and a wave of foreclosures on bad loans, the housing market is now feeling the impact of a recent jump in mortgage interest rates.
"That will lead to another down leg in housing in the next two to three months and put more pressure on home sales and home prices in the coming month," said Thomas Higgins, chief economist at the investment management firm Payden & Rygel.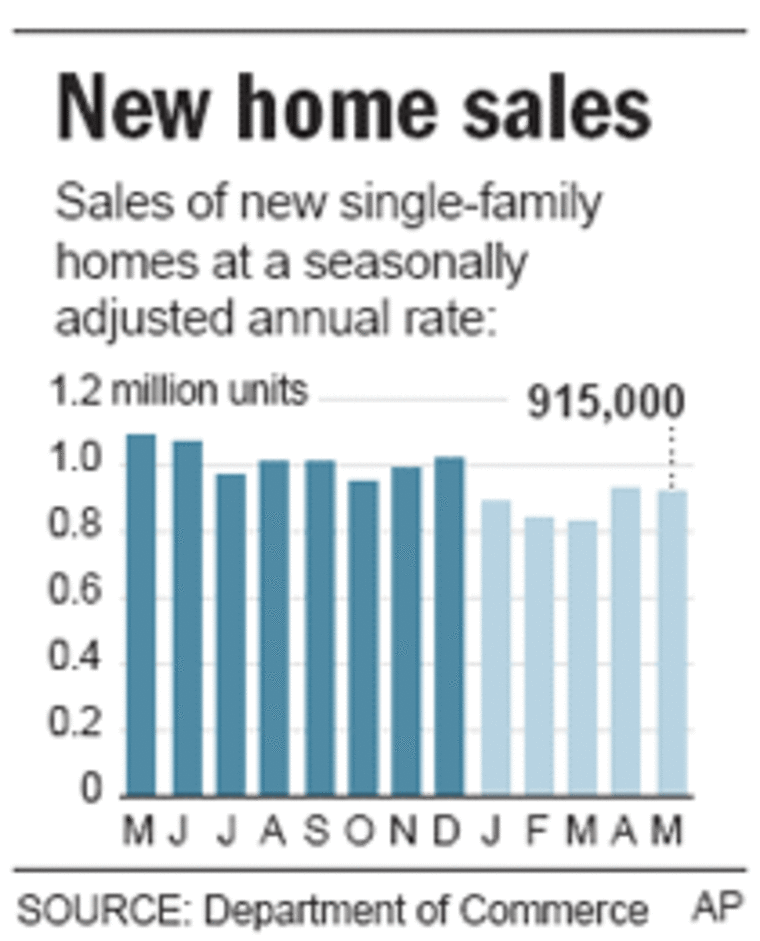 Like everything else in real estate, a lot depends on your location. New home sales in May were down 7.3 percent in the South, where half of new homes are sold, and fell an even larger 11 percent in the Northeast. Sales were also off in the West by 1.9 percent. The only region of the country that saw an increase was the Midwest, where sales jumped by 30.8 percent.
Combined with recent data showing a drop in housing starts, homeowners, builders, sales agents and analysts are asking the same question: How long before housing hits bottom? The answer despends on how well the U.S. economy continues to hold up, providing jobs to support mortgage payments for new home buyers.
So far, the economic outlook is positive. The economy nearly flat-lined in the first quarter, but since then growth has picked up and the nation's gross domestic product likely expanded at a solid pace in the second quarter, which ends this weekend.
"The risk is falling home prices and what that might do to the financial exposure of households to consumption," said Allen Sinai of Decision Economics. "That's the risk to the economy. That's what we're looking very hard at this point."
One reason consumers may not feel the need to curb spending is that most homeowners tend to wait out housing downturns until prices begin to rise again. And there are signs that many are in denial about the impact of the slump on the price of their home.
Some 55 percent of American say their home would sell for more money now that it would have a year ago, according to a survey conducted this month by Boston Consulting Group. That's down just 4 percentage points from last summer. Neatly three-quarters say they're confident they could sell their home within the next six months for a price they think it's worth. And 85 percent said they believe they house will be worth more in five years than it is today.
"Talk of declining average values of homes is not forcing a cutback in spending," said Boston Consulting's consumer spending analyst Michael Silverstein. "It's just not translated into the American psyche."
Several factors point to a continuing decline in the housing market in coming months.
Even as sales demand weakens, the number of unsold used homes on the market continues to rise. In May, that inventory continued to rise, by 5 percent, to 4.43 million units — or nearly nine months' supply at the current pace of sales. Until those unsold homes are cleared from the market, prices and sales will continue to be depressed in coming months.
But demand is also being depressed by a shrinking pool of buyers as lenders tighten their standards. And foreclosures are continuing to rise, adding more inventory to the market, according to the latest data from the Mortgage Bankers Association.
As lending standards have tightened, following a wave of lax lending and mortgage fraud, many of those foreclosed homeowners can't get new loans and are shut out of the market, reducing the pool of buyers. 
The Realtors' report Monday also showed another reason for weakening demand: a big slowdown in household formations. With fewer new households in the market for a home, it will take that much longer to sell off the backlog of unsold houses.
"Household formation has slowed dramatically since late 2006, implying that many people are doubling up — they're adding roommates or moving in with parents," said Lawrence Yun, senior economist for the Realtors.
Sales are also feeling the damper effect of a sharp upturn in mortgage interest rates, which reduces the number of potential buyers who can afford. Long-term rates up are more than a half percent since May 1.
And recent Wall Street worries about the security pools used to back some risky mortgages have raised fears that further problems may lie ahead for the $1.8 trillion market in so-called mortgage-backed securities. If demand from investors for new securities weakens, that could make less money available for new mortgages, further weakening demand for homes.
Given all of these uncertainties, economists say it's tough to product how much longer home sales and prices will continue to slide. Patrick Newport, U.S. economist at Global Insight, says he does not expect home sales to turn around "until at least the middle of next year."