/ Source: The Associated Press
Flood-weary residents of Texas and Oklahoma had no reprieve Friday as more rain fell in a region where two weeks of storms have swollen rivers and lakes beyond their limits.
Thousands have been forced from their homes, though some residents were holding out, saying conditions are no worse than floods they've weathered before.
A state of emergency was in place for Oklahoma, and flood watches and warnings were posted. A flood watch was in effect for large portions of Texas, where the storms have been blamed for at least 11 deaths.
The rains had tapered off and become more isolated, but the National Weather Service said storms could cluster and create a more widespread threat of flooding by the weekend.
Some of the roughly 2,000 residents under orders Thursday to leave their homes near the Brazos River in Texas' Parker County were allowed to return home Friday as the waters continued to recede. The waters dropped to less than a foot above flood stage Friday afternoon.
"I never thought when we bought the house five years ago that we'd be homeless already," Janice Olivares said Friday as she waited with her three children at a shelter set up at a middle school. "That's how I feel right now — homeless."
'Days of frustration'
About 90 miles west of Fort Worth, where evacuations were ordered for about 150 homes near Eastland this week, the record-high Lake Leon had started receding. It had already flooded dozens of homes, authorities said. Some residents refused to leave. Authorities said all were safe.
Cleanup has begun in Marble Falls near Austin, and Gov. Rick Perry and local officials flew over the area in a National Guard Black Hawk helicopter to survey damage Friday. Railroad tracks were ripped from the ground, trees were scattered and large trash bins were toppled.
Authorities were also searching for two 20-year-old men from Leander whose Jeep Cherokee was found submerged in a creek.
Perry said temporary pumping at the city's water treatment plant had provided limited water, but residents were still being asked to conserve and boil. "We're going to go through some days of frustration; I know we'll all pull together," he said.
About 100 people in two subdivisions near Marble Falls were stranded for a third day as waters blocked all entries and exits, said Burnet County Judge Donna Klaeger. They had power and water, and the Texas Department of Transportation was working on a way to get them out.
Major disaster area
President Bush on Friday declared Texas a major disaster area, and the governor declared the same in 37 counties across the state.
It's the wettest year on record in Austin, with more than 30 inches of rain since January, and Dallas-Fort Worth, Waco and Wichita Falls have received near-record amounts. The rainfall has more than compensated for a drought that gripped much of Texas in 2005-06, the National Weather Service said.
The Oklahoma emergency management department said about 200 homes were under evacuation orders in the southwestern part of the state.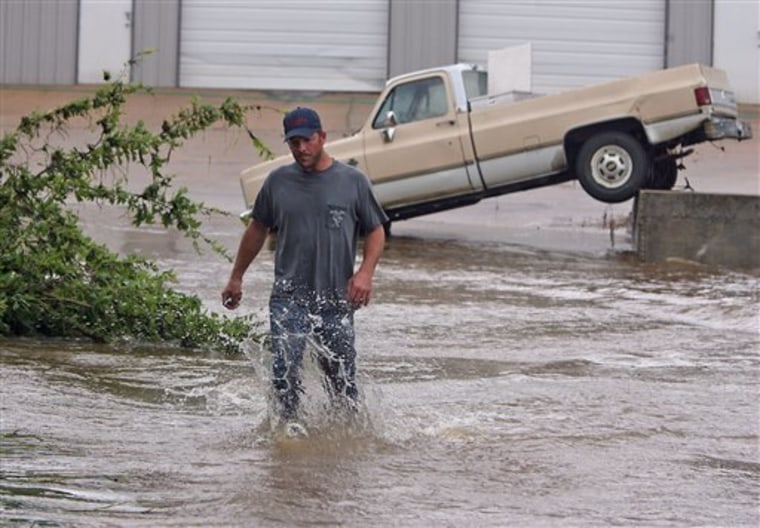 Department spokeswoman Michelann Ooten said the area was experiencing substantial street flooding Friday afternoon, and the Oklahoma Highway Patrol said dozens of roads and bridges had been closed in the area due to flood waters.
Initial surveys indicate more than 100 homes and businesses have sustained flood damage in the Shawnee and Tecumseh areas in central Oklahoma. No injuries have been reported, Ooten said.
Officials in Edmond in central Oklahoma said the water level at Lake Arcadia is more than 10 feet above normal and most of the recreational facilities — including the equestrian trail, bike trail, beaches, boat ramps, covered fishing dock and courtesy docks — are submerged.
Rain fell in Oklahoma City for the 17th straight day Friday, three days longer than the previous record, set in 1937. The rain could continue to the middle of next week.