Would you pay $7.50 for a bottle of Miller Lite? How about if you could order it from your Nintendo DS, at a baseball game?
That's just what my husband, Steve, did at a recent Seattle Mariners game. Using his Nintendo DS Lite handheld game system, he ordered up two bottles and had them hand-delivered right to our upper-deck seats.
For the privilege, we paid $5 to download and use the new Nintendo Fan Network software, which made its debut this season at Seattle's Safeco Field. The interactive system, being tested this year exclusively at Safeco, adds a bit of video game flash to America's pastime.
Beer-ordering is just one piece of the Fan Network: Participants can also order food, check out player stats from MLB.com and watch the live TV broadcast. Think the home-plate ump is blind? Check out his call for yourself in the replay.
Getting hooked up is simple and quick. Steve took his DS down to one of two kiosks at the concourse level of the ballpark. Using the system's built-in Wi-Fi, he found the software, downloaded it and set up an account — including his credit card number — using the stylus and touch screen on his DS.
Five bucks will buy you one session on the Fan Network. Thirty dollars will get you 10 sessions. One session is good for an entire game, but if you turn off your DS, you'll have to start over with a new session. You won't pay again, but you'll need to re-download the software.
Using the service is simple. The service options are clearly displayed, and navigating them is as easy as tapping on the DS screen with your stylus.  Delivery is pretty speedy:  It took about 15 minutes for Steve and his friend Cory to get their Miller Lites. And we were actually able to "watch" the progress of the order on the DS.
Determined to squeeze every last drop from our investment, we checked out the food options on the network. If you actually stroll around the ballpark, you'll find plenty of choices: chicken teriyaki, Ivar's famous clam chowder and Pad Thai, just to name a few.
Unfortunately, the Fan Network is limited to the usual ballpark fare: dogs and burgers, peanuts and ice cream. That's also true for the "adult" beverages, which range from Bud to Michelob to Coors. I did see Mike's Hard Lemonade on the list, though, as well as chardonnay. 
The food and booze selection on the Fan Network is limited to what the stadium's delivery concessionaire, Center Plate, has available, says Nintendo's J.C. Smith. Fans wouldn't get their food as quickly if delivery folk were picking up items from different vendors.
"It would be a lot more complex to have people running around the stadium to get Pyramid beer, some garlic fries and some Dippin' Dots," he said.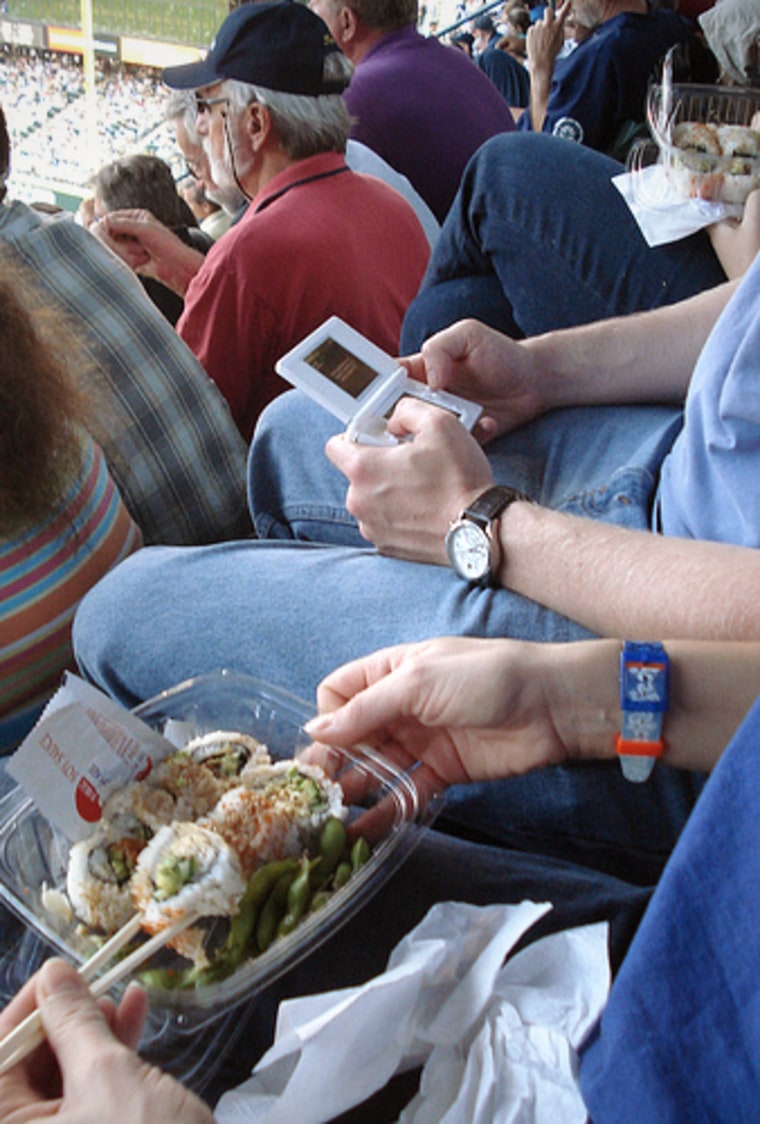 Personally, I was in the mood for a microbrew and sushi (go ahead, baseball purists, send hate mail now), so my pal Bridget and I set off to fetch our dinner the old fashioned way — on foot.
By the time we returned, the action on the field had heated up — the M's scored a run at the bottom of the fourth inning, pulling ahead of the Detroit Tigers. 
But were Steve and Cory watching? Nope. They had discovered their favorite part of the Fan Network: the multiplayer baseball trivia. The two spent most of the baseball game trying to best the leader of the real-time battle, a player known only as "Wang."
"I wanted to make it into the top eight," said Cory. "Wang was somewhere out there in the stadium, and we needed to beat him."
Nintendo won't disclose how many people Steve and Cory were competing against that night — or how many people have tried the Fan Network since its debut. Smith will say only that growth has been steady and feedback has been positive, both from fans and from the Mariners organization.
"The most important thing is that people think [the service] is fun," said Smith. "At the end of the season, we'll reassess and decide if we want to roll it out, and if so, where."
Safeco made sense for the initial offering of the network for several reasons. Nintendo of America has majority ownership of the Seattle Mariners — and the company's former chairman, Howard Lincoln, is now the chief executive of the baseball team. Nintendo of America is based in Redmond, Wash., just 16 miles from the ballpark, which made rollout and testing easier than if the program had debuted in, say, San Francisco.
It's worth noting that promotion for the Fan Network is a labor of love for Smith, whose regular job is corporate — not product — public relations.
"I'm a Mariners fan," he says. "So I jumped at the opportunity to work on the program."
Will these Mariners fans play the Fan Network again? I'm not sure. Five bucks seems a steep price to pay for network access — particularly when you tally up what it costs to go to a major-league sporting event these days. Heck, when you add in the cost of the tickets, food and parking, we could have spent that dough on a nice dinner or a couple of DS retail games.
On the other hand, it was pretty cool to experience a baseball game in an interactive way. I loved seeing the instant replay of a base-clearing grand slam and checking out player stats. (By the way — we beat the Tigers 6-4 that night in an electrifying game that had the whole stadium on its feet.)
And even though it was pricey, it was pretty darned luxurious to get those beers brought to us on a warm summer night.
"I felt like I was king of the ballpark," says Steve. "And it's good to be king."