It's been more than four years since the shuttle Endeavour's crew was first assembled — and in that time, commander Scott Kelly and his crew have had to weather the loss of seven colleagues on the shuttle Columbia, the long aftermath of that tragedy, and the comings and goings of astronauts being shifted to and from other missions.
The road to flight has been even longer for Endeavour crew member Barbara Morgan: The Idaho elementary-school teacher was the backup for Christa McAuliffe on the ill-fated flight of the shuttle Challenger back in 1986, and started training in 1998 as NASA's first post-Challenger educator-astronaut. On Endeavour's STS-118 mission, Morgan gets to fly in space at last.
Most people would say that's a long wait. Morgan, however, sees it differently. "It's been long, but it's not been a wait," she told NBC News before the flight.
"It's been long work, and a good work," she said. "Most things in life don't come easy. Most things in life take a lot of effort, and take some patience and some perseverance. And as classroom teachers, that's what defines classroom teachers, that's why classroom teachers can do their jobs so well. You don't get instant gratification in the classroom."
With Endeavour's flight, Kelly, Morgan and five other crew members finally put their training to the test. Here's the full class roster for STS-118:
Scott Kelly, commander
Born Feb. 21, 1964 in Orange, N.J. Married, two children.
Education: B.S. in electrical engineering from the State University of New York Maritime College; M.S. in aviation systems from the University of Tennessee at Knoxville.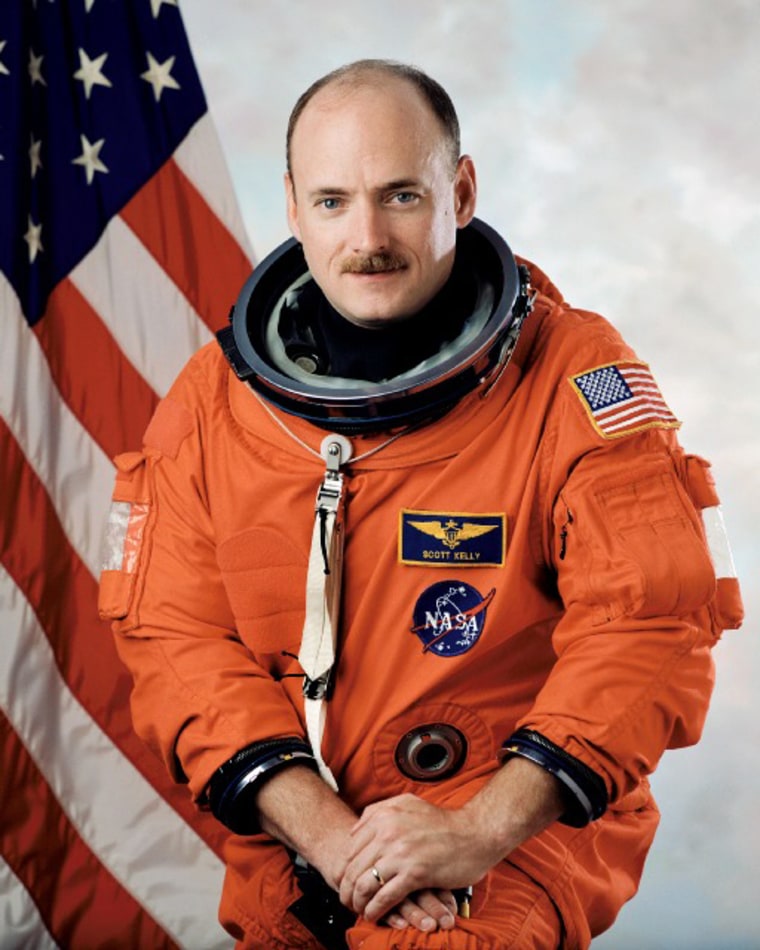 Kelly's flight experience includes service as a naval aviator on F-14 Tomcats as well as F/A-18 Hornets, and he currently holds the rank of commander in the U.S. Navy. He has more than 3,700 hours of flight experience on more than 30 different aircraft. Kelly was selected as an astronaut in 1996. He served as pilot on the shuttle Discovery's servicing mission to the Hubble Space Telescope in 1999. His twin brother, Mark, is also a NASA astronaut and is due to serve as shuttle commander on STS-124 next year.
Quote: "I think having a permanent human presence in space is important for not only the country but the rest of the world. I think if we're going to continue as a species eventually, far in our future, we're going to have to find another place to live. And this is just a small steppingstone toward that goal."
Charles Hobaugh, pilot
Born Nov. 5, 1961, in Bar Harbor, Maine. Married with four children.
Education: B.S. in aerospace engineering, U.S. Naval Academy.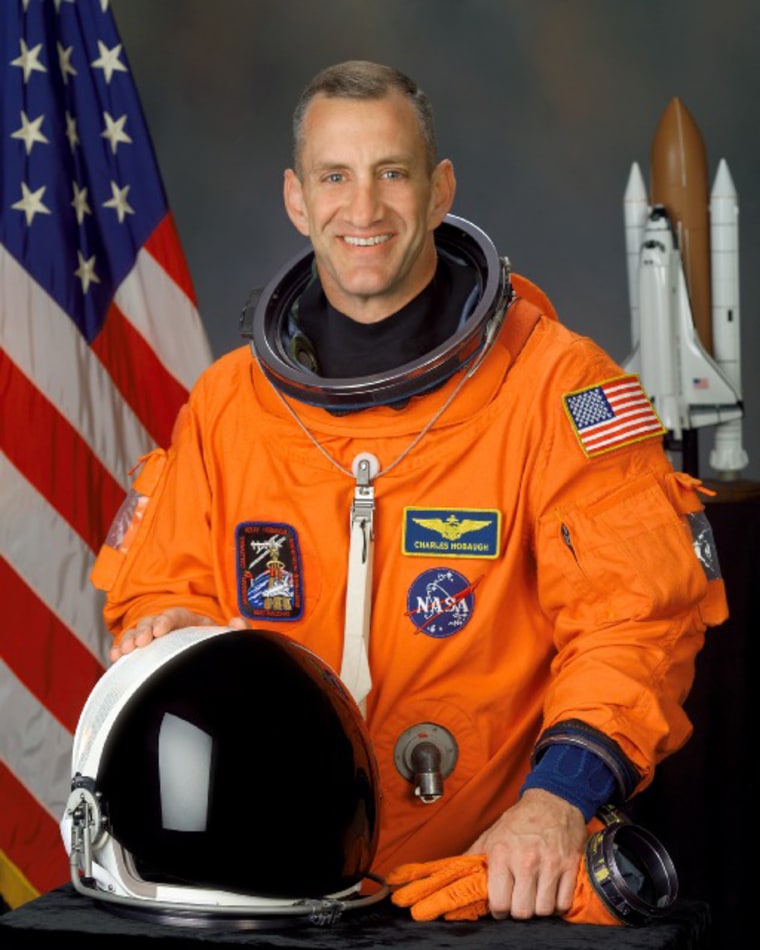 Hobaugh, a Marine lieutenant colonel, flew combat missions during the first Persian Gulf War as a naval aviator. He has logged more than 3,000 hours of flight experience on more than 40 aircraft. Hobaugh joined the astronaut corps in 1996 and served as the pilot on the shuttle Atlantis' mission in 2001 to install the Quest airlock on the international space station. He was capsule communicator for Columbia's last mission in 2003 — and says the tragedy points to the "inherent risk in what we do."
Quote: "There are some very surreal moments when you get into space, and you see someone floating around or something floating by for the first time and you're in space. But you've really just got to put your head down and work or you never get anything done."
Barbara Morgan, mission specialist Nov. 28, 1951, in Fresno, Calif. Married with two children.
Education: B.A. in human biology, Stanford. Teaching credential, College of Notre Dame (Belmont, Calif.).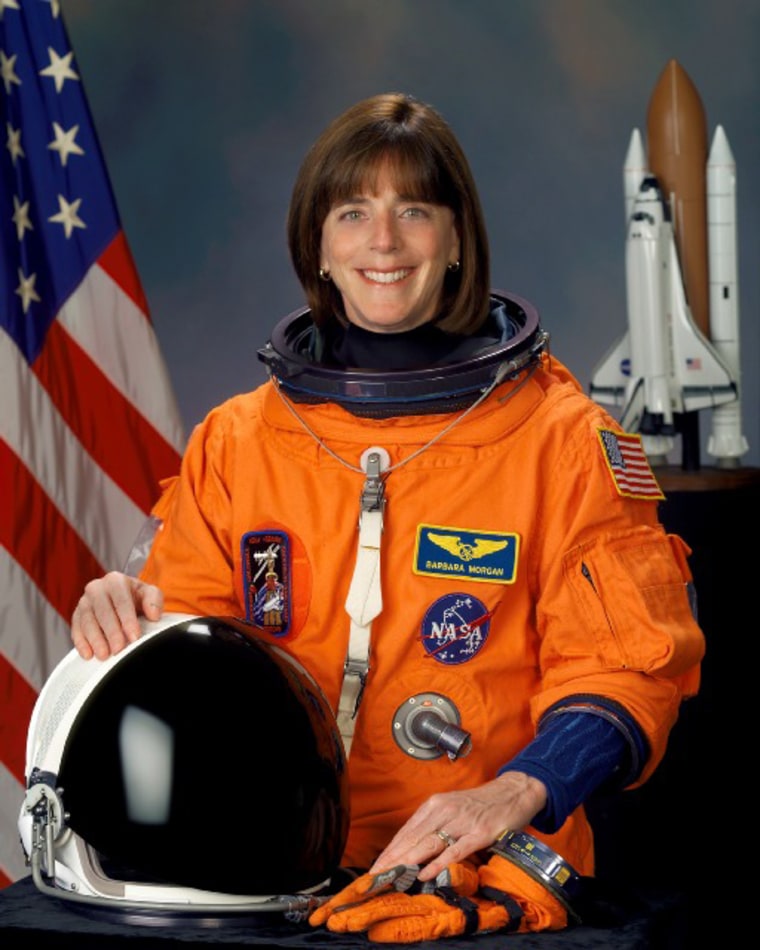 Morgan was an elementary-school teacher from 1974 to 1998 in Montana and Idaho, with a teaching stint in Ecuador in 1978-79. She was Christa McAuliffe's backup for the 1986 Challenger flight, and assumed the duties of NASA's teacher-in-space designee after the loss of the shuttle and its crew. She was named to the astronaut corps in 1998. During Endeavour's mission, she will help operate the robotic arms on the space station and the shuttle, and also conduct several educational events. She says she wants to return to teaching when she leaves NASA, "if they'll take me back in the classroom."
Quote: "Education and exploration are really very much the same. It's all about discovering, it's all about experimenting, and it's all about taking what you discover and what you experiment with, and what you learn, and sharing that with others."
Spacewalkers and supportersTwo of Endeavour's crew members take on the role of spacewalkers during a mission that could be extended from 11 to 14 days, depending on whether or not a new system to transfer electrical power from the international space station to the shuttle works as expected. If the mission is extended, the number of spacewalks on the agenda will be boosted from three to four.
Among the pieces to be installed on the space station are a small truss section that will become part of the station's backbone, and a platform for storing spare parts. One of the space station's control moment gyroscopes — the devices that keep the station in its proper orientation — is being replaced. The spacewalkers also plan to reposition antennas and other equipment on the station's exterior.
As the mission's intravehicular officer, astronaut Tracy Campbell supports the spacewalkers during their extravehicular activities, or EVAs. Another astronaut — Benjamin Alvin Drew Jr. — was added to the crew just three months ago in a support role, to fill a vacancy created when NASA astronaut Clay Anderson was given an early ride to the international space station. Anderson is penciled in for two of the mission's spacewalks (EVA 3 and 4).
Dafydd (Dave) Williams, mission specialistMay 16, 1954, in Saskatoon, Canada. Married with two children.
Education: B.S. in biology, M.S. in physiology, M.D., McGill University.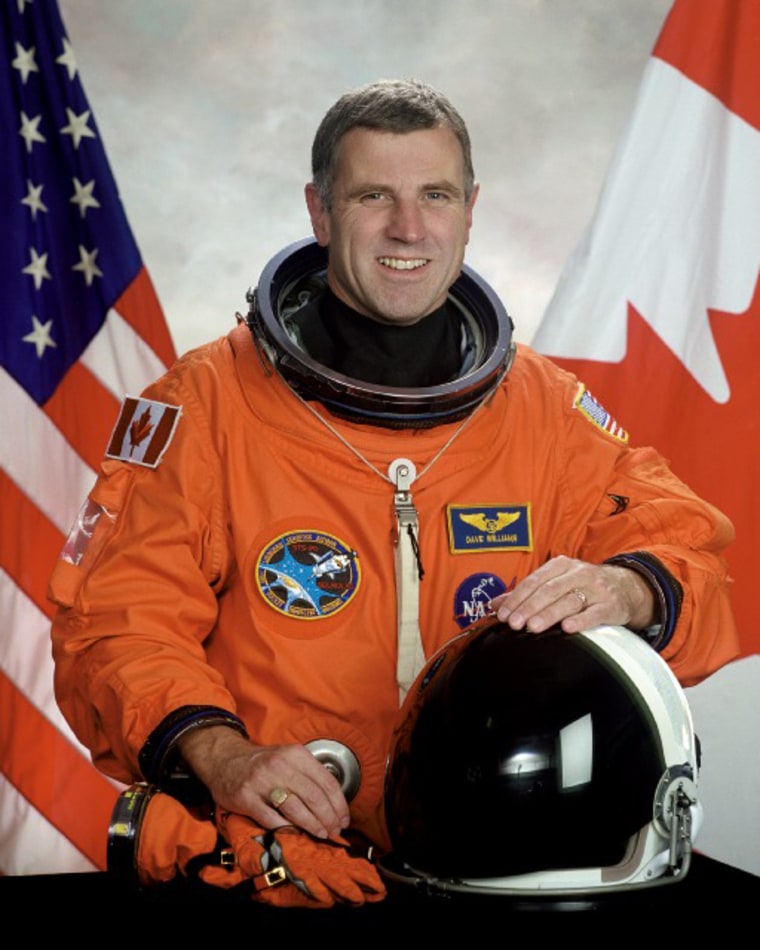 Williams has done research in invertebrate physiology and neurophysiology, and worked for years as an emergency physician as well as a professor of surgery. The Canadian Space Agency selected him for astronaut training in 1992, and he joined the international class of astronauts at NASA in 1995. Williams flew on the shuttle Columbia's Neurolab research mission in 1998. He has participated as an aquanaut on underwater training missions in 2001 and 2006. From 1998 to 2002, he headed the Space and Life Sciences Directorate at Johnson Space Center, becoming the first non-American to hold a senior management position at NASA. During Endeavour's mission, he is taking on up to three spacewalks (EVA 1, 2 and 4).
Quote: "That moment of simply being in space, alone, at the end of a robotic arm is going to be pretty exciting. ... You experience this magnificent isolation. This weird sort of sensation where you're on the end of the arm, I can imagine you are totally isolated, but this magnificent panoramic view at the same time."
Richard Mastracchio, mission specialist Feb. 11, 1960, in Waterbury, Conn. Married with three children.
Education: B.S. in electrical engineering / computer science, University of Connecticut. M.S., electrical engineering, Rensselaer Polytechnic Institute. M.S. in physical science, University of Houston-Clear Lake.
Mastracchio worked as an engineer for Hamilton Standard and Rockwell Shuttle Operations from 1982 to 1990. He came to NASA in 1990, working first as an engineer, then as a Mission Control flight controller. Mastracchio joined the astronaut corps in 1996, and flew on the shuttle Atlantis' mission in 2000 to prepare the space station for its first resident crew. Mastracchio is the other spacewalker on Endeavour's crew (for EVA 1, 2 and 3).
Quote: "The biggest thing that I'm doing on this mission that I didn't do on the last mission was a spacewalk. And that's about the greatest thing I think an astronaut can do, is a spacewalk. Maybe the only thing better than that is walking on another planet."
Tracy Caldwell, mission specialist Aug. 14, 1969 in Arcadia, Calif. Single.
Education: B.S. in chemistry, California State University at Fullerton. Ph.D. in physical chemistry, University of California at Davis.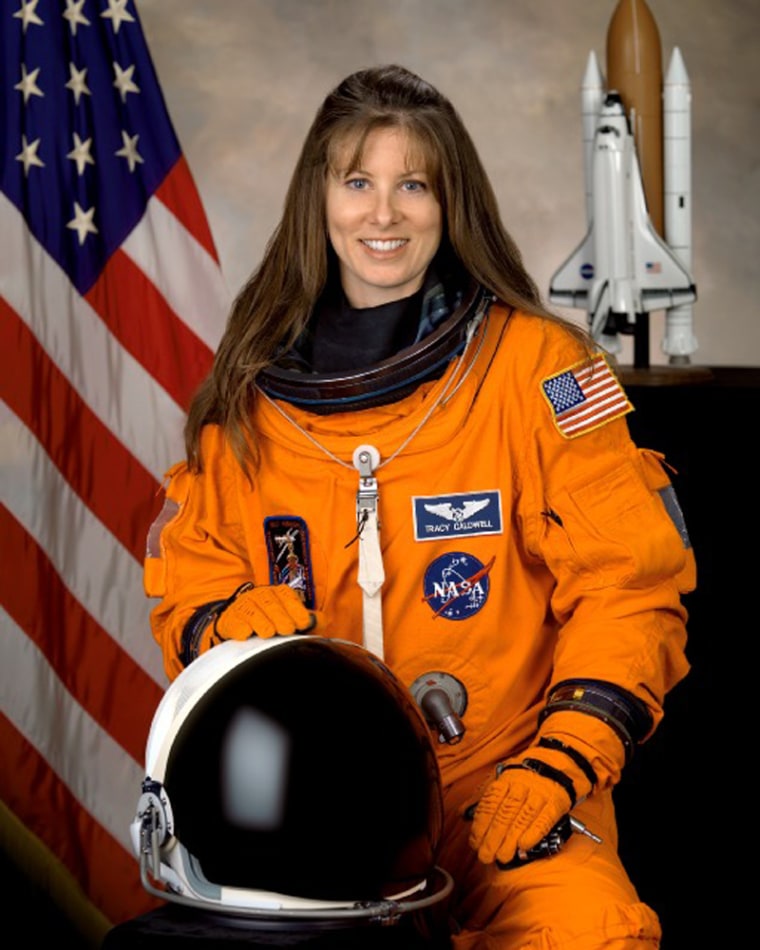 Caldwell conducted research into atmospheric chemistry — and has also worked as an electrician/inside wireman for her father's electrical contracting company. She has published and presented her scientific work in numerous papers at technical conferences and in scientific journals. She is also a private pilot, and conversational in American Sign Language as well as Russian. Caldwell became an astronaut in 1998 and participated in the testing and integration of Russian components on the space station. This is her first spaceflight. She serves as lead intravehicular crew member as well as a robotic-arm operator.
Quote: "I think seeing the stars as close as I'll ever see them is ... something I just can't wait to see. And just looking back at the earth ... we've all seen pictures that other astronauts have brought back, and I have such close friends who can describe to me in such detail what it was like for them, I just can't wait to see it for myself. I wish there was a way to bottle it up and bring it home and show everybody."
Benjamin Alvin Drew Jr., mission specialist Nov. 5, 1962 in Washington, D.C. Single.
Education: B.S. in astronautical engineering and physics, U.S. Air Force Academy.  Master of Aerospace Science from Embry Riddle University. M.S.S. in political science from U.S. Air Force Air University.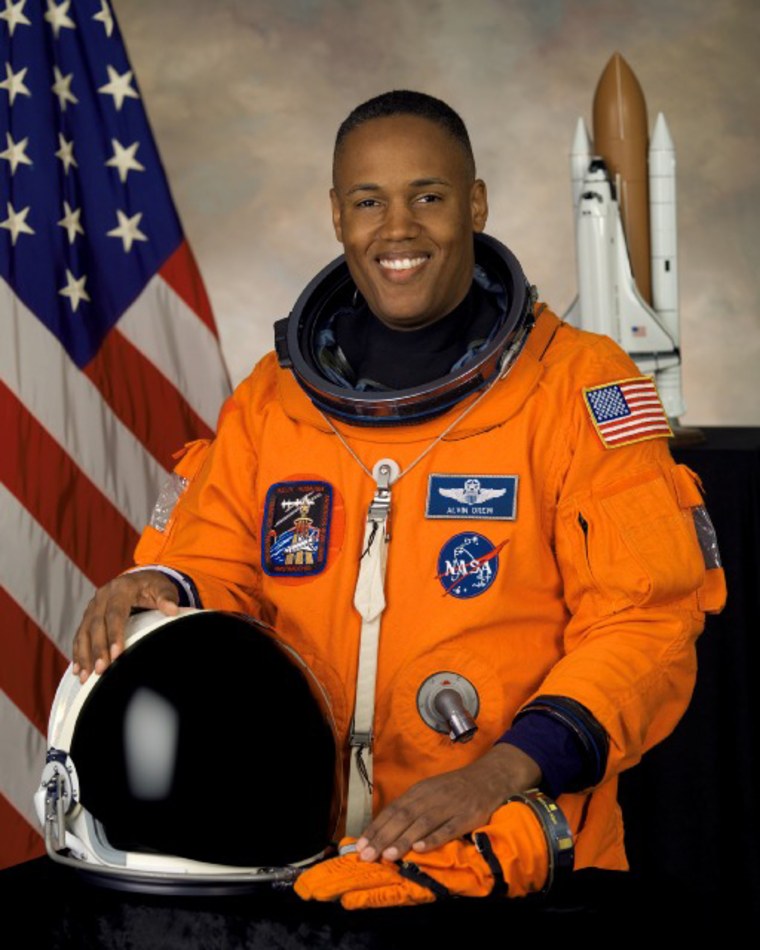 Drew received his commission as a second lieutenant from the U.S. Air Force Academy in 1984 and flew combat missions during the U.S. military's anti-Noriega operation in Panama in 1989, as well as the first Persian Gulf War. He is a command pilot with 3,000 hours of flight time in more than 30 types of aircraft. Drew was selected as an astronaut in 2000 and was added to the Endeavour crew in May. Endeavour's mission will make him the first representative of the astronaut class of 2000 to go into space.
Quote: "I'm the supporting cast for this mission. There's people out there doing EVAs, there's people out there doing robotic arm operations, and all those things need support from the rest of the crew. ... That's what I'm doing. It's not a very glamorous role, but it's something I'm absolutely very happy to be doing."