/ Source: Forbes Traveler.com
Las Vegas is not only the most visited city in America, it's also a connoisseur's town. The glitz and the glam are intangibles that anyone can enjoy—just get out there on the Strip and soak it up—but navigating the sea of choices can be daunting. For the lowdown on the things and places that make Vegas fabulous now, we spoke to the people who know it best: lead concierges at some of the city's most renowned hotels and resorts. (We asked concierges not to select their bests from their own establishment. A couple of times, they insisted their hotels really did offer the best in a category, so we listened to their arguments, and gave in.)
Let's start with that staple of Vegas escape—the casino. Where are the best spots to try your luck? Both Anne-Marie Whitmore-Zepeda, concierge at the Four Seasons, and Guillermo Navarro, head concierge at the Ritz-Carlton, sing the praises of Bellagio, for them the standard against which all others are measured. Says Whitmore-Zepeda, "The golden awnings over the machines muffle the sound so it doesn't seem as noisy or as hectic as the other casinos."
Naturally, most concierges won't shy from recommending their employer's casinos. Tyra Bell-Holland, director of concierge at The Venetian, has her cards on the Venetian Poker Room—but she qualifies that pick with the admission that "anything that's spacious, and gets drinks in a timely manner," is a good bet. "What's important is good service and a nice clean casino, where there aren't glasses lying around."
Imagine you've just won $10,000 at the tables. How would you blow it? Here's where all our concierges weighed in with pointed suggestions. Navarro would send guests over to The Forum Shops at Caesars, which he points out "has 160 boutiques and shops, as well as 13 restaurants." But Bell-Holland says the best way to blow $10,000 in gambling winnings would be "to get a personal shopper at Neiman Marcus or Saks." Time for more? John Almos, director of concierge at Wynn, recommends Wynn & Company, which he says "is an all-Rolex watch store."
If you're shopping for a spouse, Bell-Holland suggests Fred Leighton at Bellagio. "I helped one woman set up a private meeting with Fred Leighton to discuss some very high-end pieces," she says. "Most places will close the jewelry store so you can do some private shopping. And Whitmore-Zepeda's personal choice? The shops at the Wynn. She says "you could spend all your time" at these high-end boutiques. And probably most of your casino winnings, too.
For many visitors there's no better way to kick off a Vegas vacation than by indulging in a round of golf. According to Tina Milluzzo, lead concierge at the Palms Casino Resort, the best golf course is Bali Hai: "It's beautiful, with white sand bunkers, thousands of palm trees and seven acres of water features." Four thousand palm trees and 100,000 tropical plants, to be precise.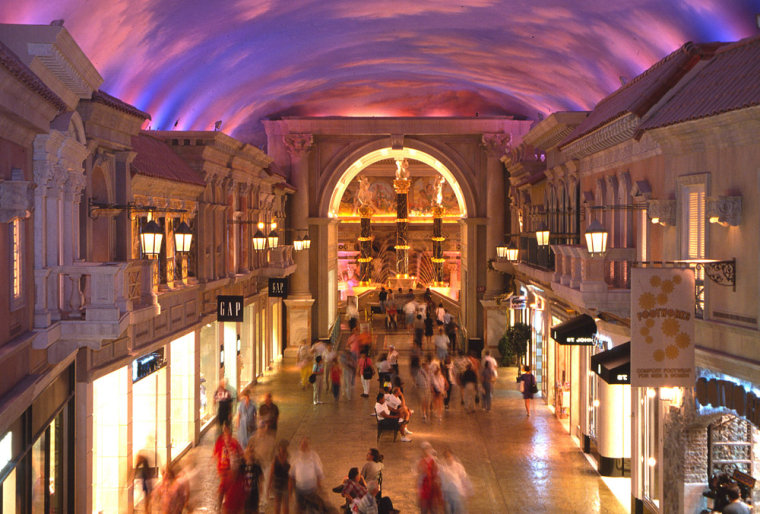 If you're in the mood for a more traditional kind of green, head over to the Royal Links Golf Club, the course Whitmore-Zepeda likes best. It's modeled on 18 British Open holes. For his part, Navarro notes that courses at The Falls and Reflection Bay, both in Lake Las Vegas, were voted "Nevada's most complete golf experience."
Amazing greens and thrilling casino wins notwithstanding, chilling poolside is the sine qua non of many a successful Vegas vacation. Fancy spa pampering has its place, and Vegas certainly has its share of posh spas, but sometimes the ultimate tonic is one that comes with a splash of gin and is sipped copiously with your feet in the cool water. Consider the Ditch Friday pool party at the Palms Casino Resort. Says Milluzzo, "you can listen to house, rock, hip-hop and top 40s and enjoy food and drink while playing hooky from the daily grind at the Palms Pool & Bungalow." You can party in any one of the three pools, at the bars or in the cabanas.
Another concierge pool party favorite is Tao at the Venetian. The pool scene there is so hot that even Whitmore-Zepeda, concierge at rival resort Four Seasons, readily recommends it: "With a temple, an enormous statue and floating VIP seating areas, this is the place to be," she says. And one more: According to Almos, a very hot spot to cool off is the Rehab pool party at the Hard Rock.
Las Vegas has a well-deserved reputation as a family-friendly destination, too. For Milluzzo, the best place to take the kids is the Secret Garden and Dolphin Habitat at the Mirage. There, she says, "you will see Siegfried & Roy's preservation of unique and rare animals; lions, tigers and black panthers in lush foliage native to the animals' natural habitat. Then you visit the tropical oasis of the dolphin habitat with tanks that replicate the dolphins' natural habitat. Your child can even be a dolphin trainer for the day."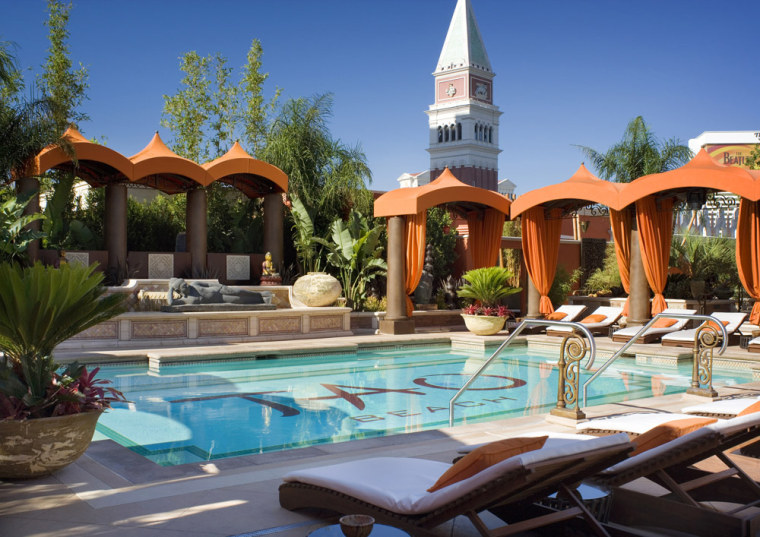 Another good bet—one that Whitmore-Zepeda heartily recommends—is Mandalay Shark Reef at Mandalay Bay. She says kids will love "the petting tank with stingrays and horseshoe crabs, and there's a lazy river where you can rent an inner tube and a wave pool for body surfing."
If Las Vegas can lay claim to one culinary classic (martinis don't count), it would have to be the killer steak. Whitmore-Zepeda says Charlie Palmer, at the Four Seasons, is the best place to dig in: "The chefs do such a phenomenal job. They even cure all their own beef." Prime at Bellagio also rates high on any carnivore's list. Navarro, at the Ritz-Carlton, calls it "the grandest steakhouse on the Strip, with its plush furnishings and Baccarat chandeliers." Milluzzo, of Palms Casino Resort, says that N9ne Steak House, at the Palms, "has mouthwatering steaks" and, for the non-carnivore, there's Nobu at Hard Rock, where according to Bell-Holland "the sea bass is to die for."
Once feeding time's over (not that it ever really is) it's open season on the bars. If you're the kind who doesn't dance unless heavily plied with alcohol, head over to Taboo at MGM. Tyra Bell-Holland, director of concierge at the Venetian, says what makes the lounge different is that "it has low tables, no center dance floor, bottle and table service. It's for those who don't want to go dancing per se, but they end up dancing anyway." From Taboo you could migrate to the Playboy Club on top of the Palms Fantasy Tower, but why resist Lure Ultra Lounge ("the best DJ in town," says Almos of Wynn) or MIX at Mandalay Bay (Navarro's pick)? If, however, you want to inhale the air that Paris Hilton and Tara Reid once did, save a night for Ghost Bar. The view of the Strip is a stunner, and from the transparent glass of the patio, says Milluzzo, "you can gaze at the pool way down below."