/ Source: The New York Times
At first blush they seemed like a surprising couple: Senator Hillary Rodham Clinton and Senator John Kerry, teaming up last month to defend Mrs. Clinton from Pentagon criticism over the Iraq war – criticism that had a Swift-Boat-style ring to it, her campaign believed, of questioning her patriotism.
The two senators are political rivals within the Democratic Party – he its nominee in 2004, she a leading candidate for the nomination next year. What's more, Mrs. Clinton was among those who hobbled Mr. Kerry politically last year by criticizing him for a botched joke he made about President Bush and Iraq; Kerry friends say the blow-up over the joke was a factor in his not seeking the presidency again in 2008.
As a presidential candidate, too, Mrs. Clinton has pledged to fight back against attacks, to never be "Swift Boated" – implicitly suggesting that her campaign mettle would be different (and stronger) than Mr. Kerry's. Indeed, her friends say she was no fan of the Kerry campaign, seeing it as feckless and undisciplined at times (two adjectives that people do not use about her or her operation).
And ultimately, of course, Mr. Kerry lost the election. The Clintons think of themselves as winners.
Yet rather than keep Mr. Kerry (and these attendant negative associations) closeted away, Mrs. Clinton has taken something of a risk (Yes! A risk!) by asking one of the Republicans' favorite punching bags to stand up to the Defense Department with her. The Clinton-Kerry alliance, however tactical and limited, carries potential benefits for both senators. Yet it has a particular personal dimension for Mr. Kerry, giving him another try at facing down critics who question Democrats' patriotism.
"Both Senator Kerry and I were shocked at the timeworn tactic of once again impugning the patriotism of any of us who raise questions" about the administration's war strategy, Mrs. Clinton said on a conference call with Mr. Kerry on July 20, after a Pentagon official -- responding to Mrs. Clinton's request for troop withdrawal contingency plans -- said her inquiry would feed enemy propaganda.
It did not take the Republican National Committee long to hit back. After the two senators introduced legislation last week that would require the Pentagon to provide information on withdrawal plans, the R.N.C. weighed in with a picture of Mr. Kerry and Mrs. Clinton together next to the headline: "Hillary's Iraq Advisor?"
From the Clinton camp's point of view, in spite of Republican attacks on his reputation, Mr. Kerry has cemented an image as a serious thinker on foreign policy and national security issues after years on the Senate Foreign Relations Committee and as a Vietnam veteran himself.
A Washington Democrat who has worked with both senators offered another assessment: Mr. Kerry has "a certain credibility on Iraq right now," given that his June 2006 Senate amendment to withdraw troops in a year – which Mrs. Clinton and many others opposed at the time – has now been embraced by many Democrats, including Mrs. Clinton.
If Mr. Kerry's views are now in his party's mainstream, he also enjoys good standing with his party's left, particularly antiwar Democrats, liberal bloggers, and voters who organize online (and whose support Mrs. Clinton and the other '08 Democrats are seeking). A cursory read of left-leaning blogs finds strong support for Mr. Kerry's full-throated opposition to the war. And Mr. Kerry's reach is notable: He still has an email contact list for three million people from his 2004 campaign.
For Mr. Kerry, meanwhile, being a player again has its own rehabilitative power. There is nothing like standing next to a Clinton to bring you into a spotlight. As the Democratic presidential nominee in 2004, Mr. Kerry came to relish that spotlight after years spent in the sometimes overwhelming shadow of his state's senior senator, Edward M. Kennedy.
Indeed, Mr. Kerry's desire to remain a powerbroker in the party is intense, friends of his say, and he has been cultivating relationships in the 2008 field beyond Mrs. Clinton. Mr. Kerry and Senator Barack Obama of Illinois worked together on a veterans bill this year, and had a private dinner in Washington this spring. And he put out a statement praising the energy plan of Senator Christopher Dodd, another '08 contender.
Mrs. Clinton and Mr. Kerry are not close personally, but advisers to each say the senators regard each other as serious, thoughtful, and mature – qualities they do not see in all of their colleagues, the advisers add. They share a biting sarcasm, too, and they are both regarded as well-prepared and detail-oriented. (Mrs. Clinton has made it clear to aides that she does not want to skip as many Senate votes as Mr. Kerry did while campaigning in 2003 and 2004, however.)
They also have a shared history with presidential politics, too, beyond the fact that Mr. Kerry, as the Democratic nominee in 2004, can understand what Mrs. Clinton is dealing with as a leading candidate this time around.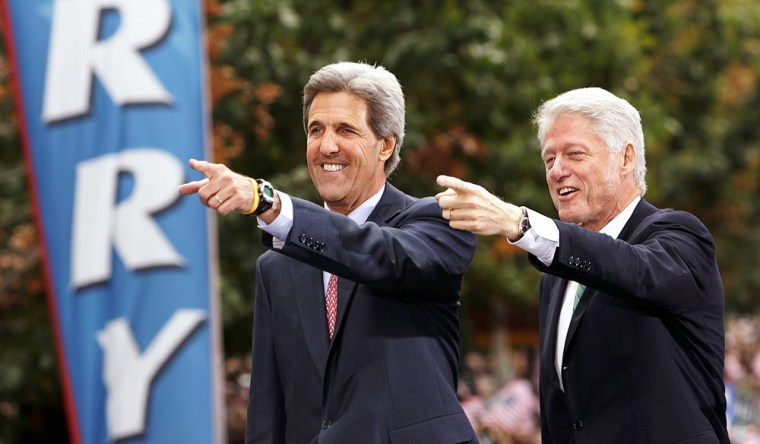 When Mr. Kerry was considering possible running mates in 2004, he "was ready to partner with Clinton if it was the way to win, but he doubted it was," Mr. Kerry's senior adviser at the time, Robert Shrum, writes in his book, "No Excuses." But a "quiet round of polling" revealed that Mrs. Clinton "had high negatives – she would hurt the ticket," Mr. Shrum added.
Then, in October 2006, when Mrs. Clinton and Mr. Kerry were both considering presidential bids in 2008, she inflicted damage on him by labeling as "inappropriate" the joke that Mr. Kerry had told at the height of the campaign season. Mr. Kerry, deviating from his prepared remarks, had suggested that students who did not work hard could "get stuck in Iraq."
As it happens, Democrats close to Mr. Kerry say that some of his donors decided to support Mr. Obama over Mrs. Clinton because she knocked Mr. Kerry when he was already down.
Mr. Kerry has said he will endorse one of the presidential candidates, and Democrats close to him say that he is carefully watching what they say on Iraq, national security, and the environment. And by all accounts he is enjoying being something of a player again.
"This is virgin territory for Kerry," said one of these Democrats, a close Kerry confidant. "When it comes to endorsements, now he's the hunted and not the hunter."