Looking to enjoy a little art or live music on your next trip? Or, perhaps, some quality time in the great outdoors?
You're in luck — and you may not even need to leave the airport. From Asheville, N.C., to Vancouver, B.C., airports are offering unique and innovative ways to help passengers pass the time before a flight or between connections.
For some airports, it's a way to promote the local region; for others, a way to entice connecting travelers choosing among multiple routes. And while few of us would choose to spend extra time at the airport, the fact is we all are, and we might as well make the best of it.
"The idea is to make the 'dwell time' more enjoyable," says Jim Halbrook, spokesman for Austin-Bergstrom International Airport. "It's better than sitting around trying to read a book over the security announcements." From cultural offerings to outdoor activities, here are some of the options:
Music may or may not "soothe a savage breast," but it can make waiting for your plane a lot more pleasant.
Nashville International Airport features live performances by local musicians every weekday. There are currently three stages (near the A/B and C/D concourse entrances and by baggage claim) with a fourth currently under construction. The latter will likely draw a large crowd on August 28, when the Oak Ridge Boys perform. for more information.
At Austin-Bergstrom International Airport, musical performances are held on a stage next to the Highland Lakes Bar (weekdays, 3:30–5:30 p.m.). Live music is also offered in Lefty's Bar & Grille and the Hill Country Bar. (The latter is currently closed for renovations but expected to reopen in early September.) for more information.
The Terminal Jazz program at San Diego International Airport features live jazz on the second Friday of each month (7–9 p.m.), while the SASSY series highlights solo artists playing everything from boogie woogie to Latin salsa (fourth Fridays, 4:30–6:45 p.m.). All performances take place in the baggage area in Terminal 2 (outside security), so both travelers and non-travelers can enjoy them. for more information.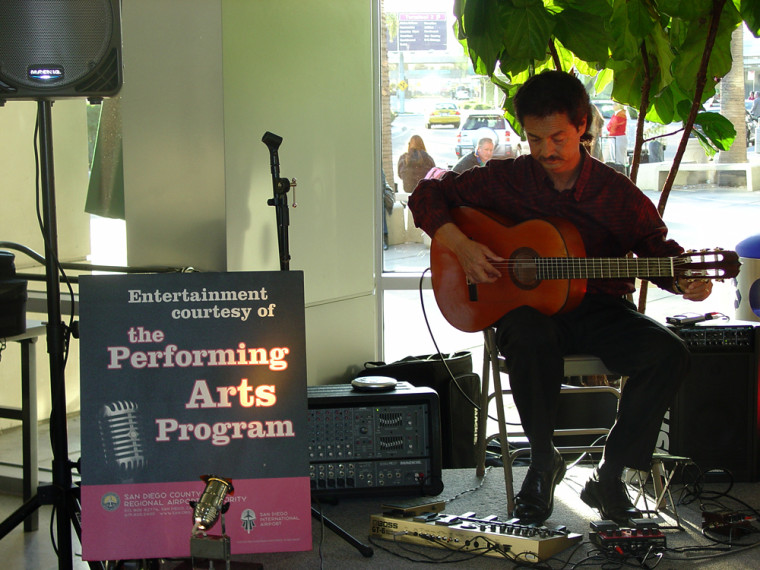 While most major airports have art on display, the following "artports" feature dedicated venues (galleries, etc.) where you can enjoy artistic creations while escaping the crowds:
joined the artport ranks this June after it converted a former welcome center into a showcase for regional art. Located pre-security, the gallery's first show features 37 pieces by 14 student artists, with a new exhibit expected to debut on August 20. Free postcards of many pieces are available to travelers — a nice touch if you haven't gotten around to buying any yet.
Often overlooked by harried travelers, the Aviation Library and Museum offers a quiet oasis at San Francisco International Airport. It's located in the International Terminal (pre-security) and features several thousand books, photos and artifacts chronicling the history of commercial aviation. It's also the only accredited museum at an airport in the U.S. for more information.
Phoenix Sky Harbor International Airport features one of the largest artport collections in the country, most of which is displayed pre-security. Located in Terminal 4, the Airport Museum Gallery is exhibiting images by teen photographers through August 12 and will unveil a collection celebrating the region's sporting culture (Cactus League baseball, the 2008 Super Bowl, etc.) on August 25. for more information.
A handful of airports offer easy access to nearby parks, hiking trails and golf courses. You'll have to go through security after enjoying them, but you may be a bit more relaxed and refreshed when you do.
The new Butterfield Trail Golf Club at El Paso International Airport provides an intriguing alternative to hanging out in the terminal. Opened just east of the airport in early June, the club features a par-72, desert-style layout designed by Tom Fazio, along with a 12-acre practice facility and 8,800-square foot clubhouse. Greens fees are $35–$80. for more information.
Hikers (and bikers) with time on their hands can access the BWI Trail, a 12.5-mile loop that encircles Baltimore/Washington International Airport. It traverses natural areas and historic sites and can be accessed from Concourse E. (Take the light-rail system two stops to Linthicum Station.) The trail also leads to an aircraft observation area, but it's better suited to access by car than by foot. for more information.
Finally, visitors to can experience a bit of British Columbia just outside the airport's International Terminal. Chester Johnson Park features a miniature Pacific Coast forest complete with a walking trail, waterfall, reflection pond and three totem poles. Back inside the newly expanded terminal, a 30,000-gallon aquarium (with 850 indigenous sea creatures) and 1,000-gallon jellyfish tank offer an up-close look at some of the local denizens.