/ Source: The Associated Press
Inside the home's front door lay a bare, blood-soaked mattress and box spring.
The house was infested with fleas, the plumbing was backed up, much of the furniture was broken and the stench of cat urine filled the air.
Matthew Booth, 34, was lying face-up on the mattress when he was shot in the head early July 30. His 13-year-old daughter told investigators she used a 12-gauge shotgun to shoot him in the face, a crime that her attorney said was precipitated by years of sexual abuse.
The Associated Press on Sunday toured the Elizabeth Township home, located about 20 miles southeast of Pittsburgh, and found revolting conditions.
"I've been in crack houses that have been nicer," said Eddie Rose, a private investigator hired by the girl's attorney, Patrick Nightingale.
Prosecutors initially charged the girl as an adult with criminal homicide. But after visiting the filthy home Friday, Allegheny County District Attorney Stephen Zappala Jr. decried the deplorable conditions and said the girl would be tried as a juvenile.
A judge on Tuesday approved transferring the case to juvenile court. The Associated Press does not identify possible victims of sexual abuse.
The girl was sent Friday to a psychiatric clinic, where officials determined Monday that she should remain for up to 20 days more.
Matthew Booth was cremated in a private ceremony, his brother Josh Booth told the AP after visiting the house Sunday.
"Matthew was his brother and he loved him, but there is no excuse for the living conditions," said Kim Booth, Josh's wife. "We can't defend this."
Mother does not have custody
The 13-year-old girl's mother, Michelle Fazek, does not have custody of the teen or her 14-year-old brother, but does have custody of a 12-year-old daughter she had with Matthew Booth. Fazek and Booth were never married.
Nightingale told a judge last week that his client "specifically requested her mother not be involved at this point. There are serious issues of alienation."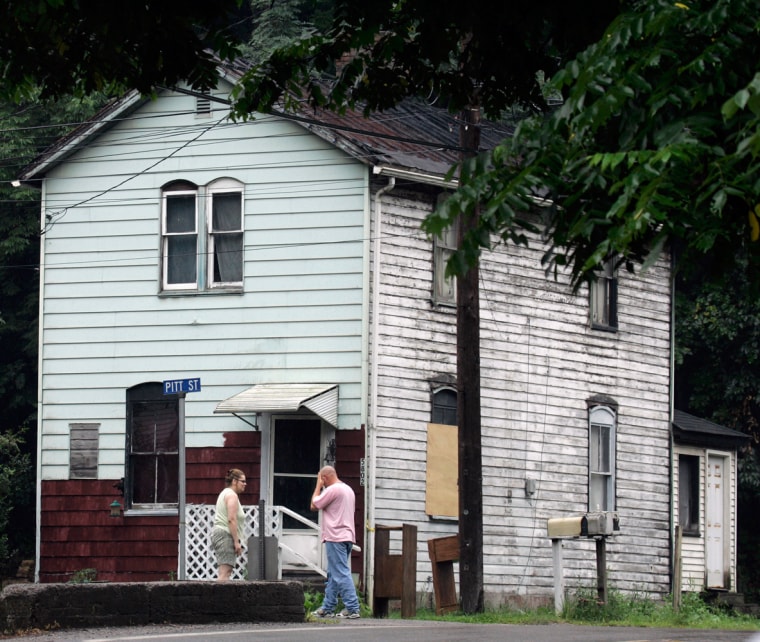 The 14-year-old brother said he was on the second floor at the time his father was shot and came running downstairs when he heard it.
The girl tossed about some furniture after her father's slaying to make it look like a burglary took place, Nightingale said. But, he said, she lived in the squalor, among the fleas and animal feces.
There was barely enough room to walk through the living room. A beat-up couch, where the girl slept, stood propped up against one corner, its back ripped and its cushions scattered on the floor.
An empty alcohol bottle, beer cans, soda cans, books, a stuffed animal, papers and crumpled-up pages from pornographic magazines cluttered the floor.
A coffee maker and another small appliance sat on the kitchen floor amid dirt, debris and animal feces. A green cat litter box lay on its side. Authorities said animal welfare officers took away an array of animals — including dogs, cats and rabbits — from the house last week.
Several trash-filled plastic grocery bags leaned against the fridge, while larger trash bags brimming with empty beer cans took up space under the kitchen sink. The only items in the freezer were a bottle of vodka, a plastic bag and a small red container.
In one room upstairs was another bare mattress and box spring. Stuffed animals, plastic toys, clothing, and soda cans and bottles were strewn across the floor, along with animal feces.
Poem on wall
Several drawings took up one wall. On a piece of paper stuck to the wall was D.H. Lawrence's poem, "Self Pity," which begins, "I never saw a wild thing feel sorry for itself." Written in marker on the wall was "To live is to suffer" and a line from a Tupac Shakur song, "My only fear of death is reincarnation."
A second room upstairs was so cluttered that walking more than a yard inside was impossible. A kitchen sink, a vacuum cleaner, an artificial Christmas tree, broken furniture, boxes and other items filled the floor.
After going through the house with an AP reporter and photographer, Rose and Al Hanasik, who works with Rose, spent several minutes furiously smacking the fleas off their clothing.
Josh Booth said he hadn't seen his brother in about six years. Neither Josh nor Kim Booth had visited the house until after the shooting.
But he and his wife saw the girl and her brother when the children visited their grandparents. "They would say they were fine," Kim Booth said. "They never gave any inclination something was going on."
They said they were unaware of any sexual abuse.
"If the family was aware anything like this was going on, we would have done something," Kim Booth said. "This terrible tragedy happened because nobody did anything."