Where the Democratic and Republican presidential candidates chose to speak this past weekend offers a revealing look at whom the parties are wooing — and how very different these groups are.
The Democrats on Saturday were in Chicago at the YearlyKos convention, a gathering of about 1,500 loosely organized liberal bloggers. The convention's name is derived from the most high-profile of these blogs, .
The Republicans, in contrast, were in the heartland on Sunday in Des Moines, Iowa. They were debating in front of about 700 mostly socially conservative, religious voters in a key early primary state just days before an Iowa straw poll.
The most obvious difference on these two days was one of style.
YearlyKos was funky, eclectic and laid-back with Mac-typing, jeans-wearing activists and bloggers sprawled out in the hallways, sitting on the floor and leaning up against walls. There were no tinfoil hats like last year thanks in part to an organizational memo gently prodding participants to be on their best behavior now that the mainstream media would be watching. Neckties were scarce, never mind suits. The presidential candidates during the forum lounged in leather chairs separated by sleek black end tables.
Meanwhile, the Republican debate at Drake University was buttoned-up and traditional with many more ties, suits and dresses, despite the torrential downpour and tornado watch. Everyone was in their Sunday best. Granted, it was Sunday and it is fair to assume many headed to church later that day. And Iowa is a place that still values Sunday. Almost every shop and eatery was closed. A man tidying up behind the counter of one deli said with a smile, "Sorry, we're closed. It's Sunday." An organ and pipes loomed large above the spin room.

The left-leaning Kos crowd, viewed by many as the "left wing" of the Democratic Party, is an important bloc for Democrats. They are growing in influence due largely to the unpopularity of the Iraq war. They have lots of activists to offer, and money to raise.
Railing against the Bush administration
At YearlyKos, the candidates made blatant appeals hoping to cull support from the group. They fired away at President Bush and Vice President Cheney, advocated for universal health care, and demanded troops be pulled from Iraq.
Rep. Dennis Kucinich, D-Ohio, got a standing ovation for calling for the impeachment of Bush and Cheney, a popular notion with the audience littered with "Impeach Bush, Impeach Cheney" stickers and buttons. Gov. Bill Richardson, D-N.M., repeated his call for the immediate withdrawal of troops from Iraq. He also gave a mea culpa; Richardson originally said Byron "Whizzer" White, who dissented in Roe v. Wade, was the ideal U.S. Supreme Court justice. "I screwed up," Richardson said.
Sen. Hillary Clinton, D-N.Y., also railed against the Bush administration, as she did three days later at the AFL-CIO forum, and called for Attorney General Alberto Gonzales to resign. She committed to getting the troops out of Iraq, and repeatedly invoked the "vast right-wing conspiracy" — something she generally refrains from saying on the campaign trail.
Sen. Barack Obama, D-Ill., again mentioned "wars we should not have authorized."
Former Sen. John Edwards got a strong response calling for candidates not to take lobbyist money. He even polled the audience to see how many think lobbyists represent them.
The fact that all of the Democratic presidential candidates attended the YearlyKos convention is perhaps a sign of how far the political pendulum has swung. The Democrats chose not to address the centrist Democratic Leadership Council the weekend before.
But Daily Kos founder Markos Moulitsas Zuniga dismissed the notion that the presidential contenders were attending the event named after his blog — and not the DLC's — because the political pendulum has moved.
"If the DLC had a list of 3 million people," Moulitsas Zuniga said, "they would go to that. It's not that they're centrist."
Bloggers: 'Don't call us left'
In fact, many of the bloggers took issue with being called "left."
"Don't call us left," one blogger told me, becoming more animated. "We're the mainstream. You're traditional."
They cite polling that shows the majority of Americans now support a withdrawal from Iraq. But the blogosphere held the anti-war position well before the rest of the country. They say that doesn't make them left, it makes them right — though they'd probably prefer the word "correct."

The Republicans, on the other hand, continued the jostling to fill the void for the true conservative candidate who can resonate with audiences like the one in Iowa on Sunday.
Gov. Mitt Romney, R-Mass., and former New York City Mayor Rudy Giuliani have become the apparent front-runners as Sen. John McCain, R-Ariz., has faded.
But social conservatives have obvious reservations about Romney — a Mormon, who once supported a pro-choice position — and Giuliani, who is admittedly pro-choice and has even given money to Planned Parenthood in the past.
This has given rise to the candidacy of actor and former senator Fred Thompson, whom Drake University politics professor Dennis Goldford called, "a political name for the term 'None of the Above.'"
The abortion issue has been a widening fault line among the Republican candidates, and it came to light in full force at the debate — six days before the Aug. 11 Ames straw poll. With the feel of a state fair, this event has been an indicator of how candidates would perform in the January caucus. Although this year, Giuliani, McCain and Fred Thompson have all declined to participate.
Romney's abortion struggle
Romney leads by significant margins in most Iowa polls and has made a strong move to the right on social issues. But from the first question of the debate, he had to again defend his position on abortion.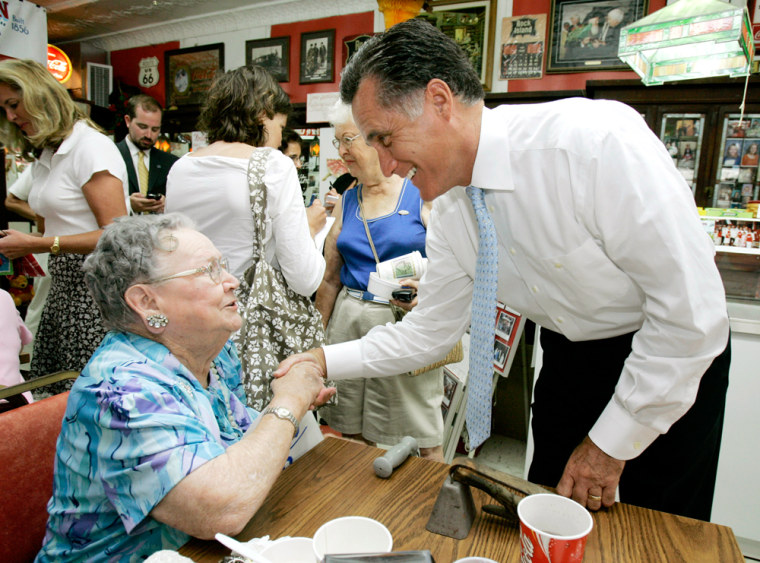 He initially seemed to do so adequately. Taking a shot from fellow GOP candidate Sen. Sam Brownback, R-Kan., his sharpest critic on the issue, Romney turned it around by saying, "I get tired of people that are holier-than-thou because they've been pro-life longer than I have."
But then Romney may have erred.
When the candidates were asked what they think has been their biggest mistake, Romney implied he took a politically convenient position on abortion during his 1994 U.S. Senate run against Ted Kennedy, D-Mass. Romney said at the time he had been "deeply opposed to abortion," but instead took "effectively a pro-choice position."
"You have a lot of folks who are willing to accept his claim that like Ronald Reagan and Henry Hyde, he's a convert; he's seen the error of his ways," Goldford said. "That carries weight with some folks here in Iowa. It doesn't with others."
Giuliani, who is admittedly pro-choice, has his own potential problems on the issue. But ironically, national polling shows Giuliani leading among social conservatives.
"They see a guy who's a tough guy, who takes no crap," Republican pollster Tony Fabrizio said. "They say, 'That's my kind of guy,' and that's all they care about."
Whoever is able to ultimately harness the Net roots or cull the conservative base, this weekend offered a sneak peak at two of the key groups candidates on opposition sides of the aisle are trying to court.
Domenico Montanaro covers politics for NBC News.