/ Source: The Associated Press
Only the most devoted sons and daughters could be thinking about what flowers to get mom for Mother's Day next May.
But Holtkamp Greenhouses Inc., the largest producer of African violets in the world, is already trying to create new varieties — for Mother's Day 2009.
"It's a continuous process to come up with new varieties," said Reinhold Holtkamp Jr., vice president and operator of Holtkamp Greenhouses in Nashville. "It takes years of development; it takes vision."
Flowers' timeless beauty might seem an unlikely candidate for innovation, but without fulfilling customer demand for new varieties, the industry would be, well, pushing up daisies.
"Innovation and technology are driving the success of the floral industry," said Terril Nell, chairman of the University of Florida's Department of Environmental Horticulture. "It's an increasing imperative."
Easy access to flowers through the Internet and increasing globalization are driving greenhouse innovation, Nell said, spurred by consumers wanting tougher plants with more variety and color.
The U.S. floral industry grew 5.6 percent from 2005 to 2006, when total sales were $20.8 billion. Tracking exact production numbers is difficult because Holtkamp and rival Harster Greenhouses Inc. are both privately held. But Holtkamp said the two companies are acknowledged as the largest players in the African violets business, which sells a total of 100 million flowers a year and has annual U.S. retail sales of about $50 million.
Holtkamp, 44, said Holtkamp Greenhouses, which sells violets under the company name Optimara (named after its most famous variety), produces more than 10 million violets a year. Harster, based in the Hamilton, Ontario, suburb of Dundas, grows 10 million violets in 100 varieties per year.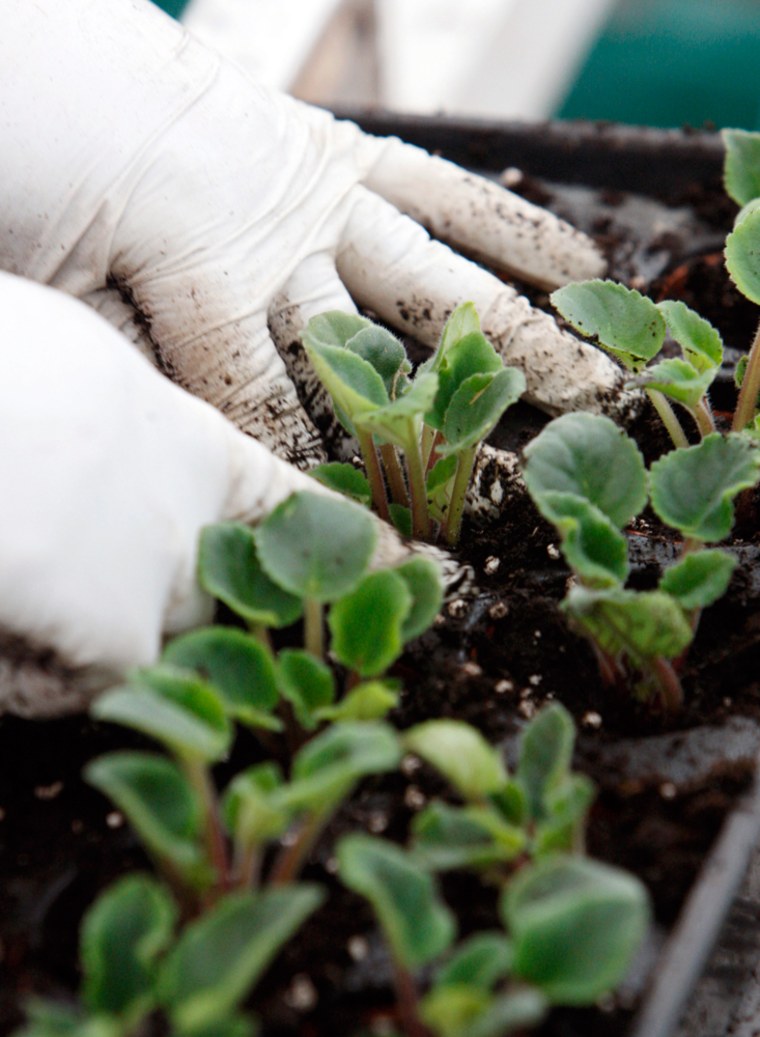 African violets are the most popular collectible house plant, Holtkamp said.
Nell said African violets' easy care has led to their widespread popularity among indoor plants.
"The violet is very easy to take care of. The more you neglect them, the more they like it," Holtkamp said.
Violets benefit most from morning sunlight and should stay moist, but not wet. Enthusiasts say overwatering is a common mistake.
Maryse Roux, president of a 50-member violet collectors club in the Montreal suburb of Longueuil, said the plants are easy to raise indoors.
"It's interesting to collect them because they come in all sizes and colors," Roux said. Holtkamp's flowers are easiest to find in Quebec, even if they're often not kept well in stores, she said.
"The stores usually just leave them there and don't care for them," she said. "But they have some really interesting ones in a lot of varieties."
Holtkamp Greenhouses began developing African violets in 1935 in Germany. Holtkamp's father, Reinhold Holtkamp Sr., now 72, first had to make African violets commercially viable.
Before 1965, African violets couldn't be shipped because the flowers dropped off so easily. Holtkamp Sr. bred a stronger "nondropping" variety, a trait that's standard now. Today Holtkamp's portfolio consists of about 500 violet varieties — in dozens of colors, blanketing 500,000 square feet of greenhouse space — with 1,500 new varieties in research and development.
"We are always in R&D, not just looking for new colors, which we are, but we are looking for new characteristics that add value to our plants and make them easier for the consumer to take care of at their homes," Holtkamp said.
Optimara violets usually retail for less than $4 apiece, he said.
Harster Greenhouses, which distributes to Target stores and the Kroger grocery chain, also acknowledges the necessity of research to the African violet business.
"We put money in technology before expansion," owner Andre Harster said. "It's a good thing to have honest competition. It's good for the market."
African violet research accelerated in 1977 when Holtkamp Sr. moved the company to Nashville, where flowers favor the warmer climate over chillier Germany.
Holtkamp jokes that the greenhouse's R&D had something to do with Nissan Motor Co.'s decision to relocate its North American headquarters to Nashville. Tennessee Gov. Phil Bredesen asked Holtkamp to name one of its new varieties, a ruffled white-and-red flower, "The Rita" after Nissan CEO Carlos Ghosn's wife.
"We of course take full credit," Holtkamp said. "Many times the decision on where to relocate a company is based on how well the CEO's wife likes it."
Innovation took off again in 1984 aboard the space shuttle Challenger. The greenhouse partnered with NASA to send 20,000 violet seeds to an unmanned space laboratory, where they were exposed to microgravity and other elements of space.
The seeds were to remain in orbit for one year, but delays and then the Challenger explosion in 1986 postponed retrieval for several years. When they were finally brought back to Earth in 1990 by space shuttle Columbia, 7,000 germinated, more than Holtkamp expected.
"They were very deformed creations," he said. "But there was one particular flower that stood out unique. It was blooming very nicely and very profusely."
Holtkamp realized multiple generations coexisted on the same plant — which he affectionately named his "space baby" — so that when one flower died, another fresh bloom was ready to take its place. That characteristic, "multiflorescence," is now patented for Optimara's EverFloris series, which bloom continuously.
The greenhouse ships directly to customers worldwide, like its largest clients Lowe's Cos. and Home Depot Inc., and uses a network of 450 distributors. Internet sales are also blossoming, Holtkamp said.
Staying competitive requires global vision, with operations in Germany, Brazil and Zimbabwe, even though the greenhouse employs only 65 people, he said.
"We have the complexity of a Fortune 500 company with the revenue of a local dry cleaner," Holtkamp said.