Chinese rescuers blasted apart chunks of rubble Wednesday in the search for nearly two dozen people still missing in a bridge collapse that killed at least 36.
At least 100 construction workers were dismantling scaffolding on the bridge when it collapsed in the southern tourist town of Fenghuang. The disaster rekindled concerns about rushed, shoddy work amid China's torrid economic expansion.
More than 1,500 police officers and People's Liberation Army soldiers were scouring the site for victims and in some cases used explosives to crack large pieces of cement and stone so they could search underneath, the Beijing Post newspaper reported.
Witnesses described hearing a rumble and seeing stones fall from the structure Monday afternoon after construction workers removed the supportive frame from the 140-foot-high, 880-foot-long vehicle and pedestrian bridge across the Tuo River.
The bridge had been capped by four large stone arches.
'Split apart like a piece of tofu'
The newspaper quoted survivor Hou Jiaping as saying the bridge "split apart like a piece of tofu cut by a knife."
"Between the time people heard a loud sound and the full collapse there was only one minute," Hou was quoted as saying.
Xinhua quoted an unnamed local official as saying planners had opted for a traditional stone design so that it would be "in harmony with the local natural environment."
Fenghuang — an ancient trading town surrounded by lush mountains and rice paddies — has promoted itself as a tourist destination by preserving its old cobbled streets and riverside stilt homes.
The official Xinhua News Agency said 23 people remained unaccounted for.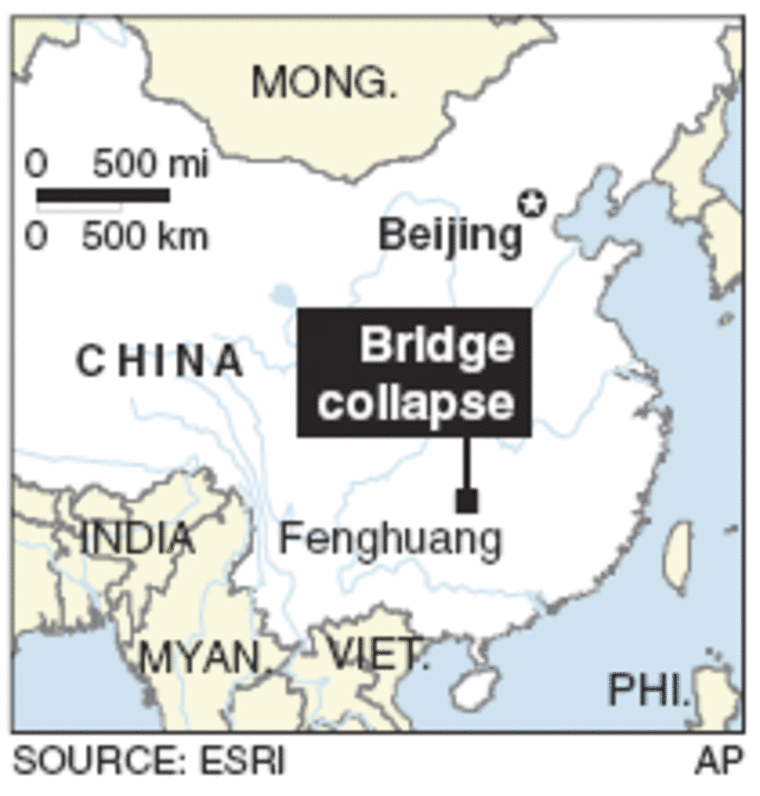 Xinhua reported that medical staff helping the rescuers said there was little chance of finding survivors under the massive pile of concrete and rock.
The collapse also damaged local water pipes, cutting water supplies to 700,000 people for two days. Service was restored late Wednesday, Xinhua said.
Chinese State Councilor Hua Jianmian visited the collapsed bridge late Tuesday and urged construction sites all over the country to tighten safety management and check potential risks, Xinhua said.
Premier Wen Jiabao has called for a thorough investigation into the collapse, saying those responsible would be "severely dealt with."
Police detained two officials from the state-owned Hunan Road and Bridge Construction Co., which has been working on the bridge, Xinhua said.