/ Source: The Associated Press
Rescuers used bare hands and shovels Wednesday to claw through clay houses shattered by an onslaught of suicide bombings that killed at least 250 and possibly as many as 500 members of an ancient religious sect in the deadliest attack of the Iraq war.
The U.S. military blamed al-Qaida in Iraq, and an American commander called the assault an "act of ethnic cleansing."
The victims of Tuesday night's coordinated attack by four suicide bombers were Yazidis, a small Kurdish-speaking sect that has been targeted by Muslim extremists who consider its members to be blasphemers.
The blasts in two villages near the Syrian border crumbled buildings, trapping entire families beneath mud bricks and other wreckage. Entire neighborhoods were flattened.
"This is an act of ethnic cleansing, if you will, almost genocide," Army Maj. Gen. Benjamin Mixon, commander of U.S. forces in northern Iraq, told CNN. He said that was evident from the fact Yazidis live in a remote part of Ninevah province that has been far from Iraq's conflict.
Mixon said last month that he proposed reducing American troop levels in Ninevah and predicted the province would shift to Iraqi government control as early as this month. It was unclear whether that projection would hold after Tuesday's staggering casualties.
Death estimates ranged widely.
Zayan Othman, health minister for Iraq's nearby autonomous Kurdish region, said 250 bodies had been pulled from the rubble and some 350 people were injured.
But the death toll was put as high as 500 by some local officials, including Hashim al-Hamadani, a senior provincial security official; Kifah Mohammed, director of Sinjar hospital; and Iraqi army Capt. Mohammed Ahmed. They agreed with Othman that about 350 were wounded.
None of the officials provided information on how they arrived at their estimates. The figures could not be independently checked because the area was under curfew and casualties had been taken to numerous hospitals.
Even the lower death estimate far surpassed the previous bloodiest attack of the war — 215 people killed by mortar fire and five car bombs in Baghdad's Shiite Muslim enclave of Sadr City last Nov. 23.
U.S. officials believe insurgents have been regrouping across northern Iraq after being driven from strongholds in and around Baghdad, and the bombings coincided with the start of a major offensive by American and Iraqi troops against militants in the Diyala River Valley.
Blow to upcoming U.S. report
The carnage dealt a serious blow to the Bush administrations hopes of presenting a positive picture in a progress report on Iraq to be delivered by the top U.S. commander, Gen. David Petraeus, and U.S. Ambassador Ryan Crocker in about four weeks.
Petraeus warned that he expected Sunni Arab insurgents to stage more spectacular attacks ahead of the report to Congress, whose members are deeply divided over whether to begin withdrawing U.S. troops from Iraq.
"This is way out by the Syrian border, an area where we do think in fact some suicide bombers are able to come across the border. It's an area that is very, very remote -- quite small villages out there -- and it was disheartening for us, too, obviously," Petraeus told The Associated Press in an interview.
"We've always said al-Qaida would try to carry out sensational attacks this month in particular," he added. "We've had some success against them in certain areas, but we've also said they do retain the capability to carry out these horrific and indiscriminate attacks such as the ones yesterday. There will be more of that, tragically."
Sect under fire
Minority sects such as the Yazidis are especially vulnerable as militants seek new targets to avoid the strict security measures clamped on Baghdad and surrounding areas to stop violence among warring Sunni and Shiite factions.
Some Muslims and Christians consider an angel figure worshipped by Yazidis to be the devil, a charge the sect denies. The Islamic State in Iraq, an al-Qaida front group, distributed leaflets a week ago warning residents near the scene of Tuesday's bombings that an attack was imminent because Yazidis are "anti-Islamic."
The sect also gained unwanted attention when some members stoned an 18-year-old Yazidi woman to death in April after she converted to Islam and fled her family with a Muslim boyfriend. Recent attacks on Yazidis have been blamed on al-Qaida-linked Sunni extremists seeking to avenge her death.
The only Yazidi legislator in Iraq's 275-seat parliament called on the government to do more to protect the country's small communities.
"The ethnic and religious minorities do not have militias while all the powerful parties have strong militias in Iraq," Amin Farhan said. "The government should protect these minorities by giving them weapons so that they can confront the terrorist groups."
Blood donations urged
Officials in northwestern Iraq called on people to donate blood and pleaded for aid as many families were left homeless after their houses collapsed in the bombings near Sinjar.
"The residents are appealing now to governmental and non-governmental organizations to help them with medicines, food, water and tents," Farhan said. "About 50 houses have completely collapsed over their families. Many of the victims have been badly dismembered. Rescuers are only finding pieces of dead bodies."
Dakhil Qassim, the Sinjar mayor, said the four truck bombers approached two areas in the town of Qahataniya, 75 miles west of Mosul, from dirt roads and all exploded within minutes of each other. He said the casualty toll was expected to rise.
"We are still digging with our hands and shovels because we can't use cranes because many of the houses were built of clay," Qassim said.
Hospitals packed
Hospitals across the region were overwhelmed and only emergency vehicles were exempt from a curfew that was in place across towns west of Mosul, 225 miles northwest of Baghdad.
Nurses dabbed the bloodied face of a young boy and held his hand as he wailed in pain. A toddler with bruised eyes had bandages wrapped around his head and arms.
"The car bombs that were used all had the consistent profile of al-Qaida in Iraq violence," a U.S. military spokesman, Brig. Gen. Kevin Bergner, told reporters in Baghdad's heavily fortified Green Zone.
Iraqi Prime Minister Nouri al-Maliki issued a statement blaming the bombings on "terrorism powers who seek to fuel sectarian strife and damage our people's national unity."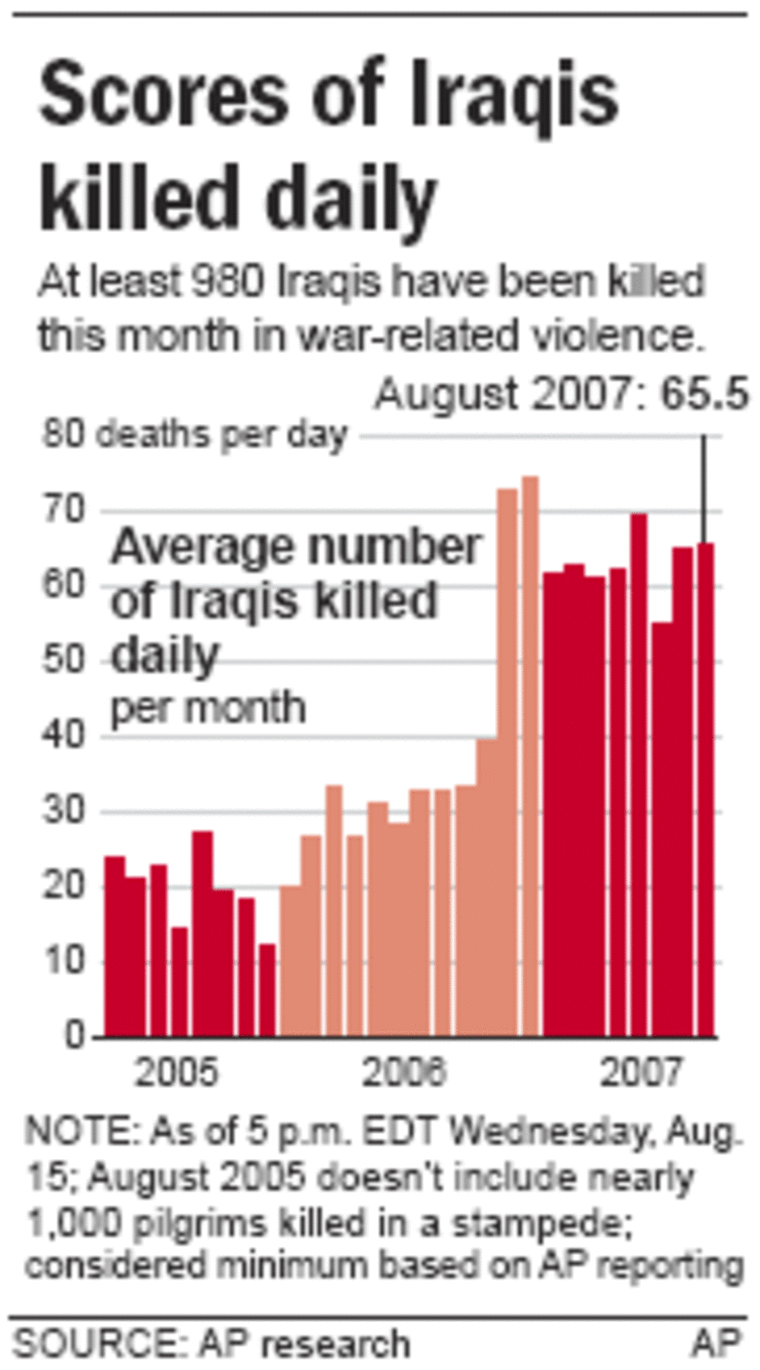 U.N. Secretary-General Ban Ki-moon issued a statement strongly condemning the attack, saying "nothing can justify such indiscriminate violence against innocent civilians."
He urged Iraqi leaders to set aside political and religious differences to work together to protect civilians.
Violence persists
Elsewhere in Iraq, at least 44 other people were killed or found dead Wednesday, including 24 bullet-riddled bodies of apparent victims of sectarian death squads usually run by Shiite militias.
Five civilians also died in separate car bombings in the northern cities of Mosul and Kirkuk and the southern city of Hillah.
Northeast of Baghdad, Iraqi civilians joined police to rise up against suspected al-Qaida-linked gunmen after a mortar attack in Buhriz.
Eight gunmen and six civilians died in the fighting, police said.