Victor Cousins has a pretty good gig working for the human resources department at Sun Microsystems, but he doesn't have an office, just a locker.
Don't feel sorry for him. He's not one of those types who measure his career success by the size of his office. In fact, he's proud to be office-less, and he's the quintessential telecommuter. He works anywhere he wants – his home in Oakland, the local coffee shop, and at any Sun location throughout the country. When his mother had knee surgery in May he was able to spend time with her, working out of a Sun office in St. Louis.
Welcome to the workplace of the future. Cousins is an example of the mobile worker that will become much more pervasive in the next 10 years.
Finally, telecommuting will become a mainstay in Corporate America but that doesn't mean everyone will be working at home all the time, a prediction made by many workforce observers just a decade ago. The U.S. worker will be a mélange of office inhabitant and work-anywhere warrior.
Take Cousins. Even though he doesn't have an office, he reserves office space at Sun's San Francisco location when he needs to be in house and interact with coworkers and managers. Right now, he splits his time 50-50 between home and in the office, but envisions spending more time away from the mother ship in the months ahead.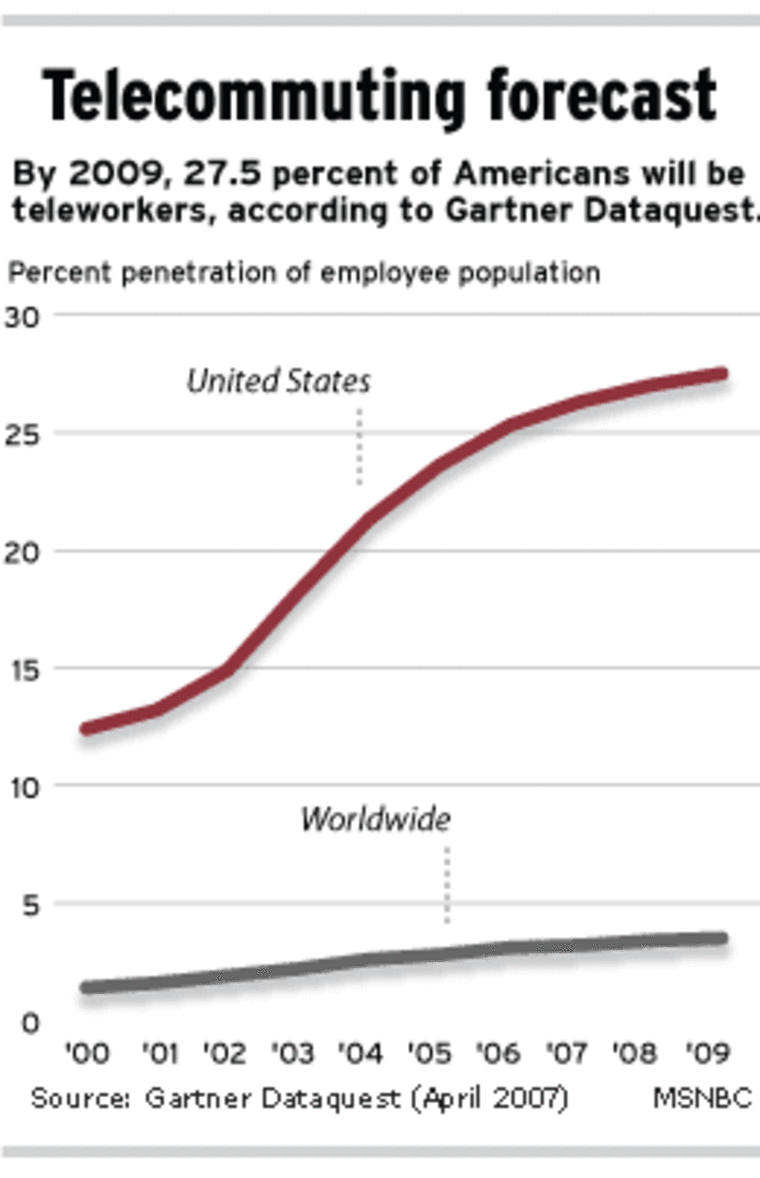 "I like having the balance," he says about the flexibility and freedom to work from anywhere. He has a desktop computer; a laptop and a high speed Internet connection at his home. Sun paid more than $3,000 toward the equipment he needed to go mobile.
Today, upwards of 12 million employees telework more than 8 hours per week, up from about 6 million in 2000, according to Gartner Dataquest. The number will hit nearly 14 million by 2009. Caroline Jones, an analyst for Gartner who expects the number to continue to grow, says the rate of increase has been steady for a number of years even though telecommuting hasn't been getting a lot of publicity in recent years.
She calls it "the quiet revolution" and sees it slowly becoming a standard flexible work option Corporate America offers workers; like job sharing or maternity leave.
Many factors have converged to create the perfect storm for telecommuting. Advances in technology, including PDAs that allow people to surf anywhere and the growing number of broadband connections in homes and retail locations, have buoyed the trend. Not to mention, the increasing concern for the environment, and high gas and real estate prices. And management by and large is becoming more open to the fact that workers get work done even if they can't see them.
Also beating the telecommuting drum will be Generation X and Y who aren't desk or cubicle sitters, explains Elham Shirazi with The Clean Air Campaign. And the good ol' Baby Boomers, who are growing older, will want the flexibility telecommuting offers if they are to stay on the job.
All this has led to the realization that telecommuting is going to be a fact of life for almost all businesses. There's even a new name to describe the movement – telework.
"Teleworking is becoming the word of choice because it focuses on the work, where as telecommuting focuses on getting from here to there instead of getting work done," says Rita Walston, executive director of the Telework Consortium, a group that helps public and private organizations implement telework programs.
Walston sees companies increasingly paring down their offices and office buildings to save money and accommodate teleworkers. "If you have 1,500 employees instead of having to provide workspace for each one you provide 300 people with a workspace on any given day while four fifths of the organization is working elsewhere," she explains.
At Sun, Over 56% of employees work without an assigned office, which means they either work from home or use flexible office space.
Employees work in three categories under the so-called Open Work program: Sun assigned: you have an assigned office on one of Sun's campuses; flexible: you work out of flexible offices, drop-in centers, from home whenever you choose to; and home assigned: you work from home.
The program has lead to $387 million in IT and real estate savings, and a 28K reduction in CO2 annually.
While the number of offices at Sun will continue to decline in the next decade, there will always be a need for a place for workers and managers to congregate, says Ann Bamesburger, VP of Sun's Open Work strategy. "Because of the nature of work, everybody, even sales people, need a place to go and identify with. We will always have a place for that."
By 2008, Aflac will have about 200 of its 4,500 workers teleworking, says Sharon Douglas, the insurer's chief people officer. The company started piloting a program this year in its claims department, mainly because the firm was running out of space.
"We were looking for productivity gains and seeing how well they can produce being self starters," she says about the nearly 100 workers in the program now. "We don't care if they work from midnight to 7 in the morning. The only thing we care about is they're producing the right amount of claims and keeping up with our production standards." Only one worker thus far couldn't cut the new environment, she adds.
The company set up home workstations for its employees and provided the technology to tap into the internal claims system. That's probably how it will work for most of the firms that adopt telework on a large scale, experts say. Companies will be providing their workers with the tools needed to connect to the company network.
A host of technologies already being used today will see a boon in the next five to ten years thanks to telework. Video conferencing and webcams are expected to pop up everywhere as companies try to recreate the face time they loose. And workers in remote locations will increasingly be brainstorming and working on documents at the same time via virtual whiteboards, explains the Telework Consortium's Walston.
Even as telework becomes ubiquitous, human interaction won't be totally replaced.
"Face-to-face meetings with superiors will still be with us, for company cohesion and career advancement, but held much less often," says Michael Haaren, president of Staffcentrix. "They'll be replaced with high-realism communications options, higher expectations of employee initiative and autonomy, and 1-on-1 or small-group 'mini huddles' that have clear objectives, take place wherever convenient, and end when objectives are met."
Two major challenges for workers in this environment will be keeping a high enough profile and not ending up working 24-7.
Workers will have more of the onus on them to prove that they're worth their salt since they won't be hanging around the office where bosses can see them working away. "Workers will have to ensure that they are communicating their value with every email and phone call," says Kirsten Dixson, a branding expert and co author of "Career Distinction: Stand Out by Building Your Brand."
And, she adds, employees are going to be on the job all the time thanks to PDAs and email. Workers will have to set boundaries, and they'll have to find jobs they love or they'll end up burning out faster.
To be sure, there will be certain types of jobs and certain types of people who will never be cut out for teleworking.
Technology consultant Daniel Burrus says, "Separating home from work is difficult. Some people have the ability to do that and some don't. And some people just need to be around people, not just video conferencing."
On the other hand, teleworking has already begun to pull a whole new group of individuals into the job market. "The workforce will gain people with disabilities, who, in spite of ADA, often find public transportation and building accommodations a barrier to work. Removing these barriers will broaden the talent pool for employers," says Haaren.
There will always be jobs that require human interaction, like physicians, retail clerks and teachers, for example. But even in these cases technology is allowing for more and more tasks to be done remotely.
Here's one job that seems un-teleworkable: A hotel concierge.
Well, the concierge at the Hyatt Regency Santa Clara, Anna Mariano-Morris is in fact a teleworker.
Her boss, hotel general manager Peter Rice, says Mariano-Morris came to hotel management five years ago with the idea to let her work from home so she could spend more time with her family and not have the hour and a half commute.
Management decided to go for it, paying to set up a webcam on her home computer and covering the cost of a T1 line to her home. They also put a 42-inch plasma television in the hotel lobby that also has a webcam so Mariano-Morris can see hotel guests and they can see her. She can look up restaurants and local attractions online and even remotely print out directions for guests right there on the spot.
"She's a phenomenal concierge and it doesn't matter that she's 85 miles away," he says. "We call her virtual Anna."