/ Source: The Associated Press
Construction of new homes fell to the lowest level in more than a decade in July as builders continued to struggle with the steepest housing slump since 1991.
The Commerce Department reported Thursday that construction of new homes and apartments dropped 6.1 percent last month to a seasonally adjusted annual rate of 1.38 million units. That was down 20.9 percent from the pace of activity a year ago and represented the slowest pace since January 1997.
The housing industry, which had enjoyed a prolonged boom until 2006, has been struggling this year with a deepening slump as builders are slashing prices and throwing in various incentives in an effort to unload record levels of unsold homes. The problems have been worsened by rising home foreclosures, especially in the subprime market, a development which is dumping even more homes onto the glutted market.
In other economic news, the Labor Department reported that the number of newly laid off workers filing for unemployment benefits rose by 6,000 last week to 322,000. The increase was unexpected. Analysts had been looking for a decline of around 1,000.
The July drop in housing construction followed a 2.1 percent rise in June, which had been driven by a big increase in apartment building.
Applications for building permits, considered a good barometer of future activity, fell by 2.8 percent in July to an annual rate of 1.373 million units.
Housing construction fell in all parts of the country except the Midwest which posted a 2.6 percent increase in July. Construction starts were down 11 percent in the South, 3.7 percent in the West and 1.3 percent in the Northeast.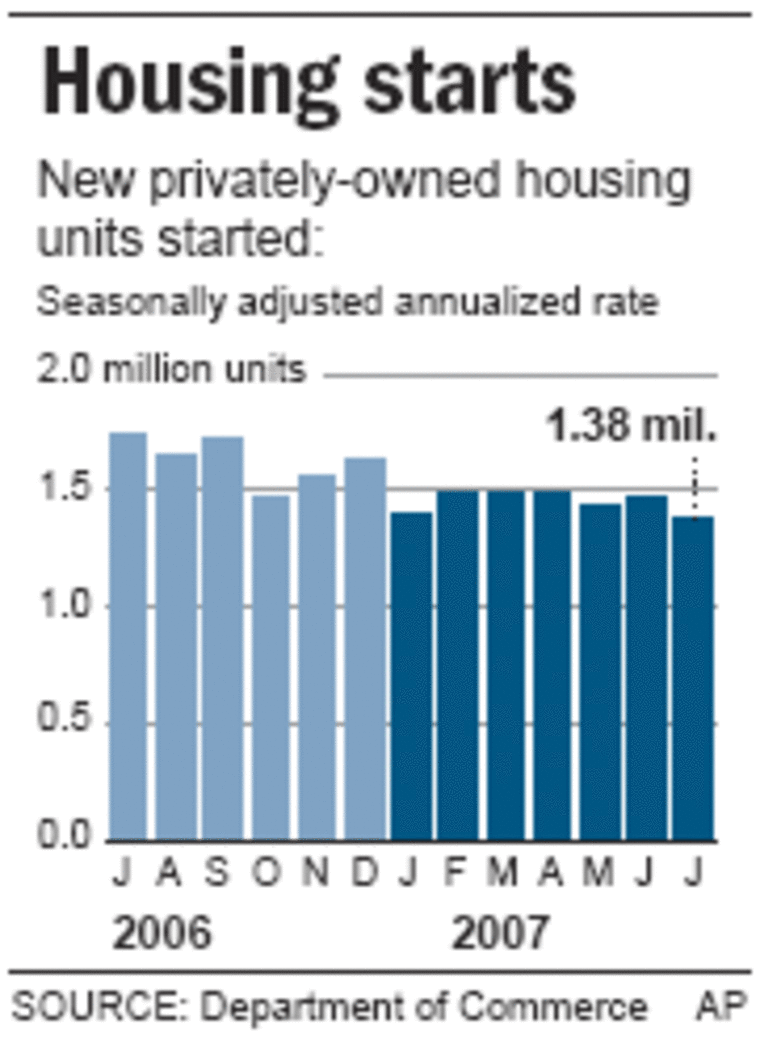 The current housing slump is the worst since a downturn that occurred during an economic recession in 1990-91.
Overall economic growth has slowed but so far there has been no recession as other sectors have offset the weakness in housing. However, private economists say that the threat of a recession would rise if consumer and business confidence were seriously eroded by the current troubles in financial markets.
Investor confidence has been rocked over the past two weeks by spreading troubles in credit markets amid concerns about how many big hedge funds and banks will report serious credit problems.
Treasury Secretary Henry Paulson said in an interview published Thursday that the sharp downturn in financial markets "will extract a penalty on the growth rate" but he said he believed the economy and the markets were strong enough to absorb the losses without pushing the country into a recession.
"Looking over periods of stress that I've seen, this is the strongest global economy we've had," said Paulson, a 32-year veteran of Wall Street who headed investment giant Goldman Sachs before joining Bush's Cabinet last year. Paulson's comments came in an interview published in the Wall Street Journal.
The drop in housing construction followed news from the National Association of Realtors that sales of existing home fell in 41 states in the April-June quarter while one-third of metropolitan areas surveyed experienced price declines.
The National Association of Home Builders reported Wednesday that its barometer of builder confidence dipped by 2 points to 22 in early August, the lowest reading since January 1991, when the country was going through another severe housing downturn.
"Builders realize that issues related to mortgage credit cost and availability have become more acute, filtering some prospective buyers out of the market and prompting others to delay their decision to purchase a home," said Brian Catalde, a home builder from El Segundo, Calif., and the president of the home builders group.