/ Source: The New York Times
The setting was a small round table in the near-empty Nodaway Diner here in a remote patch of western Iowa. Rudolph W. Giuliani, the former mayor of New York and a candidate for president, had finished his hamburger and was fielding the usual mix of questions. Taxes and terrorism. Iran and Iraq.
Oh, and this:
"You've been out here in the country where there are no roads," said Betty Schuler, a farmer who drove 30 miles with her husband, Kenneth, to see Mr. Giuliani. "When you get back to the big city, are you going to forget the little guys out here who are farming to feed you?"
"Oh, I'm not going to forget the little guy anywhere," Mr. Giuliani assured Mrs. Schuler. "When I got elected mayor of New York City, I didn't forget anybody. The place that kind of won the election for me was Staten Island. It's the closest thing that New York City has to — I wouldn't call it rural, but suburbs."
He paused as these seven Iowa voters looked quizzically at the famous guest in their midst.
Mr. Giuliani left no doubt that he intends to compete in the Republican caucuses that start the presidential nomination process here next January, and asked that no conclusions be drawn from his decision to skip the recent Iowa Straw Poll, where he got just 1 percent of the vote.
But Mr. Giuliani's unconventional tour through tiny farming communities in the rolling hills of western Iowa this week displayed the cultural challenges he faces as he tries to win over a part of the country that could not be more different from the city that he calls home.
"Have you spent any time on a farm?" Karen Thomsen asked Mr. Giuliani, as he settled in at the Chuckwagon Cafe. Advertised as the only restaurant in Cumberland, the cafe was without lights and ceiling fan, because of a brownout.
"Have I ever worked on a farm?" Mr. Giuliani responded. He paused and furled his brow.
"No," he said, smiling. "I mean, I've visited a farm. But you know there are no farms in New York City." '
And it was back to Staten Island. "People in Staten Island feel like they are part of their own community," he said. "You get the same feeling you get in smaller-town America."
As Mr. Giuliani moved on to the next table, Mrs. Thomsen whispered a mischievous aside: "I had hoped he would not show up in a suit-coat, because this is not a suit-coat community in August." (Mr. Giuliani was not exactly decked in a suit, but his crisp shirt and handsome power tie made him stand out in a sweltering room of jeans and short-sleeve shirts.)
Mr. Giuliani certainly appears more at ease campaigning in rural Iowa these days than he did in rural upstate New York when he briefly ran for the United States Senate in 2000. That campaign was marked by upstate excursions memorable for being very fast and sometimes awkward.
And he seems a lot more attuned to the rhythms and culture of Iowa than he did a few months ago when David Yepsen, the Des Moines Register's political columnist, chastised Mr. Giuliani as being "rude" after he showed up 45 minutes late to a town hall meeting without explanation or apology.
He is as much a figure of admiration here as he is across much of the nation, with many people coming up to praise his leadership of New York after the terrorist attacks of Sept. 11 and to express definite interest in his candidacy. He was met with smiles, the occasional hug and courtesy to a fault.
"I like him," said Marsha Sternberg, a receptionist in a chiropractor's office. "He's a little liberal on some issues for me, but I'm going to watch him as time goes by."
Yet to say this courtship seemed odd would be something of an understatement as Mr. Giuliani endured what is always a trying test for presidential candidates: making small talk under the close observation of voters and reporters. It was, as he traveled through heavily Republican country in the most rural part of Iowa, a complicated process of cultural negotiation. At moments, he was the candidate from Mars who seemed as if he was campaigning on Venus (and no disrespect intended toward either planet).
Mr. Giuliani signed autographs like a machine, a reminder of just how famous he is. He traveled with what appeared to be an endless inventory of Sharpies, rotely affixing his name to campaign leaflets, books, T-shirts, signs and menus, even when no one was asking. "Want me to sign something?" he said as he wandered the Iowa State Fair in Des Moines.
His style of campaigning, at least in these rural settings, proved as unconventional as Mr. Giuliani can be. In Iowa, candidates enter a place, shake a few hands, make a speech and take questions. Mr. Giuliani arrived without ceremony or announcement and worked the room, sitting down at table after table and talking at length to the people he met. He dawdled and seemed to make an effort to find something to say to everyone, before leaving with a quick goodbye.
The conversation topics included why he was running for president, Iowa and, inevitably enough, sports. Mr. Giuliani was crestfallen to learn, from a table of schoolchildren, that baseball is not as popular in Iowa as it is in New York. He moved on to ask for an explanation of "how does it break down between Iowa and Iowa State," as he tried to fathom the legendary rivalry between the two university football teams.
There was no sign of the belligerent side of Mr. Giuliani so familiar to New Yorkers — like the time he called a caller to his radio show "deranged." He was unfailingly polite as he tried to connect, even ignoring what he might have taken in the Bronx as a spitball, albeit one delivered with a smile.
"Are you missing your tall buildings while you are enjoying our green cornfields here?" asked Mr. Schuler, the farmer who had come 30 miles with his wife.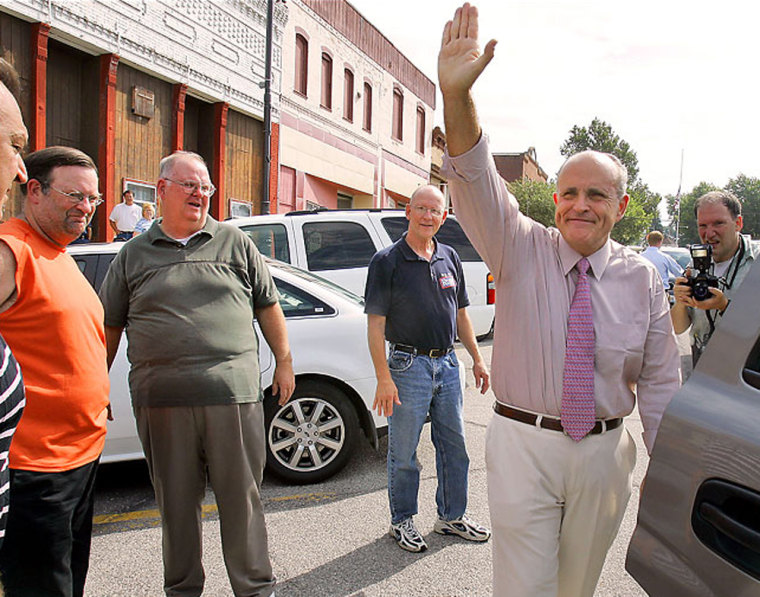 Mr. Giuliani laughed. "I called my wife this morning and I said, 'Judith, I never have seen more corn in my life.' You know the median, where they put the grass in the middle? There's a lot of room there to put some more corn in. I don't know why they haven't done it."
He paused. "When do you start the picking and the harvesting? Starts pretty soon, right?"
Silence.
"November," a woman answered. "End of October, November."
Mr. Giuliani, who has a summer home in the Hamptons, where locally grown sweet corn is sold at small streetside farm stands, explained that on Long Island, corn is harvested at the end of August.
His invocation of Staten Island for common ground in his conversations with Iowans was perhaps a bit of a stretch. While Staten Island is unlike any of the other four New York boroughs — more open land than high rises — it has been a long time since it was known for its farms.
Similarly, when the power went out in Cumberland, Mr. Giuliani talked about the blackouts in New York City and boasted how he led the city through those dark hours without there being looting or rioting. "Blackouts were one of my biggest fears as mayor," he said. "It used to be in the old days when it happened, we would have a riot."
The two blocks that make up Cumberland, nestled in a valley surrounded by rolling fields of corn and accessible this day only by a dirt road that sent up clouds of dust as Mr. Giuliani arrived in his motorcade, did not seem particularly prone to a riot.
Candidates always seem to be encountering new experiences when they come to Iowa. That might be true for Mr. Giuliani more than most. At the state fair, he went to the stands that sell turkey legs — one of the fair's more famous offerings, and about as big as a baby's arm — and ordered first one, and then four.
When someone informed him that the turkey legs were reputed to be the single most fattening thing at the Iowa State Fair — which is saying quite a lot at a fair where people feast on fried Twinkies and fried Oreos — Mr. Giuliani responded that he was only going to eat one, and share the rest with his staff.
But wherever he went, Mr. Giuliani gushed about Iowa and its voters, and marveled at what he described as the "complex political" queries he was encountering.
"Aren't these questions great?" he said as he got up to leave the diner here. "This is terrific. We could be at the Kennedy School of Government."