/ Source: The Associated Press
It started as a simple dive shop in 1958, taking tourists and locals on scuba tours in the Pacific Ocean off Maui. But a year after opening for business, Maui Divers workers found what resembled a black bush in deep waters off the Molokai Channel.
Maui Divers began harvesting the black coral, gave up the scuba tours, and opened jewelry stores to sell the coral in rings, pendants and necklaces. The company is now the world's largest manufacturer of black coral jewelry and Hawaii's largest jewelry retailer. It has more than 60 stores and kiosks in nearly every tourist spot in the islands, from the Dole Plantation on Oahu to the Mauna Loa Macadamia Nut Visitor Center on the Big Island.
More than 150,000 people a year also visit the company's 12,000-square-foot design center in Honolulu, near Waikiki. Visitors can watch a video about the company's history, observe jewelers making the pieces and see the 3,000 designs on display in row after row of glass cases.
The company also has been successful with Pick-A-Pearl stands, where customers pay $13 to buy an unopened oyster and whatever pearl they find inside, and half of those customers then buy a pendant or other jewelry to mount the pearl, with the average buyer spending $150, Taylor said.
Despite overharvesting problems with black coral in the Mediterranean Sea and elsewhere, the coral found in Hawaii has been well-maintained, said Richard Grigg, University of Hawaii oceanographer and coral reef specialist. "Black coral in Hawaii is a small pocket that just seems to work," he said.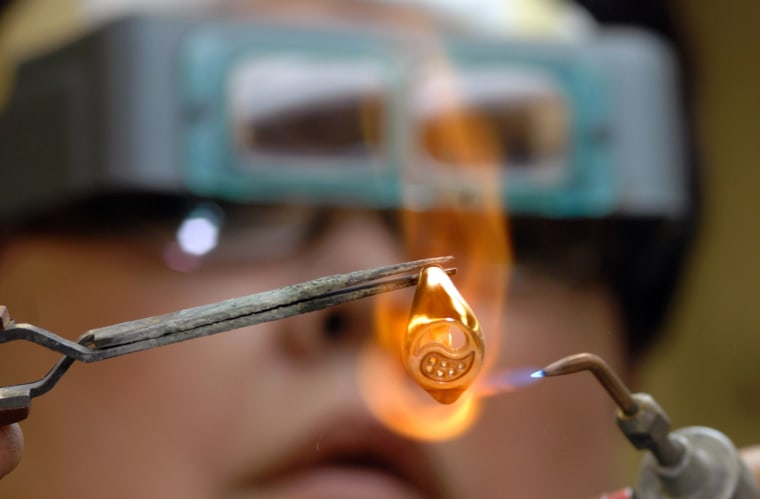 The coral is a living organism that attaches itself to rocks in deep ocean water and grows like a plant. It isn't supposed to be harvested unless it's 4 feet high or about 19 years old, Grigg said.
Besides black coral, the company sells gold, red and pink coral, much of which also is found in Hawaiian waters. The company has partnered with the University of Hawaii to find the pink coral and gold coral by using a two-man submarine, Star II.
After divers harvest the coral hundreds of feet below the ocean, the company buys it in bundles, cuts, shapes and polishes different cuts, including round, oval and pear shapes, to sell at its stores in jewelry priced from $80 to $3,000.
There aren't many people left diving for the precious coral, as 25 divers in the past 40 years have died or become crippled from the dives, usually more than 200 feet down, Grigg said.
Maui Divers has also begun designing jewelry that uses less coral, adding diamonds, gold, pearls and other gems.
The company has grown from $33.9 million in sales in 2002 to $72.8 million in 2006, and has also opened shops in Guam, California and Las Vegas — many located inside Hilo Hattie stores, which market a broad array of island goods.
"We really want to be a global leader in travel retail jewelry," said chief executive Bob Taylor.