/ Source: The Associated Press
An Army officer who once was in charge of the interrogation center at Abu Ghraib prison was a failed leader whose errors set the stage for abuses committed by military police under his control, a military prosecutor told jurors Tuesday.
However, a defense lawyer and a prosecution witness said Lt. Col. Steven L. Jordan was a solid leader who didn't have command responsibility for the MPs who helped prepare prisoners for interrogation.
The conflicting characterizations of Jordan's role comprise the central dispute at his trial for decisions that allegedly set the stage for detainee abuses at the prison in Iraq in the fall of 2003.
Jordan, 51, a reservist, doesn't appear in any of the infamous photos of humiliation and assaults committed by low-ranking U.S. soldiers. He is accused of illegally ordering the use of dogs during interrogations and of subjecting detainees to forced nudity and intimidation during a search for smuggled weapons on Nov. 24, 2003.
"He was the man who created an atmosphere that broke down the discipline of the soldiers and allowed it to happen," the prosecutor, Lt. Col. John P. Tracy, said in opening statements as Jordan's court-martial began Tuesday.
'A courageous leader'
Defense attorney Major Kris Poppe maintained that Jordan was "a courageous leader," who helped improve security and living conditions at the prison despite being wounded in a mortar attack shortly after he arrived in September 2003.
Poppe said the abuses were committed mainly by military police outside Jordan's command. He said Jordan's involvement in the Nov. 24, 2003, incident was as a volunteer backup to MPs trying to remove an armed prisoner from his cell.
"The evidence will show that Lt. Col. Jordan was a strong leader. The evidence will not show that Lt. Col. Jordan abused any detainees or was present when any detainees were abused," Poppe said.
Retired Col. Steven Boltz, then deputy commander of military intelligence operations in Iraq, testified for the prosecution that he recommended Jordan, a longtime associate he still admires, for the difficult job of setting up and directing the interrogation center.
When Jordan arrived, the sprawling Abu Ghraib complex was a squalid facility under constant bombardment and staffed by MPs who "were overwhelmed and weren't able to do their job," Boltz said. Jordan set about improving security and living conditions, but he had no control over the MPs, who had their own chain of command, Boltz said.
Jordan was directly supervised by Col. Thomas Pappas, then commander of the 205th Military Intelligence Brigade, who testified as a prosecution witness that he took over as director of the center because Jordan wasn't focusing on it enough.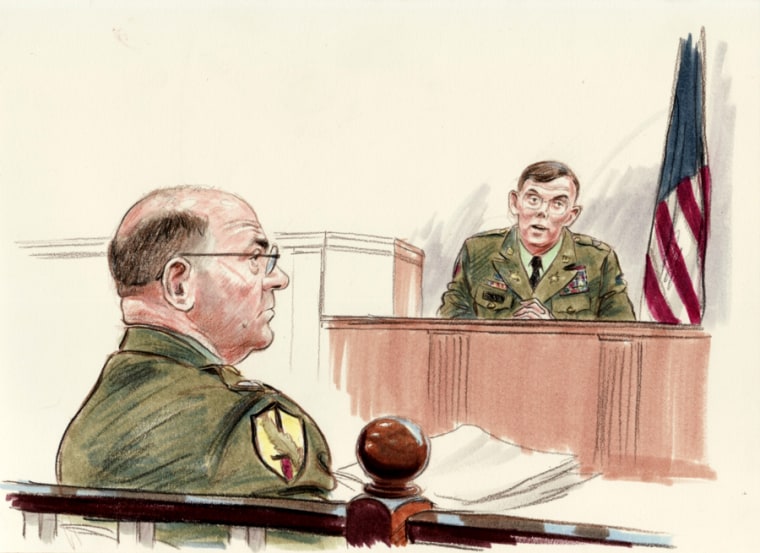 "I would have liked it if he had spent more time doing that," Pappas said. Instead, "he was involved in soldier issues and making sure they were taken care of."
Two charges dismissed
Pappas has not been charged with criminal offenses, though he was reprimanded and fined $8,000 for approving the use of dogs during an interrogation without higher approval.
Jordan is the only officer among the 12 people charged in the scandal, and he is the last to go to trial. Eleven enlisted soldiers have been convicted.
On Monday, the judge, Army Col. Stephen R. Henley dismissed two charges — making a false official statement and obstruction of justice — after an investigating general acknowledged that he didn't read Jordan his rights before interviewing him.
The dismissals left Jordan still facing four counts, including disobeying an order barring him from discussing the investigation with others, punishable by up to five years in prison; failure to obey a regulation, punishable by up to two years; cruelty and maltreatment of detainees, punishable by up to one year; and dereliction of duty, punishable by up to six months.