/ Source: The Associated Press
Genoa, if you ignore the debate among scholars, is the birthplace of Christopher Columbus. But after visiting the famed historic port, you might wonder why the explorer ever left.
Tricked out in all the wealth of the Middle Ages and Renaissance, it must have been stunning. Even a half-millennium after its heyday, the Italian port cuts an impressive figure.
This Italian city follows closely behind two of my other favorite cities, San Francisco and Barcelona. Like both, it has lovely hilly terrain and a seafaring tradition. Yet, for some reason, Genoa slips under the radar of many guidebooks. The books we used in two previous trips to Italy carry nary a mention of the city. Our last trip was centered in the Piedmont region around Turin and we decided to add Genoa and the Italian Riviera. I'm glad we did.
Though Genoa can't elbow past Rome, Venice and Florence amid Italy's must-see cities, it is a fabulous spot. The prices are reasonable, it is less crowded with tourists, museums abound and it offers fabulous cuisine, with an emphasis on seafood and the local specialty, pesto.
A stroll through the Medieval center peels away the centuries. The labyrinth of narrow streets lives in nearly perpetual shadow as 500-year-old buildings lean in until they almost meet. No street follows a straight line for long and it's a challenge to keep a sense of direction. But getting lost is part of the fun. Every twist and turn reveals a surprise, from 500-year-old palaces and glorious churches to thoroughly modern Internet cafes and trendy little restaurants or the seedy red light district. There's the occasional surprise of a mini-traffic jam as determined Italian drivers inch past each other in the impossibly narrow streets.
Genoa was an important trade center by the third century B.C. Its sailors have plied the world's trade routes since the Phoenicians and Greeks. Genoa offered a jumping off spot for the Crusaders. And, it was a major player in European politics from the 13th through 16th centuries. Its merchants dumped their profits into stunning palaces lining the renamed Via Garibaldi. Back then, it was called the Via Aurea, or golden street, an appropriate name. Many of the 16th century palaces are now museums. And others have courtyards open to the public.
But the waterfront is what really makes Genoa work. A large portion is renovated with a boardwalk, slips for yachts, a galleon (which was actually built for Roman Polanski's 1986 movie "Pirates"), restaurants, touristy shops and a fabulous aquarium and the Galata Museo del Mare (Sea Museum).
I lost most of an afternoon wandering the museum. If you're a boat-in-a-bottle kind of guy or Patrick O'Brian fan, this place beats shore leave on the Barbary Coast with a pocket full of doubloons and a bottle of rum. It covers ships and sailors from the earliest vessels up to today. It has a complete reconstructed 17th-century Genovese galley, accompanied by a detailed profile of the men who powered these fast-moving ships with banks of oars. My wife loved the multimedia recreation of sea travel in the early part of the last century. Films contrast the crowded Atlantic crossing of America-bound migrants in steerage with the parties and dancing of flappers above. The museum's glassed-in rooftop gives a panoramic view of the still-working port and city climbing up a mountainside. It's also a great spot to watch the sun set over the Ligurian Sea.
The Acquario di Genova nearby bills itself as the biggest aquarium in Europe. It has the requisite sharks, penguins and dolphins that draw visitors to most major aquariums. But it also has a really neat exhibit of skates and rays, where you can actually touch their soft bodies. Another section highlights the contributions of world-traveling naturalists, including Charles Darwin. A tank of coral from the Red Sea is packed with colorful and outlandish-looking fish. This stop is certain to entertain children (and this adult).
Once you've built up an appetite looking at all the fish, the waterfront is crowded with restaurants. I savored the mussels and a traditional pasta with pesto and green beans at Le Maschere at 2/4r Via Ponte Calvi, down near the waterfront.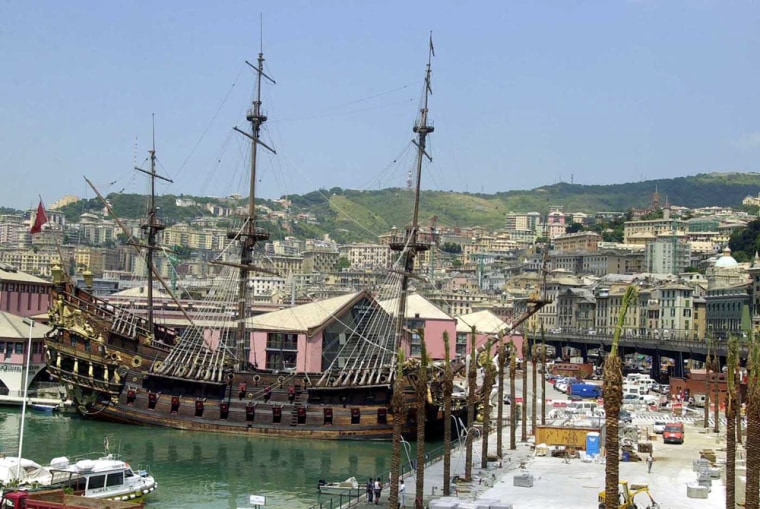 As the traditional birthplace of Columbus, Genoa could be excused for overdoing the promotion of the explorer. But Columbus' fame (and notoriety for some) doesn't seem to have taken over here. Sure, for about U.S. $4 (euro3), you can squeeze into the tiny house where he allegedly lived as a child to see a disappointing display of what it might have looked like then. But Genoa isn't overrun with businesses, streets, squares and the lot named after him. You're likely to see the names Garibaldi and Doria more often. Giuseppe Garibaldi's military exploits in the mid-1800s were pivotal in Italy's unification. And Admiral Andrea Doria built Genoa's naval and political power in the early 1500s.
The town Nervi makes a lovely side trip from Genoa. It's where the rich went to get away from it all in the 19th century. At less than 10 miles (16 kilometers) from Genoa, it's a short train ride. The seaside promenade (Passeggiata Anita Garibaldi) deserves its fame. It follows the low cliffs along the sea's edge, hitting the occasional small beach. In season, the Parco Villa Grimaldi is said to display 2,000 varieties of roses, though we saw only one lonely bloom in our winter visit.
As a determined (some might say stubborn) hiker, I insisted we keep walking the coast in search of a perfect restaurant (many were closed during our off-season visit). We found perfection in the town of Bogliasco, at the restaurant il Melograno (Via G. Mazzini 96 T 010 3474226). The seafood menu changes with the day's catch. We split what I awkwardly translate as a seafood sampler plate of delicate anchovies, shrimp scampi, oysters and a white fish I couldn't translate, followed by lobster ravioli and a whole grilled fish. Everything was so fresh, I half-expected it to swim off the plate and into my mouth. A very friendly regular, Silvio, coached us through the menu and spent the afternoon chatting with us over a decanter of Spumante, a refreshing Italian sparkling wine.
Though Genoa likely won't overtake its more famous peers among Italian destinations, it deserves a visit in an extended Italian vacation, or on one of the subsequent trips after Italy has won your heart and frequent returns.