/ Source: The Associated Press
With wildfires raging across the countryside, Greece's government said it has enlisted intelligence and counterterrorism agents to foil what it sees as a deliberate plan by arsonists to destroy Greek forests.
But environmental experts expressed skepticism that arsonists were behind most of the blazes.
At least 63 people have died during the past three days as Greece's worst fires in living memory obliterated swaths of forests and emptied villages from Evros in the north to the western islands of Corfu and Kefalonia, and the Peloponnese in the south.
Investigation ordered
A senior prosecutor ordered an investigation Monday to examine whether the fires could be termed acts of terrorism or organized crime — allowing authorities broader powers of investigation and arrest.
Public Order Minister Vyron Polydoras said the Secret Service and anti-terrorism squad had joined police in investigating the blazes. "We have indications (arsonists were involved), witness testimonies and finds which require investigation," he said.
An official of the WWF environmental group, however, dismissed the notion of an orchestrated arson campaign.
"I think these are very dangerous assessments, particularly when the evidence so far does not seem to back them," said Theodota Nantsou, the group's conservation manager for Greece.
Prime Minister Costas Karamanlis has indicated that many blazes were intentionally set. The fires appeared likely to dominate political debate before early parliamentary elections on Sept. 16: Karamanlis' government has come under fire for what some saw as a tepid response to fires earlier this summer, and many think government did not react quickly enough to the most recent blazes.
On Sunday, Polydoras implied a deliberate plan was in motion. "We can say that this truly constitutes an asymmetric threat," he said, without elaborating.
Greece's main opposition Socialist party demanded Karamanlis provide proof that there was such a plan.
"If he doesn't provide evidence then he is undermining the country," Socialist Party leader George Papandreou said.
11 arrested
Authorities have arrested 11 people on suspicion of starting fires since Friday. These included an elderly man charged with deliberately setting a fire that caused six deaths, a grandmother accused of starting a vast blaze while cooking in her yard and a man who was allegedly careless with a lit cigarette.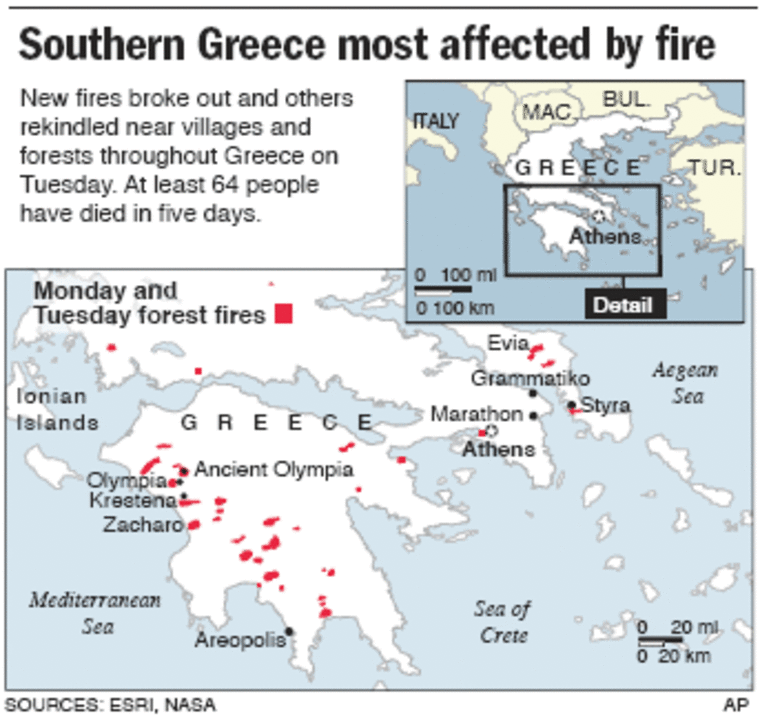 The government is offering an award of up to $1.36 million for anyone providing information leading to the arrest "of members of a criminal organization that is seeking to carry out arson in forests, or of deliberate arsonists."
Nantsou said some fires may have been set by prospective developers seeking to build on former forest land — particularly in high-value coastal areas and near Athens — warning that forest protection laws are laxly enforced.
"The problem is not so much the law as its enforcement," Nantsou said. "The lack of zoning and forest maps provides a motive to break the law on forests and build illegal buildings."
The head of the association of Athens real estate agents agreed.
"It is rather late now, but the state should designate these areas to be immediately reforested, map them and complete the forest registry without further delay," Yiannis Revythis said. "If an area is officially designated as forest land, who will burn it as it will still count as forest land afterward?"