/ Source: The Associated Press
More rain pushed flood waters higher in northern Illinois on Friday, threatening further havoc in a region where days of torrential thunderstorms have swamped thousands of homes and left hundreds of thousands of people without electricity.
In this Chicago suburb, about 300 people piled sandbags against 4-foot-high concrete barriers, aided by backhoes and bulldozers, but they didn't know whether it would be enough to hold back the rising Des Plaines River.
"It's just getting worse," Fire Chief Don Gould said. "All these people will be flooded out if we don't move quick."
A storm carrying heavy rain and high winds Thursday knocked down thousands of trees and tree limbs around metropolitan Chicago and left more than half a million utility customers without power. About 233,000 remained without electricity at midday Friday, said ComEd spokeswoman Anne Prammaggiore.
In Dyer, Ind., 30 miles south of Chicago, authorities began evacuating St. Margaret Mercy Hospital as water from a creek behind the building began seeping in. About 70 patients were being moved to other hospitals, spokeswoman Maria Ramos said.
Authorities cut power to the hospital as a precaution, and police and firefighters went door to door in Dyer telling people to leave.
Parts of Ohio, Wisconsin and Minnesota, meanwhile, continued cleaning up after earlier flooding. Nearly a week of powerful storms, heavy rain and devastating flooding across the Upper Midwest has damaged thousands of homes and been blamed for at least 17 deaths.
As much as another 2 inches of rain was expected to pelt the Chicago area by Friday night, although a repeat of Thursday's powerful storms was not likely, said National Weather Service meteorologist Nathan Marsili.
"There is still the potential for severe weather, especially in the south and southwest suburbs," he said. But "it looks like more of a rain event than a severe-weather event."
Possible Michigan tornado
No homes had been evacuated by Friday afternoon in Prospect Heights. The city is near O'Hare International Airport, but airport operations were not threatened.
Rising water on the Fox and Des Plaines rivers prompted authorities to increase the flood alert level for northern Lake County to red, the highest level. The Fox River was approaching 50-year levels, with flooding possible this weekend when water from rain-drenched Wisconsin arrives downstream.
Fifty-five miles west of Chicago in DeKalb, the Kishwaukee River reached near-record levels, spilling over its 15-foot levees, flooding neighborhoods and making bridges impassable.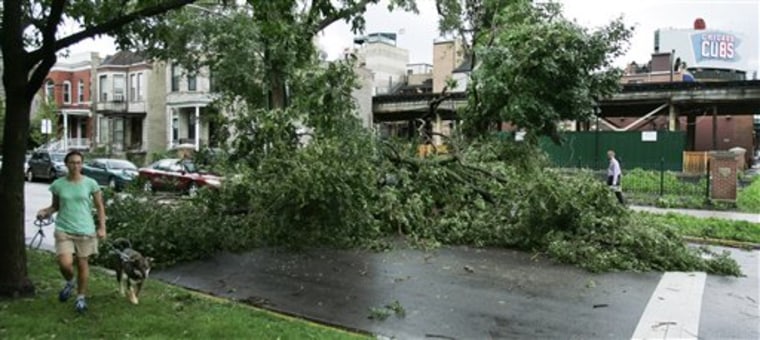 About 600 residents of DeKalb and nearby Sycamore have been displaced, said DeKalb City Manager Mark Biernacki. Northern Illinois University's flooded DeKalb campus was closed.
Illinois Gov. Rod Blagojevich declared Cook, Lake, Kane and McHenry counties state disaster areas, a move that will help deliver state aid to those areas.
In lower Michigan, a line of heavy storms swept through for the second day in a row, with reports of tornadoes damaging homes. No injuries were reported Friday, although a motorcyclist was killed Thursday when his bike hit a tree fallen in the road, authorities said.
The storms delayed a 7 p.m. game between the Detroit Tigers and New York Yankees at Detroit's Comerica Park, where a videoboard instructed thousands of fans to take cover in ramps, stairwells or concourses.
FEMA chief surveys Minn. damage
Federal Emergency Management Agency Administrator R. David Paulison surveyed damage Friday in Rushford, Minn., which was especially hard hit by flooding this week. Mayor Les Ladewig said about half of Rushford's 760 homes were damaged, including 248 that were destroyed and 91 with serious damage.
About 1,500 homes were damaged around the state, and Paulison said FEMA recovery centers should be running early next week in the three counties where President Bush declared disasters Thursday.
Paulison also visited Wisconsin, where flooding destroyed 44 homes and damaged more than 1,400, most of them in the southwestern part of the state. FEMA agreed to begin evaluating the damage Saturday, three days earlier than planned, after an appeal from Gov. Jim Doyle.
"The people are really suffering," said Donna Gilson, a spokeswoman for Wisconsin Emergency Management. "We have to move this along as fast as possible."
Town receives flood scare
In Missouri, the Weather Service issued flood warnings for several communities along the Mississippi River, expecting levels 4 to 5 feet above flood stage because of the earlier storms upstream. That's not enough to endanger levees but could threaten homes in river bottoms.
In Ottumwa, Iowa, heavy rain backed up the sewer system, threatening the water supply to the city of about 25,000. Residents were asked Friday to use tap water as little as possible; the city set up water distribution centers and portable toilets around town.
The latest rains have already made this the wettest month ever in Rockford, Ill., 80 miles northwest of Chicago, with nearly 14 inches in August. Chicago itself has endured its fifth-wettest August with 9.12 inches, the most since 2001, with a full week left to go in the month.
Ironically, Blagojevich cut more than $1 million worth of flood-control money out of the state budget before signing it into law Thursday. The cuts included $100,000 earmarked for a new levee in Prospect Heights, which Mayor Rodney Pace called "a kick in the shorts."
"There are a lot of people who are really upset," Pace said. "They're all out here sandbagging."
The governor didn't want to talk about cuts in the budget at an appearance Friday afternoon in northern Illinois. He said there have been increases for issues like flooding but didn't elaborate.