Opium production has soared to "frightening record levels" in Afghanistan, which now has more land producing drugs than Colombia, Bolivia and Peru combined, the United Nations said on Monday.
Afghanistan is locked in a vicious circle where drug money feeds both the Taliban insurgency and official corruption which in turn weaken the government's hold of large parts of the country and allows more opium to be produced.
The area of Afghan land where opium poppies are grown rose by 17 percent to 193,000 hectares in 2007 from 165,000 last year and this year's harvest was 8,200 tons, up from 6,100 tons in 2006, the United Nations Office on Drugs and Crime (UNODC) said.
Afghanistan produced 93 percent of the world's opium in 2007, up from 92 percent last year, the annual UNODC report said.
"No other country has produced narcotics on such a deadly scale since China in the 19th century," a UNODC statement said.
Most Afghan opium is processed to make heroin and smuggled out of the country to Europe and the Middle East where it fuels addiction and crime.
Opium production in Afghanistan is concentrated in the south of the country where the Taliban insurgency is most virulent.
"Some 80 percent of opium poppies were grown in a handful of provinces along the border with Pakistan, where instability is greatest," the UNODC said.
The southern province of Helmand, where mostly British troops are engaged in almost clashes with Taliban rebels, produced more than half of Afghanistan's opium crop.
"Helmand has single-handedly become the world's biggest source of illicit drugs, surpassing the output of entire countries like Colombia (coca), Morocco (cannabis), and Myanmar (opium) which have populations up to 20 times larger," said the UNODC.
'Not yet hopeless'
There is a direct link between the degree of insecurity and the level of drug production, the UNODC said, and tackling the Taliban insurgency is key to stemming opium cultivation.
"Where anti-government forces reign, poppies flourish," said UNODC Executive Director Antonio Maria Costa.
By contrast, in the more peaceful north of Afghanistan, there has been some progress. Out of 34 Afghan provinces, the number of those declared opium-free more than doubled to 13 in 2007 from six last year, mostly in the north and center of the country.
"The Afghan opium situation looks grim, but it is not yet hopeless," Costa said.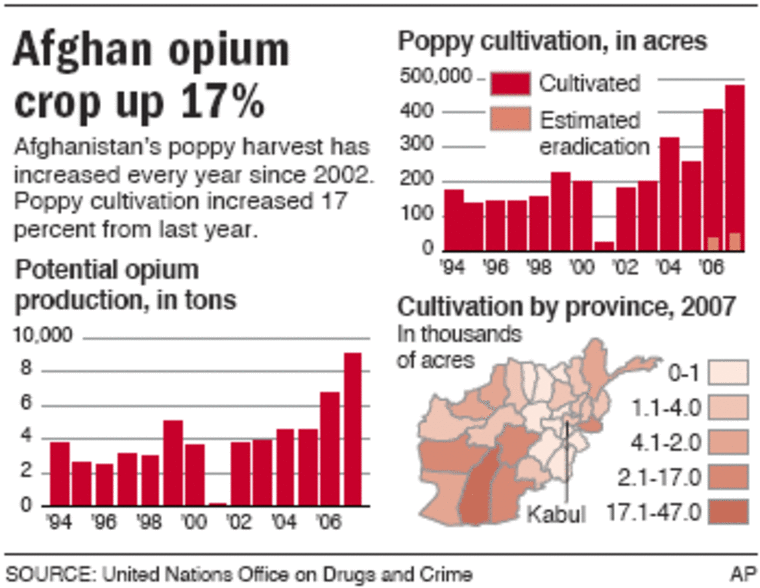 Opium production has risen in Afghanistan every year in Afghanistan since U.S.-led forces toppled the Taliban from power in late 2001 and comes despite hundreds of millions of dollars of international aid spent trying to eliminate the problem.
The United States has budgeted $449 million to tackle opium production in Afghanistan in this year alone.
The UNODC said poverty and lack of alternative crops was not a factor influencing farmers' decision to plant poppies as the main growing regions in the south of the country had some of the richest and most fertile land in the whole of Afghanistan.
Taliban encourages opium growth
Taliban leader Mullah Mohammad Omar drastically reduced opium production in Afghanistan during his last year in power, issuing a religious edict banning the crop and threatening harsh punishments in areas the movement held under its strict control.
Now, the report said, the Taliban had reversed its policy.
"What used to be considered a sin is now being encouraged," Costa said.
He called on Western troops in Afghanistan to do more to help Afghan forces stamp out opium production and on U.N. member states to add the names of a dozen drug traffickers to a list al-Qaida and Taliban suspects so as to seize their assets, ban their travel and facilitate their extradition and trial.
Costa also urged the Afghan the government to get tough on corruption and punish corrupt officials.
"Short-term greed is undermining the long-term needs of Afghanistan," he said.