Gisele "Gigi" Brown is itching to get out of the cramped FEMA trailer where she's spent most of the last two years and into her new house – a home that she helped build by working alongside Habitat for Humanity volunteers.
The impending move to a new subdivision of about 20 homes built by Habitat for Humanity in Hattiesburg, Miss., is a stunningly positive reversal for the 75-year-old widow, who a year ago was wondering what would become of her when the government finally came to reclaim its  trailer.
"I go there and watch over it when it's still closed up," she says of her new two-bedroom home in the city's Irene Chapel neighborhood. "I go take care of the lawn and things while it's still closed. It feels good just to clean up and make sure people don't track mud in it. ... I feel like it's already mine."
Brown's impending move into a Habitat for Humanity home from the FEMA trailer in nearby Lumberton, Miss., is itself a testimony to persistence. When she initially contacted the organization she was told that her $567 a month in Social Security and VA benefits was well short of the income needed to qualify for a home -- even with a $10,000 down payment saved from the federal assistance she received after her mobile home in Poydras, La., was demolished by Katrina.
But the diminutive Brown isn't one to take "no" for an answer. She took on a minimum-wage job cooking pizzas at a Domino's Pizza stand in the New Orleans Arena – two hours away from her FEMA trailer – to boost her income.
In the end, though, it took help from other sources to get her over the threshold of home ownership, including Habitat for Humanity, the Salvation Army, the American Red Cross, the National Basketball Association and the city of Hattiesburg, all of which helped subsidize the cost of the homes. Their contributions will bring the cost of Brown's 20-year, zero-interest mortgage down to approximately $30,000, enabling her to make the payments with her fixed income.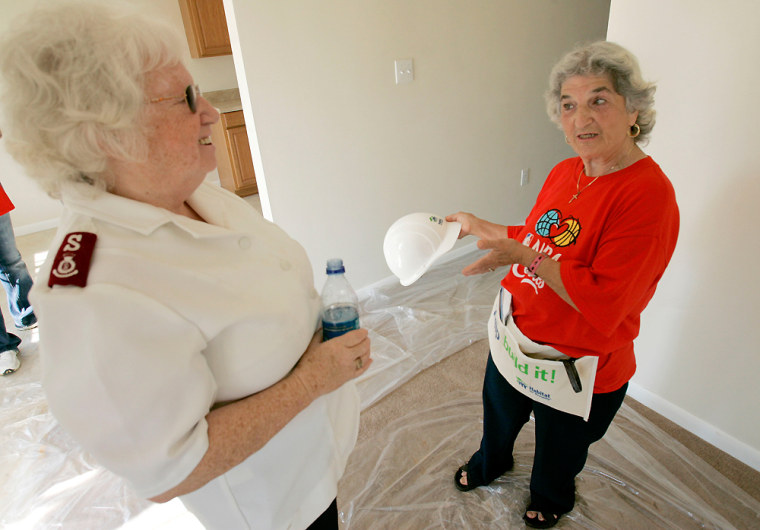 She did put out another type of principle, though: 300 hours of "sweat equity" that Habitat requires new homeowners to put in working on their homes or others.
"Usually people have family and buddies to help them, but I wound up having to do all the hours myself," she says. "… I did pretty much what all the volunteers were doing."
Habitat scheduled a ceremony Aug. 22 to show off the new homes, many of which are in the final stages of completion. Among those attending was longtime NBA star Sam Perkins, who played for the Lakers and several other teams during his 17-year career.
Brown went to the ceremony anticipating that she would be handed the keys to her new home, but was told when she arrived that it was still a month or so away from being ready.
"Now they're mentioning something about Sept. 30," she says.
Brown, a native of Morocco whose only close living relative is a brother in Nevada, says she can't wait to move out of the cramped FEMA trailer that has been her home for nearly two years.
"Where I am in that little FEMA trailer I'm squeezed in like a sardine," she says. "The thunder and rain, when I'm in that little old trailer it scares the daylights out of me."
Brown says she is grateful for all the help she has received to get into her new home. But she also takes pride in the fact that she continued to work hard toward her goal even when it seemed there was no hope.
"I did what I had to do to get somewhere," she says in her lilting French accent. "… Waiting and sitting, nothing can come of it unless you get up and do it."