/ Source: The Associated Press
More wildfires broke out and others rekindled Tuesday as anger rose over the government's handling of catastrophic blazes that have laid waste to vast stretches of the Greek countryside and killed at least 64 people.
The fires are dominating political debate ahead of parliamentary elections set for Sept. 16. Criticism that the government failed to respond quickly enough — and its suggestions that the fires resulted from an organized attack — could hurt Prime Minister Costas Karamanlis.
Foreign firefighters and aircraft joined in battling the fires that first broke out Thursday and burned nearly 500,000 acres in the first three days, leaving behind a landscape of blackened tree trunks, gutted houses and dead livestock.
Firefighting efforts concentrated on the Seta area of Evia island and on the village of Matesi near Zaharo in the western Peloponnese. Another blaze broke out in Grammatiko, near ancient Marathon, but the fire department said that one was under control by nightfall.
Adding to the unease, a magnitude-5 earthquake shook the fire-ravaged south, panicking residents although there were no immediate reports of damage or injuries.
Situation improving in parts
Most of the firefighters sent in by 21 countries were operating in the Peloponnese, fire department spokesman Nikos Diamandis said. He said 18 planes and 18 helicopters would be used to drop water on blazes in that southern region, where he said the situation was improving.
"The picture we have gives us some optimism," Diamandis said. "We have a good picture and hope for some good results."
From the northern border with Albania to the southern island of Crete, fires have ravaged expanses of forest and farmland.
"We have been destroyed, we have nothing left," cried Katerina Andonopoulou, a 76-year-old woman trudging from the edge of Ancient Olympia to her wrecked house in the nearby village of Platano laden with a bundle of leaves for the five surviving goats from her flock of 20. "Who will help us now?"
The devastation has infuriated Greeks, who already had been stunned by deadly forest fires in June and July and are complaining of an inadequate effort by the conservative government to confront the latest disaster.
Financial aid announced
The Sept. 16 ballot will be "the elections of rage," the Athens newspaper To Vima said in a front-page headline.
The government, which declared a nationwide state of emergency Saturday, has announced a series of financial and material benefits and aid for those affected by the fires.
It budgeted some $410 million for immediate relief, although the bill is sure to go higher, the Finance Ministry said.
According to the European Union, 454,447 acres of forest, orchards and scrubland were burned from Thursday through Sunday, raising Greece's fire toll for the year so far to 664,020 acres. The previous worst year was 2000, when 358,231 acres were blackened around Greece.
"It is at times like these that a society must show its solidarity," the prime minister, Karamanlis, said. "At this time, all Greeks must be united."
Critics: Government unprepared
But many said authorities' response to the crisis had been disorganized.
The government "has been woefully unable to deal with the major issue of the fires all summer," said George Papandreou, the main opposition socialist leader. "Unfortunately, it didn't even manage to save people's lives, their property and their homes."
The government's suggestions that the fires were the result of an organized plan of arson caused confusion and anger.
Public Order Minister Vyron Polydoras implied Sunday that a deliberate plan was in motion.
"We can say that this truly constitutes an asymmetric threat," he said without offering any specifics. He said the Secret Service and anti-terrorism squad had joined police in investigating the blazes.
Karamanlis also implied arson was to blame, saying Saturday it could not be coincidence that so many fires broke out simultaneously in different areas.
Socialist party spokesman Yiannis Ragoussis accused the government of "trying to create a Sept. 11 type of climate" by implying Greece was facing a terrorist threat. "It is in fact a communications strategy" for election day, he said.
President asks for 'maturity'
The political squabbling drew an indirect barb from President Karolos Papoulias, who urged his fellow Greeks to show "maturity."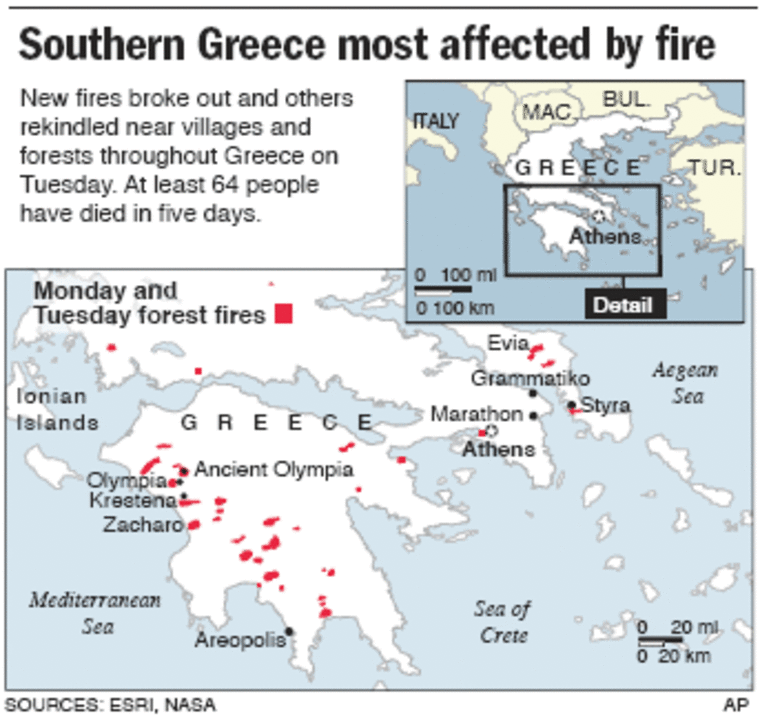 "It is a national tragedy. We all know this and it is the duty of all of us in these times to show maturity, to face this tragedy," Papoulias said.
Some people blamed the catastrophe on a previous government's decision in 1998 to transfer responsibility for battling wildfires from the forestry department to the national fire department.
"We used to have one service that fought the fires where they broke out, and a second that focused on protecting homes," said Nikos Bokaris, head of the Panhellenic Union of Forestry Experts. "Now there is nobody in the forests, and the fire brigades take up positions in village squares and streets."
But by the time the flames reach a village, the fire has grown too much, he said.
"The fires must be confronted where they break out, and immediately," he said. "If a whole hour is lost then the fire grows beyond control, and I very much fear that the current blazes will only go out when they have burnt all the way to the sea."