The last Democratic president to enjoy a filibuster-proof Senate majority was Jimmy Carter 30 years ago.
But it now looks possible that in next year's elections the Democrats just might attain the 60 seats they need to foil Republican filibusters.
Democrats now have 51 seats, if one includes independent Sen. Bernie Sanders of Vermont and Connecticut Sen. Joe Lieberman, who calls himself an independent Democrat.
For the Republicans the 2008 numbers look daunting: there are 22 Republican-held seats to be defended, and six of them appear in jeopardy — not including, at this point, that of Sen. Larry Craig of Idaho.
The news Monday that Craig pleaded guilty to disorderly conduct charges stemming from a restroom incident at the Minneapolis airport is significant in the context of what is shaping up as an abysmal year for GOP Senate hopes.
In a Tuesday afternoon Craig insisted, "I was not involved in any inappropriate conduct at the Minneapolis airport or anywhere else; I chose to plead guilty to a lesser charge in the hope of making it go away."
He added, "I am not gay and never have been."
Dismay from GOP leadership But Senate Republican Leader Mitch McConnell of Kentucky and his leadership team voiced chagrin at the airport arrest and possibly signaled they'd like Craig to retire.
McConnell and his colleagues said in a statement, "This is a serious matter. ... We will recommend that Senator Craig's incident be reported to the Senate Ethics Committee for its review."
The GOP leadership said it would look at "other aspects of the case to determine if additional action is required."
Craig's awkward airport incident may turn out to be fortunate for his party: perhaps he will opt for retirement and open the way for another Republican to run for his seat.
No Democratic presidential candidate has carried Idaho in 43 years and no Senate Democratic candidate has won there in 33 years.
If Craig's arrest makes the Idaho race competitive, Republicans will need to spend some money in Idaho that they'd counted on spending in what had until now been more pressing races for the GOP, such as those of Sen. Susan Collins in Maine and Sen. Norm Coleman in Minnesota.
Senate Democrats have only two seats that appear to be at any risk, those of Sen. Mary Landrieu in Louisiana and Tim Johnson in South Dakota.
The financial momentum also is with the Democrats.
As of the end of June, the Democratic Senatorial Campaign Committee, which finds and funds Senate contenders had:
More than $31 million in receipts
More than $20 million in cash on hand
By contrast, the National Republican Senatorial Committee had only:
$15.8 million in receipts
$5.7 in cash on hand
Inevitable turn in election cycleIn part, the 2008 cycle of embattled GOP Senate incumbents was an inevitable result of what happened in 2002.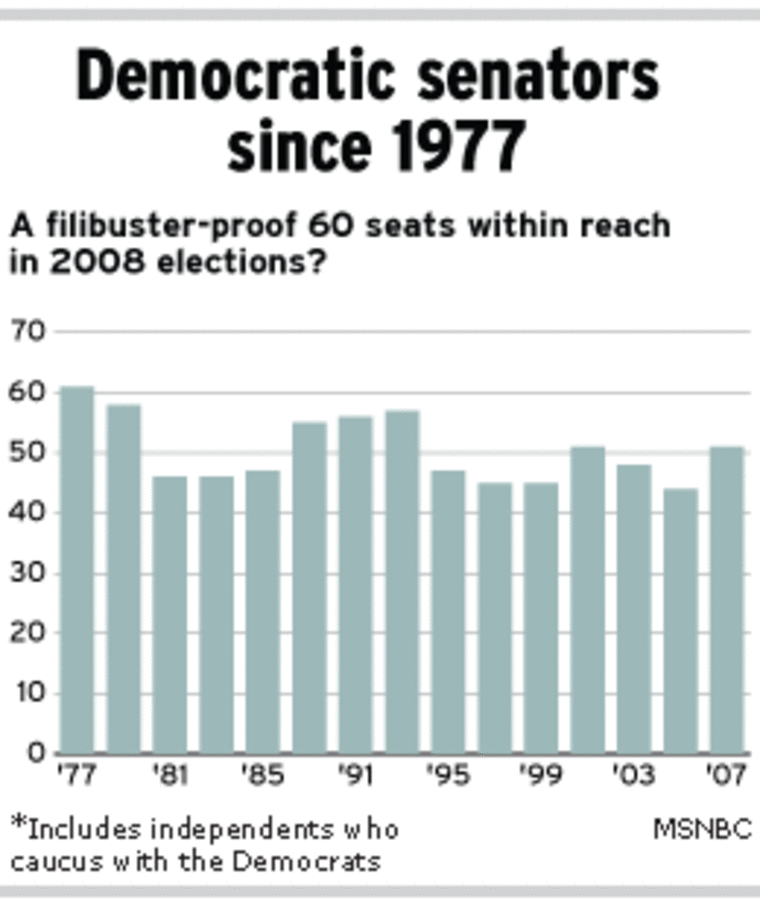 That year President Bush seemed at the peak of his post-9/11 powers and was a big draw on the campaign trail. Senate Republican candidates got good breaks and took most of the close races.
For instance, just days before the 2002 election, Bush flew to Portsmouth, N.H. to rally Republican activists for John Sununu, who was running for the Senate against Gov. Jeanne Shaheen.
Sununu ran on a platform of imposing a flat tax on income and offering younger workers the option of diverting some of their Social Security tax payments into personal retirement accounts.
He won — but with barely more than 50 percent of the vote.
Since 2002 Sununu's state has turned Democratic, with both its House seats now held by Democrats. Democratic Gov. John Lynch won re-election in 2006 with an astonishing 74 percent of the vote.
Next year, Sununu, Coleman and Collins will all be running in states in which Bush lost in 2004. Don't expect to see Bush out on the campaign trail wooing voters for any of those three in 2008.
Meanwhile, Craig's future was in doubt Tuesday.
"Craig has always been on the retirement watch list so I haven't really anticipated that he'd run," said Jennifer Duffy, who tracks Senate races for the nonpartisan Cook Political Report.
Rep. Mike Simpson "is one possibility, but Lieutenant Gov. Jim Risch has also expressed interest. If Risch wants the nomination, it is unlikely that another credible candidate will get in his way," Duffy said.
She added, "Of all the problems Senate Republicans have in 2008, Idaho may rank near the bottom."
Will Craig incident spur donors?But Democratic strategist Simon Rosenberg of the New Democrat Network said "the direct impact of this is that its going to mean a couple of million dollars early" for Democratic Senate contender Larry LaRocco.
Among Democratic donors nationwide, Rosenberg said, "There's an enormous amount of money waiting to be deployed. This race goes to the front of the pack in Democratic Senate fundraising."
Craig's potential trouble in Idaho draws attention to a part of the nation, the Mountain West, where the Republicans have been dominant for the past 40 years but which is turning more competitive:
In Montana, Democrat Jon Tester was elected last year, defeating Sen. Conrad Burns, and Democratic Brian Schweitzer won the governor's seat in 2004, even as Bush was carrying the state with 60 percent of the vote.
In last year's House elections Democrats picked up two seats in Arizona and one in Colorado.
Even in the GOP bastion of Wyoming, Republican House incumbent Barbara Cubin only kept her seat with a 1,000-vote margin, or 48 percent.
Convention focus on Mountain WestDemocrats will keep the focus on the Mountain West next summer by holding their presidential convention in Denver.
And Colorado has an open Senate seat that Jennifer Duffy at the Cook Political Report rates as a toss-up. Democratic contender Rep. Mark Udall had $2.5 million in cash in his campaign treasury as of the end of June, more than three times as much as Republican hopeful Bob Schaffer.
"Voters out here tend to be more culturally conservative, but also more open to economic populism and civil libertarianism," said Denver-based Democratic strategist and blogger David Sirota. "Republicans in Washington, D.C., are now losing to Democrats on those latter two issues areas out here, which is why the region is becoming more hospitable to individual Democratic candidates."
But, he cautioned, "You cannot run a standard-issue Democrat in many places out here. There has to be a sense of cultural solidarity between a Democrat running for office out here and the people of the given state. Schweitzer and Tester both had that cultural solidarity. But many national Democrats do not."
That lack of "cultural solidarity" explains why "at the same time local Democrats are doing better out here, the region still largely votes against Democratic presidential candidates. But that could change with the right (presidential) nominee."
For Sirota, a populist, anti-corporate candidate like John Edwards would be a better pull at the top of the ticket in the West than would Sen. Hillary Clinton.